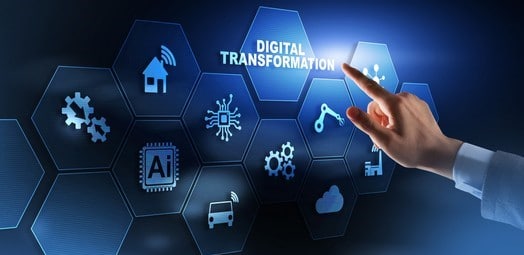 Successful implementation of digital transformation in your business needs significant differentiation, agility, innovative business models, and an intense focus on user experience. As the pandemic has pushed organizations towards digital transformation, everyone is keen to see the change at the earliest for uninterrupted business growth. But, several IT organizations face challenges to reshape, reprioritize, and refocus their services to drive the transformation to the new digital business.
To make this transformation smooth and effective, you need to leverage the new digital infrastructure that can support the rapid development and provide all essential services along with scalability and flexibility to support the rapid changes in your business processes.
At the same time, as the attributes of the digital infrastructure are clearly understood, people often fail to notice the initial digital transformation challenges that need to be addressed for a successful move to digitization. Here are the common pain-pinots that organizations suffer during the transformation—take a look at them and see if you can recognize any of them in your own business:
1. Lack of Automation
When a business undergoes a digital transformation, one of the critical expectations is greater business agility. Your business infrastructure should be able to support the rapid launch of new services or products and deliver constant updates and improvements. To make this cultural change in DevOps successful, the underlying business infrastructure needs to become fully automated to enable the instant delivery of services. If you don't yet have an automation culture in your day-to-day functionality, you might struggle with the necessary transition to meet the business' expectations.
In such conditions, you can consider partnering with a managed service provider (MSP) to incorporate automation in your business. An MSP can ensure that all business automation initiatives required for your business are being successfully implemented and all standards adhered to. Whether it is about IT operations, accounting processes, human resources management, compliance operations, or procurement and sales operations—MSP can help you to automate every aspect.
2.Lack of Elasticity
Along with advanced levels of IT automation, the business expects also needs everything to work perfectly to get the optimum benefit from digital transformation. Like a traditional utility service, today's IT also needs to be flexible and able to offer immediate changes in scalability to support the fast-changing demands. Suppose your current IT department or in-house IT support and assets cannot scale solutions in real-time with an automated reconfiguration of the underlying infrastructure. In that case, you might face difficulties in supporting the new digital mindset.
To support your organizations' fast and ever-changing IT demands, you can consider hiring managed IT services that can provide all essential IT support to your organization. Service flexibility is one of the vital benefits of hiring managed service providers—every business expects such flexibility across the entire business landscape.
3. No Consumer-grade experience
Not only the expectations from IT have changed, but there is also a strong demand for having processes that can facilitate the acquiring of new infrastructure. Lengthy, tedious IT procurement processes with prolonged delays accompanied by boring technical conversations are disturbing and upsetting to today's business leaders who focus on agility.
The customers also expect prompt and efficient services from consumer-facing organizations. The high-demand service list includes an easy-to-browse catalog, supportive customer services, simple contract terms, and a click-to-consume experience. If your organization fails to offer this kind of consumer-grade experience, the business may question your ability to continue with the new mindset of digitalization.
As customer and user expectations rise, businesses need to put a strong focus on their experiences, and an MSP organization can help you in this regard. It will help you improve the consumer-grade experience, introducing numerous opportunities to better engage and serve clients.
4. Incomplete virtualization
Virtualization is one of the effective ways to reduce IT expenses along with boosting efficiency and agility for all-size businesses. And agility is a key to digital infrastructure—it provides the speed you need in your company. Agility allows you to provide fast services and respond to changes in demand. To achieve more agile and automated estate, you need to focus on virtualization. It is one of the vital steps to establish a favorable IT network that is elastic and automated as well.
Virtualization is creating a virtual vision of something, like a server, operating system etc. —a software-based working environment. To implement virtualization, first, you need to access your current business environment and do strategic planning for it. You need to determine the server environment needs, map out and create a project timeline, and so on. You can also consult professional experts on how to virtualize business processes.
5. Build-first mentality
Business leaders are not always patient and willing to wait for weeks or months for IT to provision the infrastructure required for digital transformation. In the case of a classic approach to projects, your IT department follows a four-step path, including specifying, procuring, provisioning, and configuring infrastructure to support the application. This build-first approach will become inappropriate going forward.
For first development, you need to acquire the entire solution from a ready-to-go cloud services provider (SaaS). If you find it hard to do by yourself, you can consider cloud infrastructure companies to help you.
How to make your digital transformation fast and smooth?
With the help of a managed IT services company, you can quickly and seamlessly turn on digital transformation capabilities in a new department or an office instead of trying to do it all yourself. IT service provider companies can help you to accelerate your digital transformation. Along with managing the initial complexity of digital transformation, your IT partner also delivers a cost-effective infrastructure. IT service providers can help you with every essential support and advice to drive you toward digital transformation. They can help you to navigate the process, connect more seamlessly, and work better.
Conclusion
As digital transformation is a mandate in today's world, companies— irrespective of size, are eager to incorporate and utilize it. Though the warning signs mentioned above can block your way of digitalization, there are solutions also. It is always good to consider IT infrastructure consulting services to be your 'north star' on a digital transformation journey.