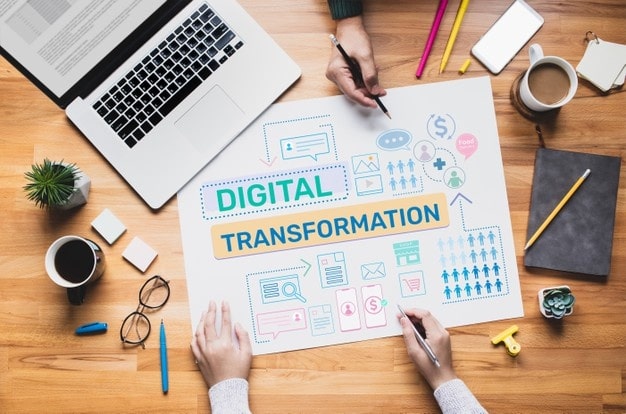 To sustain in today's world, digital transformation is an essential step for every business. This transformation drives organizations towards growth opportunities and pushes them to improve operational efficiencies. As digital transformation becomes a priority for organizations, you need to look for a reliable IT partner to make your transition smooth and help you to get the maximum benefit from digitalization. IT is good to consider IT infrastructure services to help with digital initiatives that drive innovation, increase efficiencies, and improve customer engagement.
To support your digital transformation, there are some basic service requirements that will keep your business safe and allow flourishing. Such as:
Digital security
Backup strategy
Single digital platform
Partnering with an IT infrastructure management service can support your digital transformation in different ways, including:
1. Providing Digital Security:
In the current situation, digital security is one of the vital requirements for every business. Every day, cybercriminals come up with new pestilent malware and harmful techniques to penetrate your security systems. The methods of cybercrimes are growing faster than the security technologies that are meant to resist them. So, it is crucial to have an efficient digital security system to keep threats away from your IT infrastructure. It must be resilient sufficient to support accelerated scaling and growth. Your security policies and their implementation must accommodate the breakneck speed of your digital businesses.
Nowadays, several companies support Bring Your Own Device (BYOD) policy. With this working culture, there is a huge chance of your business data exposure. With the BYOD concept, employees access data from their mobile devices and from anywhere — apart from the secure office portals, they can work from their home, local café, or any other place with a high-speed internet facility. This work culture complicates threat management. The employees use different varieties of devices, which makes it mandate to create separate rules for access from multiple touchpoints.
IT infrastructure management services use different processes to analyze digital threats. Experts believe that companies need to concentrate on a better acknowledgment to upcoming threats along with establishing a reliable security infrastructure. A typical existing security analysis process covers the following steps:
Understand the weaknesses and vulnerabilities of the IT infrastructure
A thorough and continuous monitoring process along with past record analysis helps to detect the vulnerabilities in your infrastructure. This dictates the inclined and replacements required to increase the productivity of the digital business.
Analyses and evaluation
IT infrastructure services use different methods to identify the potential threats for your business. They are always ready to identify any malware infection risk and take related preventive measures with constant knowledge updates. If your company has already suffered security breaches in the past, your IT partner becomes more alert to find any security vulnerability and take necessary measures.
Concentrate on preparing a security regime
To make a security regime for your company, your IT partner includes a complete survey of all hardware and software security as well as the background checking of every employee. Along with preparing an efficient security policy for your company, they also help you implement a disaster recovery plan.
2. Developing an effective data backup plan
When digital transformation happens, most of the essential data becomes digital. So, you need to be alert about establishing an efficient backup and disaster recovery solution. An IT infrastructure management service provider is the right one to help you prepare, implement, and maintain a reliable backup and recovery solution for your organization. Here are the three main steps to establish an effective backup plan:
Designing the operational plan
For digital businesses, data is crucial. So, backing up only the transaction records or the client information is not enough anymore. You need to think outside the box — every piece of data on a digital platform needs to protect from cybercriminals as well as other accidents causing data loss. Your IT partner can help you to make an operational backup plan for your sensitive data.
Planning for all contingencies
Businesses need to be very strategic to keep their backup solution cost-efficient but effective. Even for crucial data, you may need to keep a backup for the backup of information that cannot be recovered if it is lost. In some cases, redundancy in terms of geographical location is essential.
Your IT partner ensures that critical and sensitive data is backed up in multiple locations and can easily be accessed by the workforce when required. Apart from a backup solution, other security protocols like passwords and restricted access permission for classified data is also implemented to keep your backups well covered.
Testing your systems
Regular testing of your system and a backup plan for operational errors is essential. It is basic to give the backup platform a test run periodically to monitor its effectiveness of it. Your IT partner helps in the preparation, training, testing, and periodic review of the plan.
3. Consolidate the entire infrastructure in one platform:
Business owners look for a single digital platform that can consolidate their entire underlying infrastructure into one platform or interface. Apart from cost control by leveraging an on-demand infrastructure, this one interface strategy accelerates production by shortening deployment cycles. Key capabilities of a single digital platform strategy are:
Dynamically changing bandwidth to meet the exact size and capacity of the network for the performance of service-level agreements (SLAs)
Agility in managing local requirements of newly developed locations and address the market emergence
Cost optimization by on-demand infrastructure model that charges only for the infrastructure in use
With these capabilities, businesses can dynamically determine what infrastructure connections are needed and when. So, your IT partner can deploy infrastructure on demand and host what you exactly need, allowing better control over infrastructure implementation and operations.
With a consolidated IT infrastructure, you can easily manage workflows and integrate digital systems. In the current world of interconnectivity, data resides anywhere, and local resources store and transact data in real-time. In such conditions, a consolidated infrastructure is important to keep track of every bit of business information, manage them centrally, and access from anywhere.
Conclusion:
An IT infrastructure service provider company can be your trusted partner to make your digital transformation smooth and effective. They also provide you required support and services to your organization, improve your productivity, and support business growth.