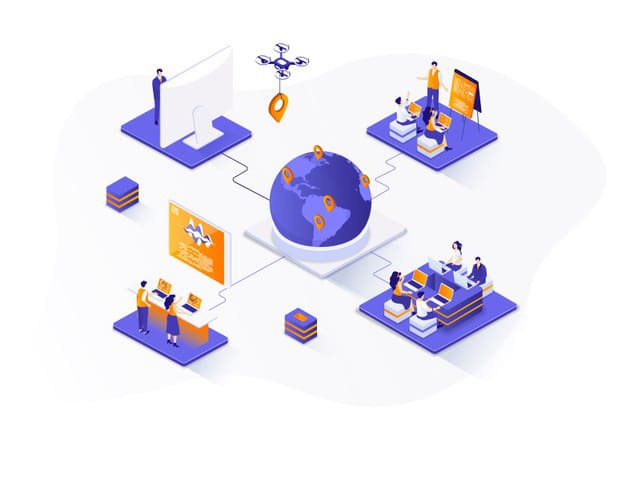 Nowadays, technology is the key to the success of every business, irrespective of industry. It empowers businesses to have better and faster solutions for multiple business processes and also helps to automate different processes to improve efficiency. To tap into every recent technology like cloud computing, hardware, and application, small and mid-size businesses (SMBs) need the support of managed IT services providers. But, why are SMB companies prefer turning to managed IT support services? To explain why it is wise to invest in outsourcing IT infrastructure services, it is good to start with "what are IT support services?".
What Are IT Support Services?
Managed service providers (MSPs) are professionals offering IT support services to help organizations manage their network, users, services, and devices integral to every business operation. MSPs ensure that the organization's network is current, and the tech support of the MSPs allows organizations' to enjoy seamless operations across all departments, hierarchies, and roles within the company.
Though you can outsource different services from an IT support provider according to your requirement, the most common tasks include:
Network monitoring, management, and security
Systems operation and support services
System update and troubleshooting
Process execution and enforcement
Data backup and recovery
Data storehouse, warehouse, and management
Authentication
Cybersecurity
Even businesses want a common IT setup for their network, tools, data, and security management. For efficient IT management, businesses need dedicated expertise to maintain systems and consolidate new technologies. Hiring an IT support service provider can be a solution in such a situation.
Why is Outsourcing IT Support Solutions beneficial?
Here are immediate and long-term benefits to outsourcing IT support services.
1. Managed Services:
When you opt for outsourcing your infrastructure management services, you can enjoy the complete service package, including proactive monitoring and management, database and data centre management, data protection, cybersecurity, and other support services. This means that the IT infrastructure management service providers manage the operations, but you still retain complete control over your systems.
As technology grows complex day-by-day, hardware and software management has become remarkably more challenging. But businesses need to have innovative hardware and software solutions to meet the ever-changing customer demand. It is good to hire professional IT service providers in such a situation as they can fully handle such technicalities.
2. Access to latest technologies and experienced professionals:
It is difficult for any SMB with limited IT resources to manage the whole IT infrastructure and update with the latest technologies. When anIT outsourcing company comes in, it becomes easier to keep track of everything and also get expert's advice on the technology implementations.
In SMBs, where an in-house IT team contains limited resources, it is very difficult to continuously be updated with the information of cutting-edge technologies. Even it is more difficult to suggest the latest technology that can be beneficial for your business. On the other hand, managed service providers hire experts to serve their clients. So, you enjoy the experts' advice and efficient to keep your business up-to-date with the latest technologies.
3. Predictable budgets and cost control
Installing and maintaining an IT infrastructure with networks, servers, storage, security, and a whole host of other components is quite expensive. Outsourcing IT infrastructure support services generally charge according to service packages—it transforms the fixed IT costs into variable costs. So, you get a chance to opt for the most suitable service package according to your requirement and budget. In short, you only pay for "what you use"; it can lead to huge cost reduction. In addition, the cost of system maintenance and servicing frequently exceeds the cost of the initial outlay—consider this, outsourcing seems wise.
4. Improved Efficiency
When you choose to outsource your IT infrastructure, most of your regular infrastructure monitoring and maintenance work will be taken care of by your IT partner. So, you can have more time to concentrate on your core competencies to improve overall efficiency and generate business value. You can utilize your dedicated resources in productive work rather than bore and time-consuming maintenance work.
5. Reduce labor costs
Hiring, training, and maintaining a large in-house IT department is expensive. Apart from the regular salary, the cumulative amount of other perks is also high and causing a huge burden on the company. Even hiring temporary IT support staff often end in disappointments. On the other hand, outsourcing IT support servicesbrings highly skilled and experienced professionals to handle your IT needs at a fraction of the hiring in-house IT staff cost.
6. Reduce risks
Managed IT service providers offer efficient disaster management and data recovery service, which reduces the anxiety of the owners and employees as well. Outsourcing IT infrastructure also helps to reduce downtime and worry about lost productivity, threatened security, and disappearing information. Outsourcing IT support services even can manage multiple other business risks for you, especially security and compliance-related risks.
7. Recover from disaster
Disasters are irresistible; so, it's better to be prepared. Data is one of the vital resources for every business, and when disaster hits, it becomes vulnerable. An efficient IT infrastructure service provider offers you effective backup technology and a disaster recovery plan to keep your valuable data safe even in adverse conditions. With an efficient data recovery plan, you can easily retrieve your data when the situation comes to normal.
Conclusion:
Outsourcing IT infrastructure service for your small or medium-sized business is obviously a wise step over hiring an in-house IT department. By outsourcing IT support services, companies can free up their valuable resources and help them to focus the core business functions —what matters to achieve the business goal. Even instead of a fixed payroll per month, you have to pay only for what you have used. IT outsourcing companies in India also allow you to focus on marketing, product development, and improving customer relations. Hiring outside IT professionals enables you to learn, grow, and evolve to achieve your ultimate goals. Managed IT services have become the game-changer in the business of recent times.