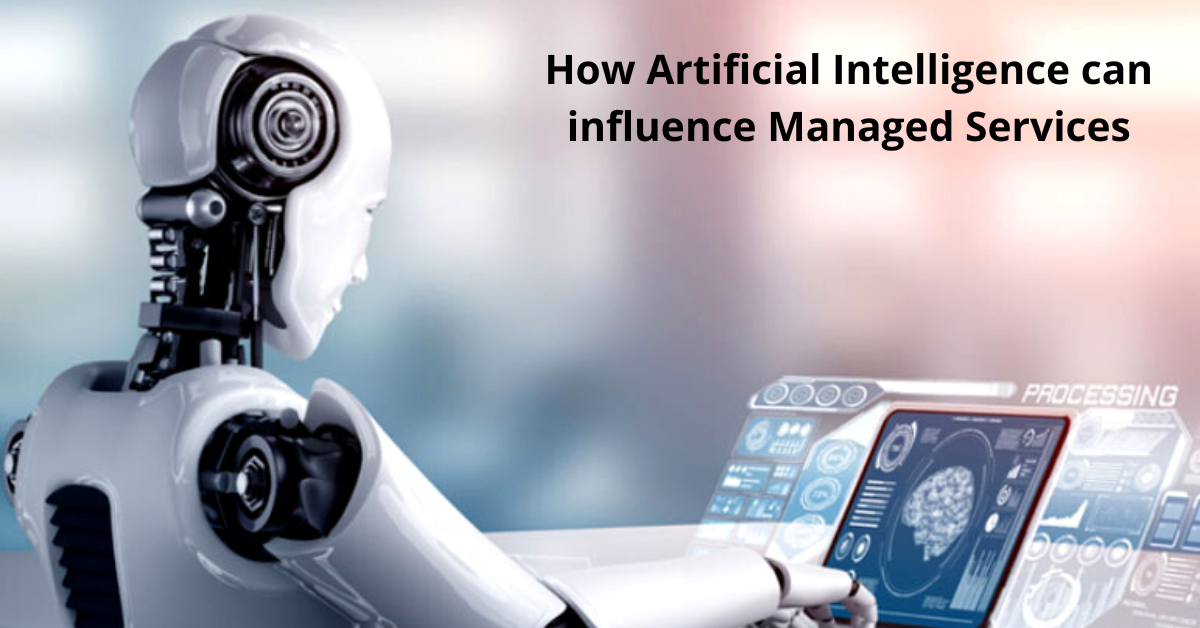 Artificial intelligence (AI) is a system that can mimic human intelligence and are capable of performing tasks that need human intelligence. AI is software with human-like thinking capacity — it gathers information, analyzes it, makes decisions according to the inputted information, and acts to perform the task. The software can complete tasks without relying on human intervention. With the implementation of AI in business, you can accomplish a job without human intervention. Implementing AI can speed up processes, avoid any kind of biasness, and gather better insights from data.
Modern days, managed IT service providers (MSPs) have become essential to several organizations to meet their technical needs—the number of businesses requiring outsourced technical support is increasing rapidly. To deliver quality IT support services at a faster pace and affordable cost, MSPs leverage advanced technologies like AI. For better service packages and improved customer satisfaction, MSPs are driving towards AI-powered solutions for their clients. AI can help MSPs to improve their way of IT management and provide customized services to propel customer satisfaction.
Influence of Artificial Intelligence in Managed Services
Nowadays, service automation is in high demand. To maximize automation in business processes, managed IT services are mostly dependent on artificial intelligence-powered digital technologies such as robotic process automation (RPA), the Internet of things (IoT) and bots. Managed IT services firms can utilize AI in multiple ways to transform service operations and provide tailored solutions to their clients.
Automated Technical Support
Several client companies look for fast and efficient technical support services for MSPs. Therefore, managed IT services firms have to be prepared for the same and spend a large proportion of their resources on operational activities, such as
Execute service requests
Access authentication
Close incident tickets
Perform changes
Update installation, etc.
MSPs can automate all these tasks by implementing artificial intelligence to save time, resources, and money. By intelligently automate complex tasks, one can deliver efficient service at a much cheaper cost and, at the same time, help clients to achieve their business goals.
Proper implementation of AI along with bots (e.g., Chatbots) can invariably improve autonomy and also improves end-user experience. When using AI-powered software to gather the users' query or information and process that and use a bot to provide human-like interaction for the user – the overall effectiveness of the service desk increases a lot.
Refocusing Resources
Apart from routine, repetitive, and monotonous tasks, MSPs can utilize AI to automate proactive and resourceful tasks like backup monitoring, firewall managing, CPU utilization tracking, or incident solving. Using the human-like thinking capability of AI, MSP can come up with a smarter deployment of resources to improve clients' satisfaction. Using AI, MSPs can provide more accurate and fast services.
Asset Maintenance
Asset maintenance and management is always a tiring task for managed services – be it their own assets or clients' ones. Keeping every asset up and functional is vital in completing specific tasks timely. Malfunctioning of even one asset can affect the entire workflow and also the functionality of other assets.
Here AI and automation can help MSPs to monitor each asset and its functionality and predict potential breakdowns. Considering the assessment result, MSPs can create a maintenance schedule before an actual issue to minimize any interruptions in business processes. This predictive and auto-corrective service model ensures that the end-users system continues to work without any noticeable drop in performance.
Incident Management
Using AI, managed services can also automate the validation, investigation, and resolution of incidents. This way, the recovery phase becomes faster. Automated incident analysis can reduce irrelevant, redundant alerts and allows service providers to encounter the root causes of issues quickly and resolve them.
Automating incident analysis makes it easy to identify and resolve common issues when they arise, without even experts' interventions. So, the mean-time-to-repair (MTTR) reduces a lot, and end-users can enjoy uninterrupted services and minimal downtime.
Improve Security and Compliance
Currently, when cybersecurity is a huge concern, MSPs have to be more focused on improving cyber protections and preventing cyberattacks. MSPs can incorporate AI-powered cybersecurity solutions to continuously monitor customers' networks and IT infrastructure, scan for anomalies, detect potential malfunctioning or issues, identify the root causes of the issues and take preventive actions to stop any invasion attempt.
Compared to manual screening, AI-powered, automated anomaly screening software are more accurate, fast, and provides better protection to the end-users system. Along with enhanced security, AI and machine learning (ML) together can facilitate compliance measures. An AI-powered compliance monitoring system can alert to any drifts in configuration and deviations from baseline performance and prevent potential compliance or security violations.
Probable Hurdles to Incorporate AI-powered solutions
Convincing clients to accept AI-powered IT services can be a bit problematic for MSPs. Clients may face technical, cultural, and financial challenges when embracing AI within their internal service operations. Here are some common issues:
Some organizations may hesitate to accept modern solutions for their traditional IT infrastructure and systems. They are just not ready to accept an immediate structural change.
The hesitation towards AI can be due to a lack of exposure to new work culture, experience, and training.
Inadequate budget or scope to incorporate AI in business processes and upskilling employees to handle their new roles and responsibilities.
Resistance to the idea of automating business processes
Unwillingness to letting bots interact with their valued customers
Conclusion:
A managed IT service provider can refresh their service packages using AI tools and process automation. MSPs also upskill their professionals to help client organizations to take a leap of faith and successfully implement the latest technologies. They can help their clients to uncover new opportunities or possibilities. Managed services empowered by artificial intelligence teams can also help businesses to save operational costs and improve productivity and business stability.