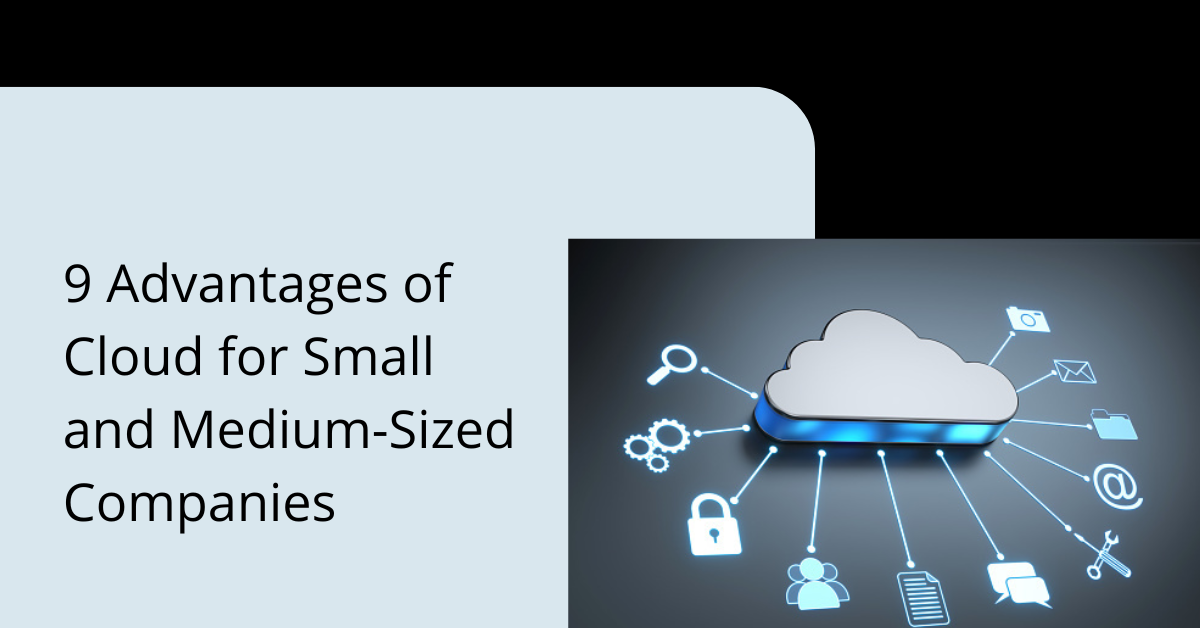 There is a sharp growth in cloud adaptation. The COVID-19 pandemic has accelerated the speed of cloud migration. Considering the immense benefits of cloud computing, companies, especially small and medium-sized ones, are ready to leap. Here are the nine key advantages of cloud adaptation driving organizations towards it.
Accessibility
Nowadays, remote working is not only a trend but also a necessity in some cases. Remote working was the only option for business continuity during the pandemic. To support the remote work culture, accessibility plays a crucial role as remote staff need easy but secure access to server and storage systems.
Even in-office work culture also needs anytime access to files and applications necessary to do work. Cloud computing is the right option to support this need of the employees. Now, employees can access all their essentials like documents, spreadsheets, images, communications – everything from anywhere and at any time.
Incorporation cloud has changed the whole system—anytime accessibility has changed the work culture. Besides remote working, the cloud also facilitates business trips; now, you don't have to carry every document with you. For small and medium-sized businesses (SMBs), the cloud delivers improved accessibility to the data. This technology also supports business owners in running fully remote companies.
Scalability
For SMBs, scalability is vital for rapid growth and from a budget perspective. The cloud allows the easiest ways of scaling production, resources, services, customers, or even headcount according to the current business needs. So, SMBs can easily handle the
growing or dwindling demands of resources.
It is not always possible to predict market demands accurately. Besides market fluctuation, internal shifts, expanded needs, etc., can affect small businesses. In such a situation, the cloud can play a crucial role for SMBs. Usually, smaller companies or start-ups are more vulnerable and tend to have more risks with fluctuations. So, the cloud can be the right option to bypass those sudden obstacles by supporting SMBs with their present business needs.
Minimize On-Premises Infrastructure Investment
The requirement of physical IT infrastructure, including servers, routers, data centers, storage devices, switches, hardware, and other CapEx expenditures, used to take big bites from the overall IT budget. Usually, SMBs suffer from the budget crunch, which makes their business expansions too difficult.
Cloud adaptation can reduce the expenditure of SMBs on IT infrastructure, purchasing software, licence renewal, etc. So, SMBs can run their business with lesser expense and meet the current and growing needs of the company in a better way. One can utilize their IT budget in a better way with the cloud.
Backup and Disaster Recovery
Accidents are mostly unpredictable and unavoidable, but it is wise always to be prepared for them. Every business, irrespective of its size, needs to be ready with a disaster recovery plan. In this digital age, companies need a solid backup and disaster recovery strategy for sustainability and continuity.
The cloud provides an effective off-site backup solution. Every organization can use the cloud storage facility to back your data up securely for unfavorable situations. Another plus point of a cloud backup facility is its facility to expand storage anytime according to business needs. One can also retrieve data from anywhere and anytime. So, companies can choose a private or hybrid cloud development to store data securely.
Agility and Flexibility
Most cloud providers work on a subscription-based operational expenditure (OpEx) model. Therefore, SMBs don't have to plan for the infrastructure they might need and invest accordingly. The cloud offers flexibility to choose your IT infrastructure as you need. If your business is up, the cloud has enough room to accommodate the growth and provide your needed support. And, if your business is down, costs will decrease according to your requirements. This agility gives your business a competitive advantage. With the changes in the industry, SMBs can get the needed infrastructure to support their clients immediately.
Automatic Updates
Server maintenance can be a headache for organizations. With cloud infrastructure, SMBs don't have to worry about server maintenance and can enjoy no-hassle technology and app management powering the business.
Cloud providers are in charge of regular software and security updates. Therefore, the IT leaders of SMBs can focus on strategic initiatives to grow the business.
Collaboration
Teamwork plays a vital role in a productive and successful business. Especially when you have to work with a remote workforce, collaboration is the heart of your success. The cloud offers effective ways for online collaborations. There are SaaS solutions that enable real-time collaboration facilities.
Some cloud tools can boost web-based collaboration technologies, such as Cisco WebEx Teams. These are all-in-one business collaboration and communication platforms helping the organization of work as one team from different locations.
Efficiency
The cloud can improve your efficiency in multiple ways. From IT maintenance and monitoring to work and process optimization—the cloud removes most of the monotonous and time-taking tasks from your plate.
Now, the team don't have to wait for an in-person meeting to clear their doubts – they can collaborate online and share and update documents concurrently. Instead of patching servers on a regular basis, IT teams can focus on their core jobs.
Security
Even just a few years back, most companies were not confident about cloud security. It was a huge concern for SMBs, and many have delayed a migration considering the lack of cybersecurity skills.
The situation has changed over time. According to Zeus Kerravala, founder of ZK Research, "Most cloud providers probably have better security controls than most companies,". Many government organizations like the Department of Defense (DoD) and the National Oceanic and Atmospheric Administration (NOAA) use public cloud services with extremely high-security requirements. So, SMBs can also consider the cloud and enjoy a secure cloud infrastructure.
Conclusion:
Whether you are planning a migration or on your cloud journey — you can consider a cloud infrastructure company to accompany you on your journey. Their dedicated cloud experts can make your migration smooth. They can help you assess business goals, develop a plan considering your needs, suggest the right solutions and providers, and implement optimized solutions.