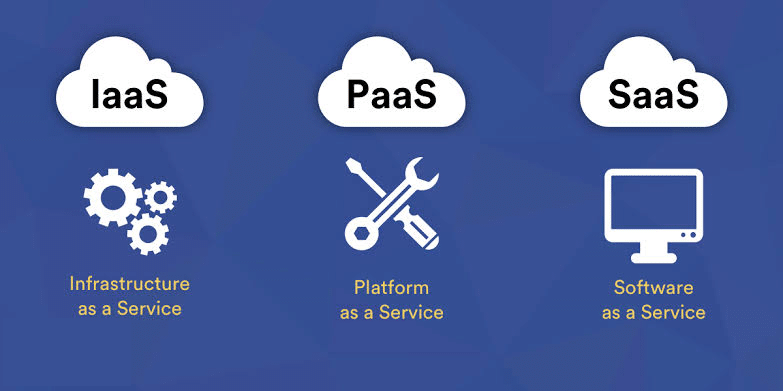 For last few years, the adaptation rate of cloud infrastructure and services has increased exceptionally. Starting from a small business to a leading enterprise, everyone is keen on cloud adaptation, It seems that the future of software development companies and IT services is in cloud computing. The efficiency and versatility of cloud service models are the reasons behind this global adaptation.
To climb the stair of success with cloud services, firstly, one needs to understand different cloud service models, their mode of functionality and benefits. Otherwise, it is hard to choose the most appropriate model for the business. A wrong choice can lead a business to waste of money as well as time.
There are mainly three cloud service models: Software as a Service (SaaS), Infrastructure as a Service (IaaS), and Platform as a Service (PaaS). Each of the service models has its own set of benefits that could match with different needs of various businesses.
Different Cloud Models and their benefits:
1. Software as a Service (SaaS):
This cloud service model offers quick access to cloud-based web applications. Here all the software and hardware are provided and maintained by the vender; so no need to download or install or configure anything. You can access all the subscribed or free applications through a web browser.
Key benefits:
Ready to use – In SaaS cloud services the applications are already installed and configured. All you have to do is just sign up for the service to get access to powerful computing resources. Therefore, the developers don't have to spend time in installation or configuration.
Affordable – SaaS services are cost-efficient as there's no need to pay for the whole IT infrastructure. You can pay only for the service at the scale you need. If there is a need of extra functionality, you can easily upgrade your subscription.
Automatic update – Like installation and configuration of applications, the software update is also done by the cloud service vendor. If there are any bugs or technical troubles, the vendor fixes them without bothering you.
High Accessibility – Being distributed over internet, Cloud-based SaaS services can be accessed from any computer. One just needs to sign in to access a wide range of application through internet-enabled devices and locations.
Disadvantages:
No users' control over the hardware allotted to you and only the vendor can manage the parameters of software you are using.
Why Opt:
SaaS can be suitable for various business scenarios; this is beneficial for new organizations that require developing an e-commerce platform fast and within limited budget. SaaS solutions can meet their requirement of software or expertise to solve server issues. It is also appropriate for small-scale businesses that don't have the necessary budget and resources to deploy on-premise hardware or suitable for projects that are focused on simple and cost-effective collaboration. Software development companies often use SaaS service when multiple applications are needed but not used on a regular basis.
2. Platform as a Service (PaaS)
PaaS refers to cloud platforms that provide runtime environment to the users for developing, testing, and managing applications. With this service model, the servers, networking, and storage are usually administered by the platform provider or company while developers can manage the applications. Being subscription-based, PaaS also gives you flexible pricing options depending on your business requirements.
Key Benefits:
Reduces Development Time – PaaS significantly minimize development time as the vendor takes care of the server-side components of the computing infrastructure. So the development team can concentrate in delivering projects with top speed and quality.
Support Multiple Programming Language Support – PaaS offers support for multiple programming languages. This feature helps the software development companies to build applications for different projects on the same platform.
Enhance Collaboration – PaaS improves collaboration capability for remote and distributed teams. Better collaboration helps to integrate your team dispersed across various locations.
Disadvantage:
As PaaS is built on virtualized technology, you will have less control over data processing. Another disadvantage is PaaS solutions are less flexible than IaaS.
Why Opt:
PaaS can be a good choice for companies whose project involves multiple developers and vendors. With this cloud service, you can easily create customized applications. With the PaaS model, you basically lease all the essential computing and networking resources to simplify the development process and minimizes development costs.
3. Infrastructure as a Service (IaaS)
IaaS offers a virtual provision of computing resources over the cloud. IaaS works as a virtual data center that provides basic computing infrastructure like servers, storage, and networking resources along with maintenance and support. Developers can get computing resources of their requirements without installing any hardware on their premises.
Key Benefits:
Cost-saving – With IaaS, there are no expenses on hardware infrastructure. The vendors provide and maintain the complete hardware infrastructure including servers, storage, and networking resources.
Perfect scalability – Though all cloud-based solutions are scalable, IaaS also offers additional resources in case of higher demand. Similarly, if the demand is low, the apps can also be scaled down.
Most Reliable and secure – With IaaS, the safety of your data is the responsibility of the service provider. Here the hardware infrastructure is usually kept in specially designed data centers, and the service provider ensures the security of your data.
Disadvantage:
IaaS is comparatively expensive than SaaS or PaaS as here the client basically leases the hardware infrastructure.
Why Opt:
IaaS is the most flexible cloud model that offers the best option when it comes to IT hardware infrastructure. IaaS is the ideal option for businesses that focuses on website or application hosting. It is also a good choice for building virtual data centers for large-scale enterprises that need an effective, scalable, and safe server environment. IaaS is the most cost-effective way of analyzing huge amounts of data that require incredible computing power.
What fits your business: SaaS or PaaS or IaaS
All three cloud services models come with their unique features, benefits, and functionalities and it is crucial for companies to comprehend the essential feature and chose the right one according to the business goal. Considering the particular business requirement, the enterprises have to pick the apt cloud model that can deliver the results that you are looking for. Apparently, SaaS solutions are suitable for businesses that need cloud-based software like CRM, email, collaboration tools, and productivity tools. When a company requires a platform to develop and test their software and applications, PaaS the opt one for them. IaaS is the perfect option when a company needs a complete virtual computing platform with powerful resources. You can also consult with the cloud management companies to choose the apt Cloud service model of your business.