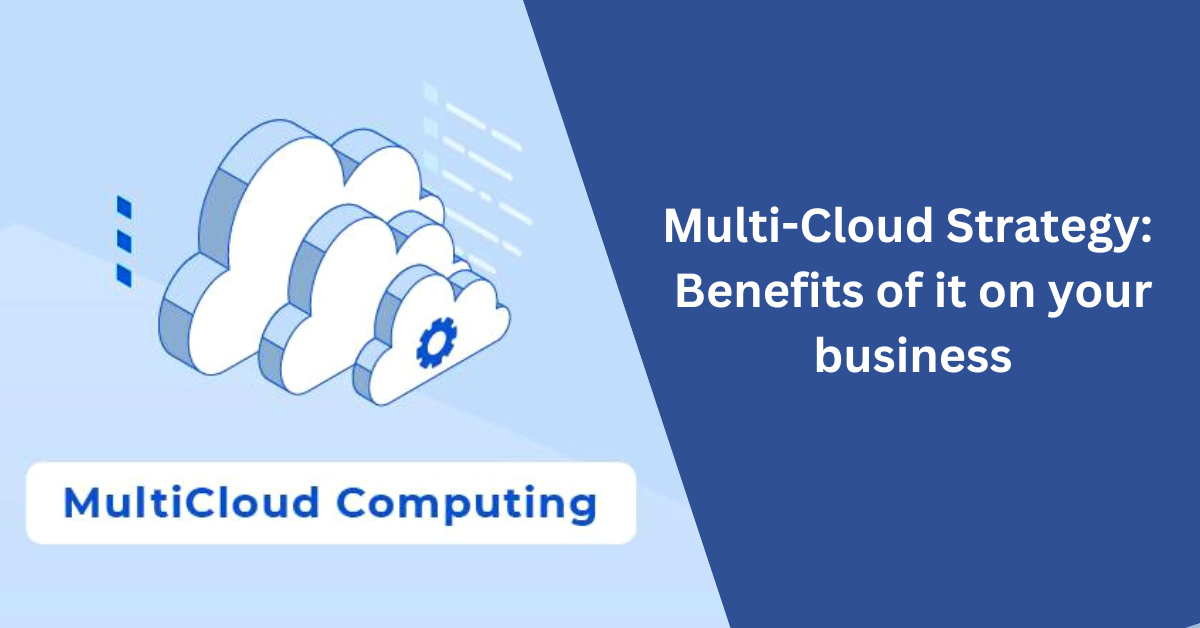 Every modern company know the importance of cloud computing and look for a suitable deployment model according to their business needs. Usually, public, private and hybrid clouds are the obvious choice for them. However, a mixed cloud service provider could be a better option for some organizations to meet all their business needs. Some cloud platforms may be better at handling big data, while others are better at integrating artificial intelligence and machine learning capabilities; when your organization needs both features, a combination service model would be hugely beneficial.
Ultimately, every company has different business needs and in most cases, partnering with a single cloud service provider seems a compromising deal. Thankfully, with a multi-cloud strategy, organizations no longer have to compromise. They can get the best cloud services, indeed.
But what exactly a multi-cloud strategy is? And how to get one in place? This article will help you understand what multi-cloud is and what benefits you can expect from adopting a multi-cloud strategy.
What is multi-cloud?
Multi-cloud refers to using cloud services from more than one cloud vendor of the same type (Private or public). Instead of using one cloud platform and missing out on the advantages of the others, multi-cloud makes it possible to combine the top benefits of one or more cloud computing services from different vendors. The multi-cloud approach allows companies to optimize performance, minimize cost and avoid vendor lock-in. The cloud strategies you choose for yourself can be a combination of all public, all private, or a mix of both.
Multi-cloud solutions are portable cloud computing solutions across multiple cloud providers' infrastructures. Usually, a multi-cloud solution is built on open-source, cloud-native technologies, such as Kubernetes, and is supported by all public cloud service providers. Key reasons behind the development of multi-cloud solutions are improved compute infrastructure, development, data storage, artificial intelligence (AI) and machine learning (ML), disaster recovery, etc., for business continuity.
What is the key difference between hybrid and multi-cloud?
Many people consider 'hybrid cloud' and 'multi-cloud' synonymous words. But that's not true. While both require a collaboration of vendors, there is a clear difference. A hybrid cloud infrastructure always blends two or more different types of clouds, whereas a multi-cloud infrastructure blends different clouds of the same type (private or public). In fact, a multi-cloud solution includes more than one public cloud service and doesn't necessarily have to incorporate a private cloud at all. A multi-cloud architecture combines the best services of two cloud providers to create a unique service package for you.
What are the benefits of multi-cloud strategies?
Avoiding Vendor Lock-In one vendor
One of the prime benefits of a multi-cloud approach is freedom from hooking up to a single cloud vendor. When all your services or applications are based on just one cloud vendor, you can be locked in with that particular vendor. If your company grows too big for that vendor or you are looking for better services to any change, it won't be easy to do so. That particular vendor may be suitable for you at present, but in future, it might not be enough when you need to scale up or down. It will be extremely time-consuming and expensive to move to other providers.
On the other hand, opting for a multi-cloud approach allows your developers to create apps that function across various platforms. You will have the flexibility to take advantage of the best prices or potentials from differing vendors.
Optimizing Performance
In reality, an organization's workloads, virtual machines (VMs), servers, databases, and applications can perform differently in different public cloud environments. But, with a multi-cloud approach, each component is optimized, allowing businesses to improve overall performance.
Cost Optimization
Budget plays a key role in the implementation of new technology. Finding the most appropriate ways to support an organization's strategic initiatives needs to make choices considering all limiting factors. In such conditions, opting for a multi-cloud solution could be an effective way to optimize costs.
Moreover, now many multi-cloud providers are available in the market. They have formed a competitive market offering optimal pricing for different resource capacities to remain attractive to most cloud users. So, companies can now get a chance to compare various providers and choose the best available rates based on their business-specific IT needs. As you are no longer bound to accept any cloud provider's terms, you can select the best vendor based on its offerings.
Flexibility
Different type of data has different purpose and needs. Like your business, critical data needs much better security; whereas in-progress codes or work documents may be vital in day-to-day functionality, but here availability is the key, not safety. Multi-cloud solutions offer a perfect data storage facility for processing and storing information with proper automation and synchronizing in real time.
At the same time, the business itself needs continuous upgrades to remain competitive in this ever-changing environment. The needs of tomorrow may be different from the current situation. A multi-cloud strategy is a suitable solution for modern businesses as it allows them to scale up and down their deployments to grow, shift, and remain agile.
Robust security
Multi-cloud providers are responsible for the security of their infrastructures. They also ensure that your organization has all the capabilities necessary to protect your data. You also need to be aware of how different entities in your cloud environment are compatible with applications.
Network performance improvements
The multi-cloud strategy offers you a high-speed, low-latency infrastructure while minimizing the cost of integrating clouds into your existing IT system. A highly optimized interconnection helps to provide fast services to users and improve their experiences.
Conclusion
Opting for a multi-cloud approach can be a significate step for many businesses that rely on the cloud for vital parts of their IT infrastructure. Every day, new solutions around multi-cloud strategy are coming up; companies need to ensure they are getting the best capabilities across networking, storage, security, application deployment, etc. You can consult a reliable cloud IT consulting firm to get the best multi-cloud solutions for your organization.