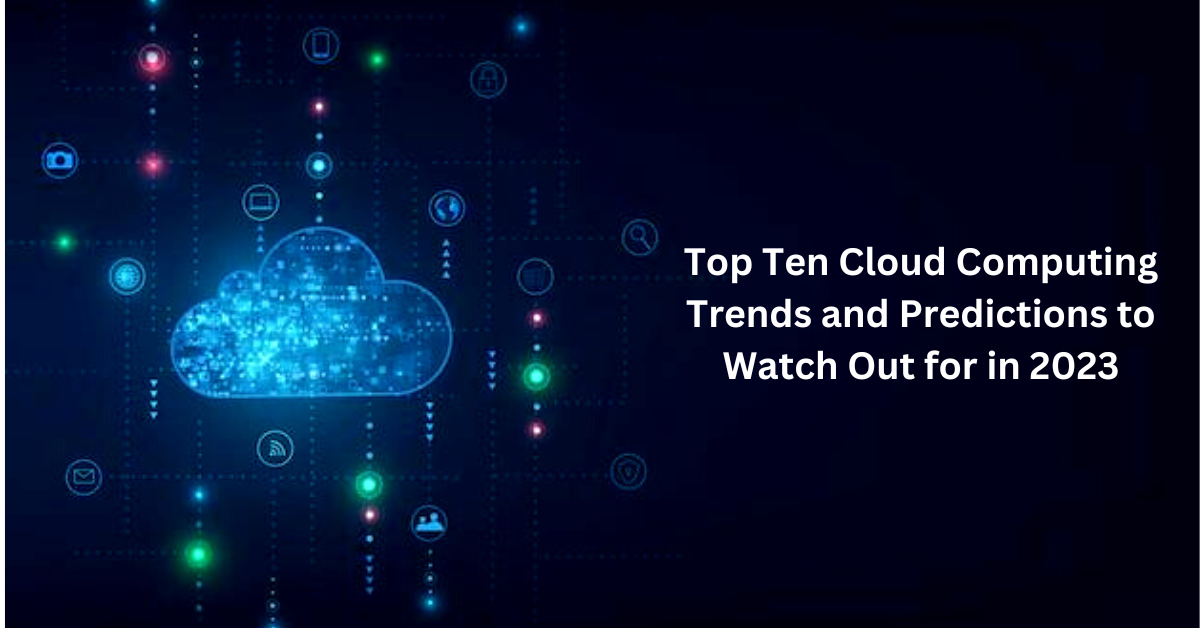 The last few years' vulnerable socio-economic conditions have had a massive impact on every industry. Cloud computing has played the role of savior for several companies and helps them to continue their business through remote working. The COVID-19 pandemic and stay-at-home mandates drove organizations to accelerate digital transformation and cloud adaptation. When work-from-home was the only option, the cloud computing networks facilitated remote working to ensure uninterrupted operations. Shifting to cloud-based applications allows companies to quickly introduce new cloud services to fulfil their customers' demands and retain them. Cloud also helps organizations to store their data online where they don't have to maintain any physical records or databases. Moreover, employees can access those data whenever required by only visiting the cloud network. Here are the top ten cloud trends to watch out for in 2023.
Trend#1: Increased investment in cloud security and resilience
Cloud migration offers numerous opportunities, efficiencies, and convenience to organizations, but at the same time, it also enhances the chances of invading a new range of cybersecurity threats. Moreover, the increasing number of legislations around how users can store, retrieve, and use their personal data has complicated the situation. As a result, the risk of fines and losing customer trust has increased several times.
Therefore, investing in cyber security to build a robust data protection system has become a priority during the coming year. It's time to look for innovative and cost-efficient ways of maintaining cyber security to get the most effective protection without investing much. This approach has heightened the use of artificial intelligence and other predictive technology designed to encounter cyber threats before they cause problems. The demand for managed "security-as-a-service" providers may also increase in 2023.
Trend#2: Multi-cloud
Currently, hybrid cloud is a famous concept amount people; following the same trend, the multi-cloud strategy can expand its wings in the coming years. Now organizations have realized the advantages of diversifying their services across multiple cloud providers. This multi-cloud approach offers many benefits, such as improved flexibility and security. In this approach, businesses don't have to depend entirely on a particular vendor and always have other alliances to support their needs on time. Companies will not face significant issues if a cloud service provider changes the applications they support or even stops supporting particular applications altogether.
Trend#3: AI and ML-powered cloud
Artificial intelligence(AI) and machine learning(ML) are two popular technologies provided as cloud services. These two are the most trending technologies for creating intelligent systems and modern customer service. Nowadays, cloud service providers are becoming more and more dependent on AI for several tasks, such as:
managing the vast, distributed networks required to provide storage resources to their customers,
controlling the power and cooling systems in data centers
improving cyber security solutions to keep data safe
Therefore, again AI and ML are going to be two huge concerns of cloud service providers in 2023.
Trend# 4: Low-code and no-code cloud services
Now those tools and platforms are on trend, allowing users to build applications and utilize data to resolve problems without writing computer code. These low-code and no-code solutions are beneficial for designing websites, web applications or any other digital solution that modern businesses need the most. The low-code and no-code cloud services have drastically lowered the barriers to entry for organizations that want to leverage AI and ML.
Trend# 5: Cloud gaming
One of the fantastic things about cloud computing is the streaming services like Netflix and Spotify. Streaming services have revolutionized the audience experience of watching movies, live programs, series or listening to music, podcast, audio stories and so on. Compared to movies and music, streaming video gaming has taken longer to gain popularity in the market. But in 2023, streaming video gaming is on its way with some giant distributer like Microsoft, Sony, Nvidia, and Amazon. All those big houses are now offering services in this field.
Trend# 6: Deploying to the Edge
Edge computing is a new approach where computation and data storage remains closer to the source of data—within localized devices at or near the network's edge. Edge computing will be a robust approach to consider in 2023 as more and more organizations look to combine the cloud with edge devices to improve operational efficiency.
Trend# 7:Serverless Computing
In serverless cloud computing, consumers don't have to deal with server provisioning and infrastructure management. In this cloud-native development model, developers can build and run code without managing servers; they don't even have to pay for idle cloud infrastructure.
The cloud provider handles everything, provisioning the underlying infrastructure required to run the code and allocating computing resources based on the current needs.
The cloud provider also bears most routine infrastructure maintenance and management work, such as operating system monitoring, system updates and patches, security management, capacity planning, etc. Considering the benefits of this pay-as-you-go service model, serverless computing is becoming popular among businesses.
Trend# 8: FinOps
FinOps is a rising cloud financial management practice that brings technology, finance, and business together to collaborate on data-driven spending decisions. This cultural practice helps to build cross-organizational trust and collaboration, drive financial accountability and visibility, and optimize cloud usage and cost efficiency. FinOps is a good fit for modern businesses, and more organizations will be driven towards this operational framework by 2023.
Trend# 9: Internet of Things (IoT)
IoT is a popular technology that has significantly impacted different industries in the last few years and is still more miles to go. Considering the past performances, it is easy to predict IoT will also be in trend in the coming years. IoT keeps devices, servers, and networks connected to each other— it behaves as a mediator that ensures successful connectivity. IoT also helps to accumulate information from remote devices for seamless operations, sends out alerts for troubleshooting issues, and supports security protocols.
Trend# 10. Kubernetes
Kubernetes or K8s facilitate automation to those working on the cloud networks to support the rapidly growing ecosystem. It is an open-source platform for automating containerized applications' deployment, scaling, and management.
Conclusion
Considering the significant benefits of moving to the cloud, many organizations have already chosen the shift. As obvious, in this coming year also, cloud service providers will improve their offerings, and enterprises will get better services that help them to remain competitive. To enjoy a strategic cloud journey, you can partner with a cloud IT consulting company and get the maximum benefits from it.