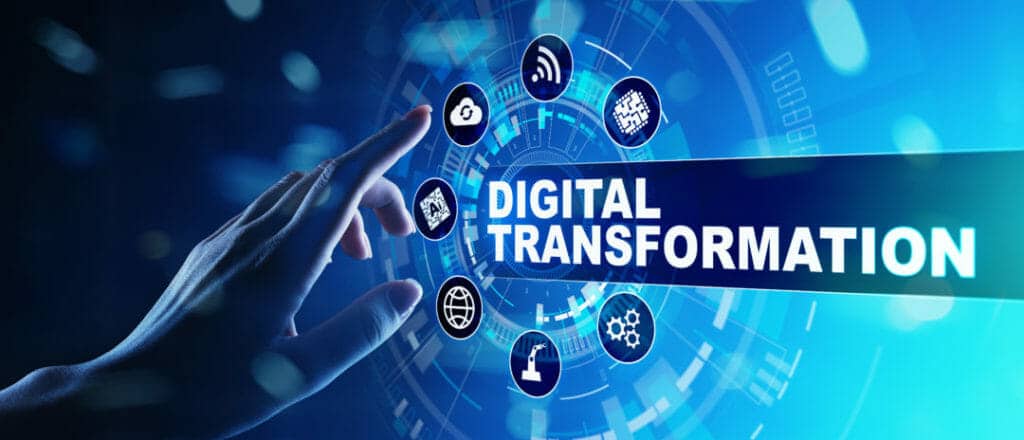 Digital transformation refers to the integration of digital technologies throughout your business process that fundamentally alters your mode of business operations and customer services. There are multiple benefits that drive organizations towards digital transformation. Integration of new technologies in the business process improves cumulative efficiency and productivity. Implementation of new technologies and automation helps your staff to perform in a better way and also improves the utilization of data.
One of the main purposes of digital transformation is the collection of huge amounts of data that can be organized and utilized in multiple ways. In addition, this high-quality data can be fed into cloud-powered AI procedures for better customer services and automate decision construction for business growth.
Meanwhile, your workforce can be benefited from a range of fresh applications and technologies that can automate simple responsibilities, freeing them up to concentrate on valuable responsibilities, which ultimately can enhance productivity and revenue generation.
The role of IT infrastructure companies in digital transformation
In the current situation, digitalization and implementation of technologies have become more protruding that leads organizations to adopt high-performing IT infrastructure. Proper incorporation of IT infrastructure has enormous capability to improve business processes and customer satisfaction—from back-end employees' capability to customer-facing services, access to multiple tools and applications to use of cloud services, and many more. The benefit of getting an efficient IT infrastructure support service in business processes is huge—starting from business expenses minimization to process improvement by having a competitive and flexible working environment. Here are some of the instances of how IT infrastructure can help businesses to perform better.
1. Cloud Migration
Cloud adoption is one of the most prominent transformations. Cloud computing offers you multiple facilities like on-demand access to a huge resource of applications, remote server facility, and secured data storage facility without bothering about maintenance and management activities. Implementation of the cloud also reduces your burden of system update and maintenance as your partner cloud infrastructure company will take care of that.
For smooth cloud migration, IT Infrastructure Company plays a vital role to provide data security during the transition, adapt the latest application, and so on.
2. Mobility
Mobility is a crucial factor in the current situation. With digital transformation, your organization can allow the workforce to work from anywhere and at any time as the cloud and networking technologies will provide secure access to servers, applications, and data. This way the IT Infrastructure Companies help the organizations to establish the right remote working strategy in place.
Whether your employees are using their own devices or office assets, in both situations, a mobile device management solution is important to provide essential support for secured access to company resources. Your IT infrastructure partner helps to provide secure data and program access, password protection, encrypted data transmission facilities to keep your business running with a distributed team.
3. All-inclusive Security
Digital Transformation needs a much-secured infrastructure to prevent data loss, secure data transmission, and protection from cyber-attacks. While the increased number of devices in a network amplifies the number of attack surfaces, IT infrastructure companies offer secure data access facilities along with encrypted data transmission processes for optimal data security.
IT infrastructure companies offer cutting-edge security tools that are more efficient to detect real-time threats, identify potential data leaks, and reduce the number of virus attacks. Advanced security tools can help to improve network security and reduce unplanned outages.
Most of the companies worry the most about data loss and cyber-attack during the digital transformation which makes an IT infrastructure company indispensable for a smooth digital transformation and data migration. Along with the use of cloud technology and mobile device management (MDM) platforms, IT infrastructure companies can secure your data protection and provide you an all-inclusive security service to the organization.
4. Improved service levels
IT infrastructure management services provide the best-in-class support to your customers to resolve their issues; their around-the-clock customer care service helps the clients to satisfy their queries. Efficient customer care service with regional language support is an added benefit for your customers. Along with your customers, an IT infrastructure service partner also keeps your employees satisfied with resourceful IT infrastructure, faster closure of support tickets, and reliable network and system availability.
5. Betterment of Networking
IT infrastructure companies are using Internet of Things (IoT) applications and also help in better network transformation. In the current scenario, different networking tools like routers, switches, and firewalls are replaced by Software-Defined Networking which allows the quick rollout of new services.
6. Greater flexibility and faster time to market for new services:
Digital transformations facilitate the organizations to increase computing power and storage using advanced technologies. IT infrastructure companies help you to accommodate servers and other hardware much faster, and the storage can be increased or decreased according to your requirement with demand-driven pay-as-you-go models. With the latest technologies, IT infrastructure management services can even accelerate the time to market.
7. Improved Collaboration:
Digital transformation enhances the requirement of virtual collaboration to make the remote working culture successful. To work with a distributed workforce, IT infrastructure companies provide better technological support for efficient communication between team members using different collaboration tools and virtual meeting apps.
8. Dependable and secure infrastructure:
To improve productivity, a combination of dependable IT infrastructure, secured data storage, and an efficient workforce is indispensable. IT infrastructure companies are offering network security, real-time threat protection, as well as data center facility to provide a dependable work infrastructure to the companies. The right choice of IT Infrastructure Company is essential for a better working facility, data protection, and secured infrastructure which allows your in-house workforce to concentrate on productive works.
Conclusion:
Digital transformation is essential for the sustainability of businesses in the current situation. To make your path of digital transformation smooth, you can consider a reliable IT infrastructure company as your partner. With an IT infrastructure partner, you can easily migrate to the cloud, keep your data safe from cyber-attacks, and allow your people to execute their core duties without bothering about maintenance and management works. All these facilities will ultimately contribute to improving productivity.