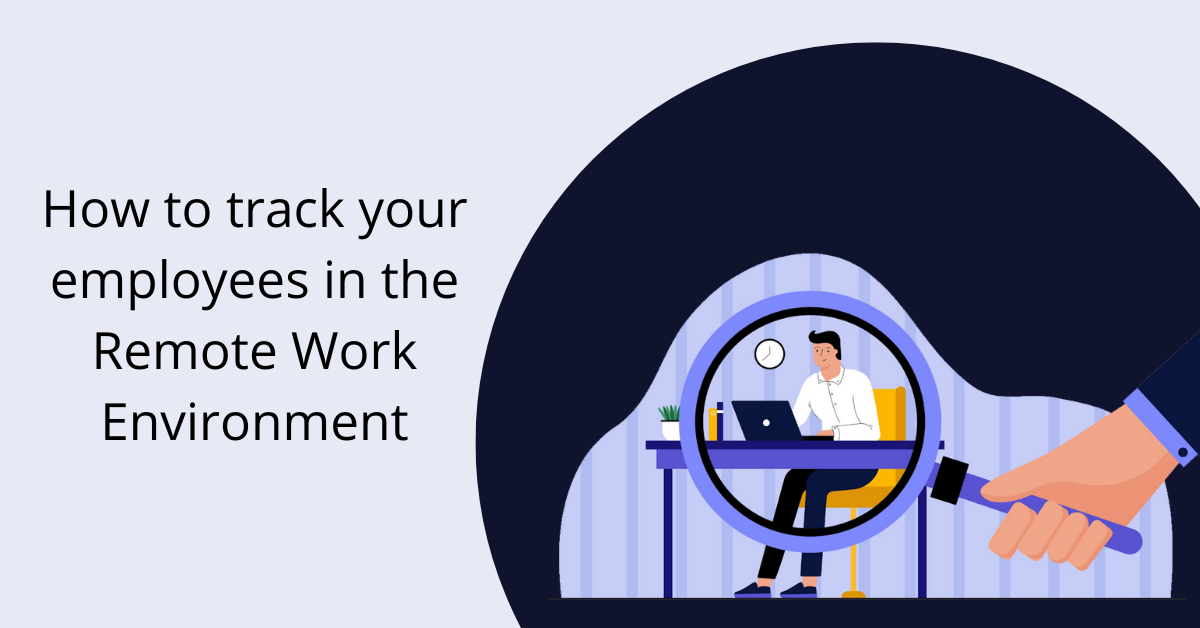 For any organization, individual productivity plays a crucial role in influencing the growth of a business. Irrespective of industry and business size, when employees don't perform their roles properly, companies can experience negative consequences. It is true that 'trust' is vital for remote working culture, but employers also need to track the productivity of their staff.
In remote working environments, employers can use tracking tools to monitor teams' productivity and time spent on remote work. Multiple tools are available with various features like deadline setting, attendance tracking, logging hour tracking and reporting to track remote employees' activity. Let's learn how to monitor remote workers' productivity with transparency.
What is remote employee monitoring?
When working with a distributed workforce, remote monitoring plays a vital role. There are several tools to monitor the activity of remote employees. These monitoring tools will make you aware of your staff's actions and productivity when working outside office premises. Using different software, you can track how employees utilize their daily time. You can monitor employees' computer usage, website visit, software download, file download, and so on using tracking software. You can consult reliable IT infrastructure consulting services to choose the right tracking software for your remote employees.
How to track your remote employees
Track employee's email activity
Modern professionals spend a lot of time (about 28 – 50% of their working day) in their email inboxes. But it is not enough information to judge your staff working from home. You need information about what's actually happening during dedicated office hours, such as:
Whom are they emailing?
How many emails are business-related?
How many emails did they send and receive in a day?
How fast do they respond to customers or other business concerns?
All this information can help you know about someone's activities during business hours – how much time they spend on business-related tasks and personal affairs. Multiple email communications don't imply maximum productivity.
If you want to inspect your employees' email activity, you can consider tools like EmailAnalytics. With such tools, you can visualize your employees' email activity,
how many emails they're sending and receiving and to whom. You can also know about average email response times. Their daily or weekly email report will allow you to monitor their email activity silently.
So, let your team continue working as they usually do, and you get all the insight from their activities. Based on the activity report, you can take steps and manage your team effectively.
Implement attendance, absences, and active hour tracking software
For remote working staff, punch cards are not an option to track their attendance, absence, or working hours. You have to go for time-tracking software. In distributed working culture, fixed times of joining and closing are not always applicable. But every employee needs to work for a specified time of the day.
You can go for electronic time-tracking software to track an employee's attendance and logged hours. When an employee logs in, it will start tracking their working hours. This will help to increase efficiency and productivity in the team.
With the owner's log-in, you can view how your employees use their business hours. You can also track which of your employees are fully occupied with productive work and which have time to fill.
When looking for monitoring software for attendance and working hours, you must consider some of the features:
The software must be easy to use for employees from different backgrounds.
The tracking tool must allow your remote workforce to apply for absences and vacations.
The software should track the extra time your employees have worked.
Based on your findings, you can track who is taking continuous offs or working overtime. It will help to track your team's productivity.
Use a project or task management software
Project or task management apps are beneficial when working with a distributed team. Here project managers can add all project-related tasks, assign them to particular employees, and overview the progress of that task. When multiple programs run simultaneously, these apps can help track the project progress at a glance, identify the over or under-utilization of specific employees, etc. This software allows you to manage, organize, and assign tasks to employees who are not occupied enough.
If your managers and the team have done the correct task and time assessment and provided accurate task planning along with the timeframe, task management software can help you to monitor the complete project cycle through the project management software. Using the dashboard of those apps, you can track the progress of the project, whether any disproportional work distribution is there, etc.
But, here, you have to consider that different projects may come with varying levels of responsibility or time commitment. So, you have to consult the respective employee and create the timeline based on that.
Track your employees' web-activities
When working with a distributed team, cyber security becomes a huge concern. You must monitor your employees' activity to protect your organization from cybersecurity threats. Some remote monitoring tools conduct behavior analysis, detect insider threats, detect unauthorized software in employees' systems, investigate incidents with audit and forensics tools, and prevent data loss.
Some tools can track employee activity, location, idle versus active time and productivity levels. You can subscribe to monitoring plans according to your business needs.
Based on your employee behavior, you can filter and block employee web content to prevent the chances of data leakage. You can also track file activities and detect portable drives to avoid contamination.
Self-reporting
In remote working cultures, trust plays a vital role. When you have faith in your employees, you may institute a self-reporting policy. Employees can individually report to managers about what they have done in a day, how busy they feel, and whether they can take on new responsibilities.
Self-reporting can be helpful as workers can determine whether they are overburdened or underutilized or have a balanced workload.
Conclusion
To monitor your remote working employees, you can implement different tracking tools. With the help of your managed services provider, you can choose work-from-home productivity trackers that most closely fit your business's needs.