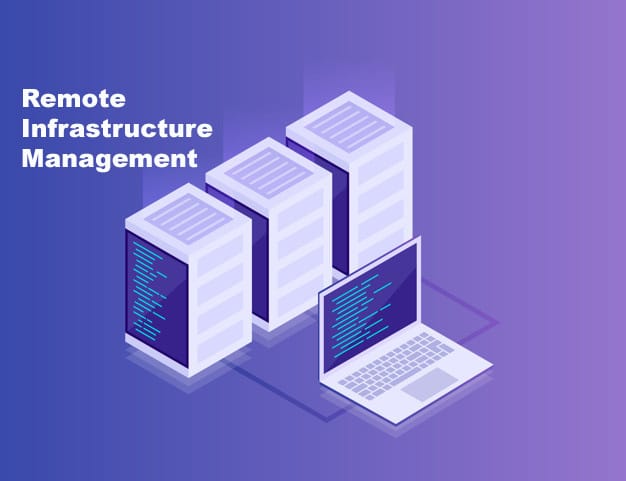 With the advancement of technologies and changing customer requirements, the concept of business development has changed. Businesses are looking for ways to speed up their businesses process to cater to clientele's changing demands. In this fast-growing technological world, companies realize the importance of efficient infrastructure management to make business processes smooth and faster. Remote Infrastructure Management (RIM) is an efficient solution that can help the organizations to meet the growing business requirements and better manage the IT environment of the organization. Organizations of all sizes, irrespective of industries, recognize and adopt remote infrastructure management services to improve a firm's overall IT system by managing its infrastructure and database from a remote location.
The main advantage of hiring RIM partner for your organization is the remote monitoring and maintenance facilities for the IT infrastructure. RIM offers a centralized IT maintenance system that helps in instant error detection and repair. Appointing a RIM also helps in restoration of the systems promptly with their remote tech-support service and minimize downtime. Therefore, employing RIM is beneficial for organizations run with distributed workforces and establishments across several locations around the world—a RIM can support all the IT systems across these locations, offering more coordination and better maintenance.
Along with remote monitoring and maintenance of IT system, employing a RIM can also improve operational agility, reduce IT expenditure, minimize the risk of security breaches, and improve productivity, allowing you to gain the upper hand in the competition.
Why Remote Infrastructure Management?
It is a common practice that businesses spend a considerable amount to keep an in-house IT department to provide immediate IT support to the production team, ensure real-time customer service and continuity of business operations. With the advancement of technologies and remote work culture, the in-house IT support facility is inadequate to support the IT environment and meet all business requirements. Even it is not always possible to have expertise in the latest technologies in-house. The in-house IT support team may not be able to upgrade themselves with every newly invented technology. Remote IT service providers can be the best solution for getting all IT support and IT infrastructure consulting services.
Although remote infrastructure management service has been in existence for quite a long time now, many organizations still lack the understanding of how RIM service integration can help them develop their business.
Remote infrastructure management provides all support and management of IT service remotely from a centralized location. Having a remote infrastructure management partner helps you mitigate the strain and responsibility of managing the IT infrastructure services of your business. This includes desktop and server administration, network monitoring, backend storage operations, system update, release and change management, application and performance tuning, and so on.
How Remote Infrastructure Management helps to improve productivity
The key benefits of Remote Infrastructure Management for businesses are as follows:
1. Round the Clock IT Support:
IT infrastructures of your organization can break down or malfunction anytime or anywhere; special when your workforces are working from different time-zone, you need to be prepared with a reliable and efficient IT solution that can offer 24X7 services. Remote infrastructure management services companies are the most effective solution for such situations. They can deploy a team of experts to ensure effective IT system monitoring for your organization and provide round the clock IT support.
2. Enhanced Uptime:
The remote infrastructure service companies provide high standard equipment, technicians, around the clock monitoring, management expertise, and other services, which helps to improve uptime. 24×7 monitoring facility can encounter upcoming system malfunctioning far before they actually happen and takes preventive measures.
3. Customized and Additional Services:
Remote IT infrastructure management service partners also provide customized services for your organization according to the business requirements. RIM offers services including server management, maintenance of networks, on-site IT support, and infrastructure analysis, allowing organizations to save costs and minimize downtime. Even RIM can suggest appropriate latest technologies for your organization to improve productivity.
4. Minimize Operational Costs:
Efficient cost management is essential for organizations to stay competitive. By hiring a RIM service provider, you can minimize different types of expenditure like the cost of maintaining an in-house IT support team, purchasing enough space, providing around the clock IT support, having enough power, and so on. Though hiring RIM is itself an expense, but the overall benefits of having a RIM Partner make it a cost-efficient service.
5. Enhance Productivity and Efficiency of the business:
Your remote infrastructure management partner provides you with information about cutting-edge tools and helps you to adopt the latest technologies. RIM also offers technical expertise, infrastructure analysis and optimized methodologies to improve the business processes and IT infrastructure and allows the staff to focus on core business processes. These help you to enhance the productivity and efficiency of the IT infrastructure and helps in business development.
Advantages of Remote Infrastructure Management
Remote infrastructure management is exclusively important for businesses that are scattered across multiple locations around the world. It is very expensive to set up an independent IT unit at each location, and it is also chaotic to establish strong coordination among them all! Instead, if you have an effective remote infrastructure management solution in place, you can centralize the monitoring and maintenance of your IT environment and provide appropriate support systems.
With a RIM, you can monitor the IT operations of all the work centers from any place and can spot errors in real-time. So, the issues can be repaired promptly. This quick restoration facilitates business continuity around the clock. Except for huge issues like hardware failures, most of the repair and restoration work does not require on-site maintenance. This remote infrastructure management across all your business locations saves both time and money.
Why Should You Outsource Your IT Infrastructure
Outsourcing your IT infrastructure management services to a specialized service provider is not only time saving but also money-saving practice along with efficient IT infrastructure consulting services to support your business. Reputed remote infrastructure service providers possess a wealth of experience and excellent expertise in every aspect of the IT field, allowing them to optimize the IT system according to your business-specific requirements.
When the services of a RIM company back your organization, the overall cost of IT operations reduces. You will get relief from the burden of the IT spends on numerous units. Hence, it is wise to hire a RIM and enjoy the ease of doing business!