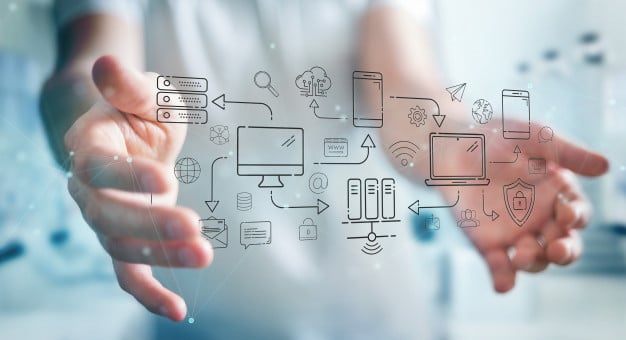 2020 is a lesson to everyone; it is all about existence, adopting new work culture, experiencing numerous unpredicted technical and security issues, and finding ways to sustain. The Covid-19 crisis has made multiple organizations get out of their comfort zone and accept the remote working culture, cloud migration, digitalization, etc. In the last quarter of the year, it is time to reconsider learnings from the pandemic crisis and planning a new business strategy to improve profitability in 2021.
To cope with new normal life and improve the profitability of your business, it is important to make changes in the previous business continuity plan and incorporate technological advantages. Some of the key strategic technologies that can improve profitability in the coming year are:
Privacy-enhancing computation
Distributed cloud model
Anywhere operations model
Cybersecurity mesh
Intelligent composable business
AI engineering
Hyperautomation
Privacy-enhancing computation
The pandemic crisis has forces enterprises to adopt working with remote workforces, deal with distributed customers, and meet the changed service requirement of the consumers, business mobility, and many more. All these new practices need a better data security and privacy-enhancing computation. Privacy-enhancing computation focuses on three technologies that can safeguard your business data.
Technologies to provide a trusted environment, in which sensitive data can be shared, stored, analyzed, and processed.
The technologies that help to perform analytics and processing in a decentralized fashion.
Technology that encrypts data and helps in safe sharing, analytics, or processing.
The trend of privacy-enhancing computation allows organizations to collaborate virtually, work with distributed teams, research securely across regions, and work with competitors without sacrificing confidentiality. This approach helps in increasing data security while sharing data and working with a distributed team.
Adoption of a distributed cloud Model
In the current situation, cloud computing has become a critical component of business and IT. It has become essentials as a large number of enterprises are running with a remote workforce, next-generation technologies, and initiatives like a digital business, customer intimacy, and artificial intelligence.
A distributed cloud is a special type of cloud model that operates with a geographically dispersed infrastructure and primarily runs services at the network edge. One of the key differences of distributed cloud from the theoretical cloud model is that it is not dependent on a centralized data center.
With a distributed cloud model, businesses can reduce the downtime, network congestion, and risk of data loss. Apart from this, organizations can have better compliance with data sovereignty regulations as the data will be kept in the country it was generated in. Considering the latest trend, it can be said that the distributed cloud is the future of cloud technology.
Adoption of anywhere operations model
The pandemic has made everyone realize that digitalization and remote working model with the most sustainable working practice for business continuity. Anywhere operations is a working model refers to an IT operating model that allows an organization to support customers everywhere, enable employees to work from anywhere, and manage the deployment of business services across distributed infrastructures. Therefore, the companies can operate their business from anywhere and even run the business without any physical office infrastructure.
With the adoption of the latest virtual collaboration technologies, high-tech data security facilities, and stable & fast network facilities, the anywhere operations model is the apt option for business continuity. It allows you to run your business with a distributed workforce, and this model is also cost-efficient. In simple words, as more businesses are looking to be done remotely, this model facilitates business being done anywhere.
Enhance data security with Cybersecurity mesh
As more companies are adopting remote working infrastructure, the chances of data theft and other cybercrimes have enhanced. To deal with a variety of cybercrime, the cybersecurity mesh is a strong weapon; it offers enhanced security to protect your valued data and information. Cybersecurity mesh is a distributed architectural approach that helps to provide scalable, flexible, and reliable cybersecurity control. It allows you to secure your valued information and increase network security through encryption, improved service-to-service communication, and enforcement of security policies.
Intelligent composable business
Composable business infrastructure can adapt and rearrange itself based on changes to the business. With composable infrastructure, enterprises can promptly and dynamically provision both hardware and software using a unified API. This model allows businesses to access resources based on either a specific application or system workload. This flexibility enables the business infrastructure to be more responsive to the organization's needs.
With digitalization and agile working practice, the pace of changing business requirements is ever-increasing, and this will continue to drive a faster pace for digital transformation. All these require data to be available in a timely fashion to succeed in this environment. Therefore, composable business infrastructure is essential to react quickly with changing business requirements, instead of being bogged down by inadequate processes.
AI engineering
Artificial Intelligence (AI) is one of the latest technologies that have a low error rate compared to humans when appropriately coded. This technology offers incredible precision, accuracy, and speed. With the proper investment and strategic implementation, AI engineering strategy can offer scalability, better performance, reliability, and interpretability for better productivity and services. By using a multi-discipline, multi-AI-technique approach, companies can achieve multiple benefits from AI projects.
Hyper-automation
The crucial components of hyper-automation like Robotic process automation (RPA), Business process management (BPM), Artificial intelligence (AI), and advanced analytics can make your business more productive, flexible, and cost-efficient. The hyper-automation also enhances the artificial intelligence capabilities of a business including Natural Language Processing (NLP), Optical Character Recognition (OCR), and Machine Learning (ML) so that more tasks can be processed and automated.
It can improve the quality of the work and amplify employee contentment and enthusiasm. This can also create a workforce trained and equipped with new-age technologies to take on the problems with an innovative approach.
Smart companies are always eager to adopt new technologies and adopt a business strategy to maximize growth, profitability, and value. To cope with this new normal, it is important to make an effective tech strategy planning. A well-planned business strategy can be helpful to improve profitability. You can take help of the IT infrastructure consulting services to improve your business strategy.