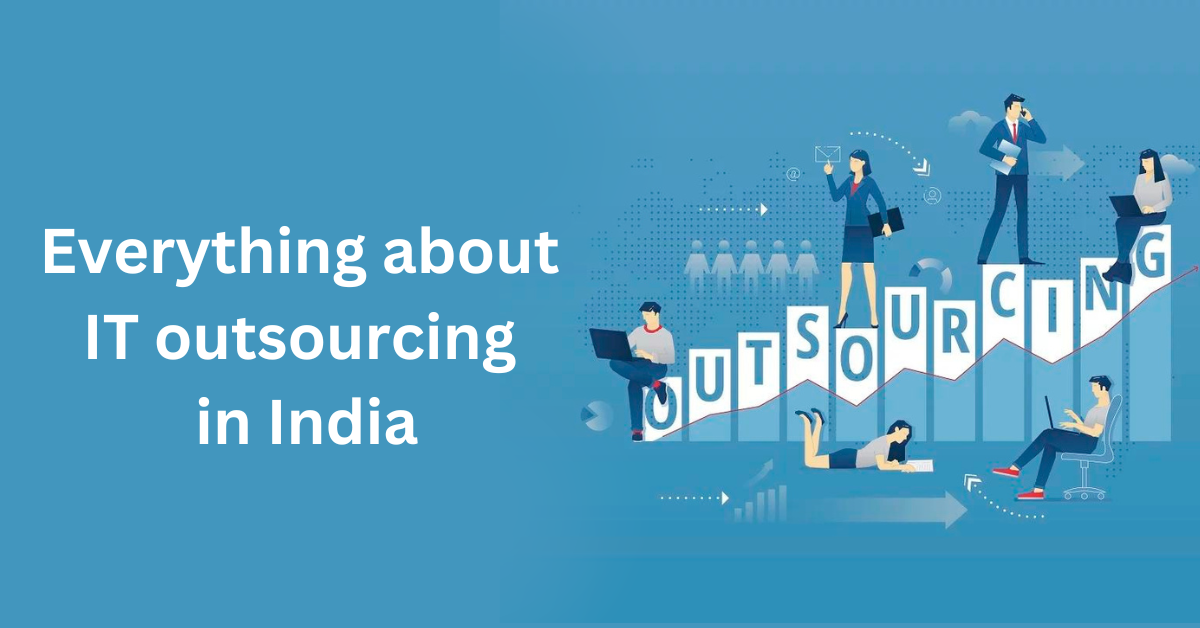 IT outsourcing services are essential to several organizations, irrespective of their size and industry. With the emergence of digitalization and cloud adaptation, IT support services have become essential to organizations, especially small and medium-sized firms, start-ups, etc. The Covid-19 pandemic and subsequent situations have fueled the importance of IT outsourcing business. Therefore, while most other industries experienced a slowdown during the pandemic, the managed IT services industry had steady growth.
The evolving demand for remote work culture, shortage of experience and skilled IT professionals, etc., have driven organizations towards IT outsourcing services. Especially small and medium-sized businesses (SMBs) lack enough time and budget to keep up with the fast-changing world of information technology, the latest tools etc. For them, IT outsourcing has become the most effective option for getting the best IT support service within a reasonable budget. India is suitable for many foreign organizations to outsource their IT needs. Multiple reasons make organizations keen towards IT outsourcing companies in India to get the required IT services.
What is IT outsourcing?
IT outsourcing is partnering with third-party IT service providers to get required IT support services and help to implement IT-enabled business processes, application services, and infrastructure solutions for better business outcomes. A business can hire a third-party IT services provider to get different services, including:
Mobile App Development
Web Application Development
IT Consultancy
IT Infrastructure Management
Cloud management
Cloud Services
Database Management
Custom software development
Maintenance or support
Data Science
Blockchain consulting
Internet of Things (IoT)
IT outsourcing is not only for saving time and money but also gives a competitive advantage to their clients. Hiring an IT service provider lets you focus on the core functions and business goals.
Types of IT outsourcing
To select the right kind of IT outsourcing scheme, you need to know the types of IT outsourcing processes. It will help you choose the right service model for your business.
Onshore outsourcing
Onshore outsourcing refers to recruiting a third-party IT service provider within the same country as the organization. This kind of service outsourcing is also known as domestic outsourcing. Onshore outsourcing is suitable for organizations that want to retain their operations within their homeland.
There are some benefits of domestic outsourcing, like less travelling expenses, similar culture, language and accent, making communication easy, matching time zones, and easy compliance with legalities. These advantages make organizations driven towards onshore outsourcing.
Offshore outsourcing
Offshore outsourcing is outsourcing IT services from a different country at a much lower cost without compromising the service quality. Collaborating with a third-party IT service provider firm can make your IT jobs done at a lower price. For offshore outsourcing, developing countries like India are obvious choices to organizations for the availability of a massive talent pool and a comparatively lower cost.
Offshore IT outsourcing companies in India have the best talent to showcase their work to foreign clients.
Nearshore outsourcing
Nearshore outsourcing is almost similar to domestic outsourcing. In this process, client companies choose an IT service provider from adjacent locations or nearby countries that fall under the same time zone. This way, organizations can outsource their IT support from nearshore – it will be easier to communicate and handle the operations.
Cloud computing-based outsourcing
In case of cloud-based IT outsourcing services, the whole process will operate entirely online, i.e. from making a contract to rolling out the project. It includes different service models like – Software as a Service (SaaS), Platform as a Service (PaaS), and Infrastructure as a Service (IaaS).
Significant benefits of IT outsourcing In India
IT outsourcing in India can provide you with multiple benefits; it offers a vast talent pool to get almost every professional for your organization and obviously at a reduced cost. There are some other advantages of IT outsourcing. Let's have a brief idea of outsourcing IT support from India.
Cost efficiency
The outsourcing model is pretty cost-effective as it allows you to avoid the cost of having in-house IT infrastructure, IT professionals to manage and maintain the infrastructure, etc. You can also save your budget for recruiting IT professionals and training costs that take a significant chunk of the company's IT budget. Moreover, hiring IT resources from developing nations is comparatively more cost-effective than what you get in developed countries.
Accessibility to a massive talent pool
Opting for outsourcing IT services gives you wider access to industry talent. You can have the right talent for your organization with minimal effort. IT outsourcing makes it too easy to get the most experienced professionals from various nations. Developers from different countries come with a variety of perspectives and skill sets. With the right human resource, you can have a better opportunity to improvise better work culture.
Increased flexibility
IT resource outsourcing for your IT needs brings more flexibility. Even a planned project can be delayed due to last-minute changes and needed updates. To finish the project on time, you need additional human resources. Partnering with an IT outsourcing service provider can provide that extra support — they can offer you the flexibility to accommodate those last-minute changes and complete your project.
Helps to improve the time to market
With IT outsourcing, you can get immediate technical help, accelerating the speed of project completion and helping you to bring the project to market faster. All you need to do is opt for a suitable managed IT services provider and leverage the skills they have to complete the project quickly. Partnering with an IT outsourcing company gives your access to an entire team ready with the right skills.
Access to the latest tools and technologies
IT outsourcing also helps you get updates about technologies you may like to incorporate into your business. Your dedicated IT partners will help you choose the right technology according to your business needs, implement them, and train your internal employees to use them. Your outsourced tech support will help to take advantage of the latest technologies and leverages different tools.
Conclusion:
Multiple reasons make India a suitable country to outsource IT services, such as a whole talent pool, quality at par, lower development rates, favorable government policies, and so on. You just need to pick the right IT partner by going through their work portfolios, and you can enjoy a fantastic IT outsourcing experience.