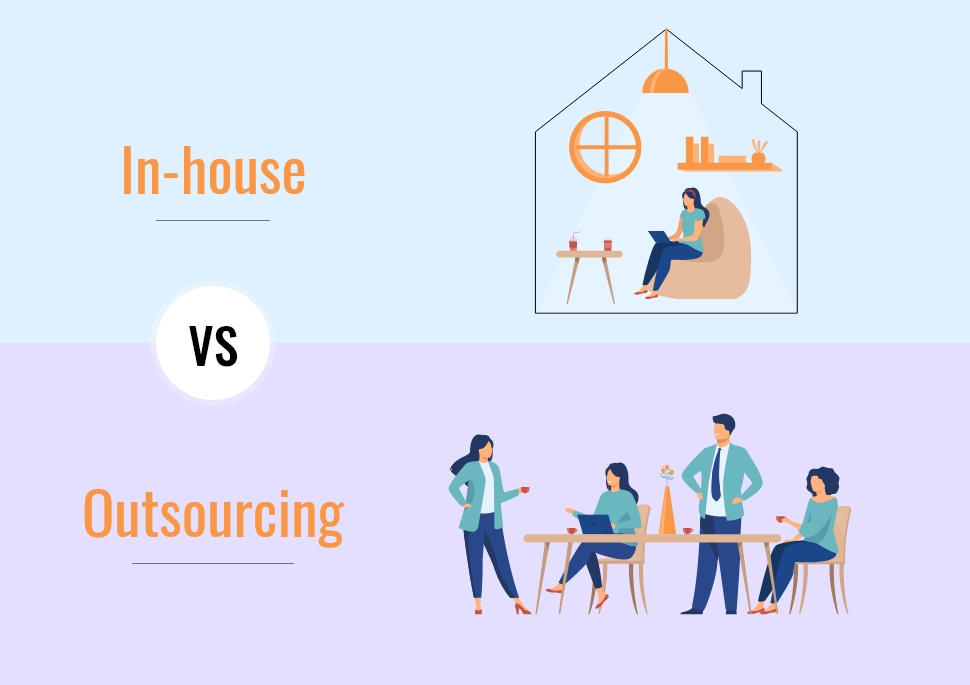 IT integration, maintenance, and management are a huge concern for most companies — this is an essential component for business continuity. It is a common trend that a large portion of your IT budget is invested in regular maintenance, re-evaluation of IT infrastructure, and technology upgrades as needed. Infrastructure development, regular maintenance, security assessment, latest technology integration, and routine IT training need skilled and experienced professionals and a sufficient timeframe. Otherwise, wrong attempts can lead to costly mistakes. Therefore, a team of IT professionals is an essential requirement to handle every IT of an organization.
Once you decide to pay for an IT team for your organization, you have to determine whether to hire an internal IT team or partner with an IT outsourcing company. Now, the question is in-house or outsourcing IT experts, which one is most suitable for your organization. You need to carefully consider the pros and cons of both options and then opt for the right solution for your business's unique IT needs.
Advantages of In-House IT Experts
Recruiting a full-time, dedicated, and internal IT professional is a significant and expensive decision for organizations but can provide a solid return on their investment. There are multiple benefits of having efficient, in-house IT staff.
An internal IT expert will not only diagnose the technical issues you experience but also take immediate steps to address them. This way, you can reduce the chances of costly mistakes. When you have a complex IT infrastructure, your in-house expert can regularly monitor that.
Being an internal staff, your IT expert will have an intimate understanding of your systems and the technology you use. They will also better understand your IT needs. They have the opportunity to anticipate future needs and can suggest suitable updates.
Your in-house IT professional can find solutions to technical issues as they occur. It will help to minimize downtime.
With an in-house and on-site team of IT staff, all technical issues can be addressed directly without miscommunication through a middleman.
Disadvantages of In-House IT Experts
After the pros, it is time to indicate the cons of having internal IT experts.
Hiring a full-time IT expert is an expensive option. Here the hiring company have to pay a fair wage, plus allowances, leaves, and other perks based on the rates in your area.
Here, you need to find an IT expert from a localized, smaller talent pool. Sometimes you may experience a shortage of expertise, and required skills or capable professionals are already employed by other companies, which reduces your options even further.
Limited individual knowledge can be another hurdle. Depending on the in-house experts, you have to rely on your professional's knowledge level and solution preferences, which may not always be the best solution for your business.
If knowledgeable professionals are limited, retaining the right IT expert becomes challenging. Good IT professionals are always in high demand, and companies with higher budgets can steal your IT staff with better compensation packages.
Usually, in-house IT staff works during regular business hours. Most IT house IT experts are unwilling to work outside their scheduled hours, on weekends or holidays, except for emergencies.
When it comes to the integration of new technologies or software, your in-house IT team may face difficulties as handling some cutting-edge technologies can be beyond their expertise.
Advantages of IT Outsourcing
Apart from recruiting in-house staff, partnering with a managed IT services company to outsource is an effective way to get IT experts to meet your IT needs. This way, you can get professional IT assistance through flexible and scalable service packages. Here are the key benefits of IT outsourcing.
24/7/365 access to IT experts: Most IT outsourcing companies are committed to offering around-the-clock customer support to their clients.
Affordable: IT outsourcing provides more cost-effective access to experts with different skill sets. Even you can get an opportunity to work with experts who may have been beyond your budget to hire exclusively. Companies with limited budgets can also get chances to access customized software solutions.
Access to a more extensive knowledge base: Outsourcing companies have multiple professionals to provide you with the collective knowledge of IT trends, standards, security risks and government compliance, which is far beyond that of an individual professional. Companies can get the best solutions for their IT needs with outsourced IT experts.
Access to a larger talent pool: Most managed service providers have experts with multiple skill sets and experience, which is difficult to get when hiring for your in-house IT team. Exceptional proficiency in outsourced IT is one deal-breaking point over in-house IT.
Less commitment: Partnering with a managed IT services company allows you to avoid creating permanent IT positions in your company. So, no headache of managing and paying for in-house IT staff.
Disadvantages of IT Outsourcing
Like in-house IT, IT outsourcing has some cons. Here are the drawbacks of having managed IT services partner instead of hiring a full-time IT expert.
Absence of face-to-face interaction: In most cases, the outsourced IT experts or technicians provide services through remote means, like online chat, remote access to your devices or over the phone.
Communication issues: AS there is no chance of face-to-face meetings, some staff may have a communication issue with agents of the service provider and feel difficulty conveying their issues.
In the case of IT outsourcing, one may not be connecting with the same serving agent. In case of reoccurring problems, every time, the end-user need to explain the issue to the service provider.
Possible longer turnaround time: Although outsourcing companies offer 24/7 help desk service, accessing a qualified technician to create a solution to your issue may not be immediately possible, and you may have to wait for an expert to contact you.
Who to choose to handle your IT?
Every business is unique—all have different requirements and preferences. Both in-house and outsourced IT have pros and cons. It depends on the organization's needs to opt for any of them. But in the case of small and medium-sized businesses, cost reduction can be one of the main drivers for outsourcing their IT. Having an in-house, around-the-clock IT support service can be pretty much expensive and can be deal-braking.