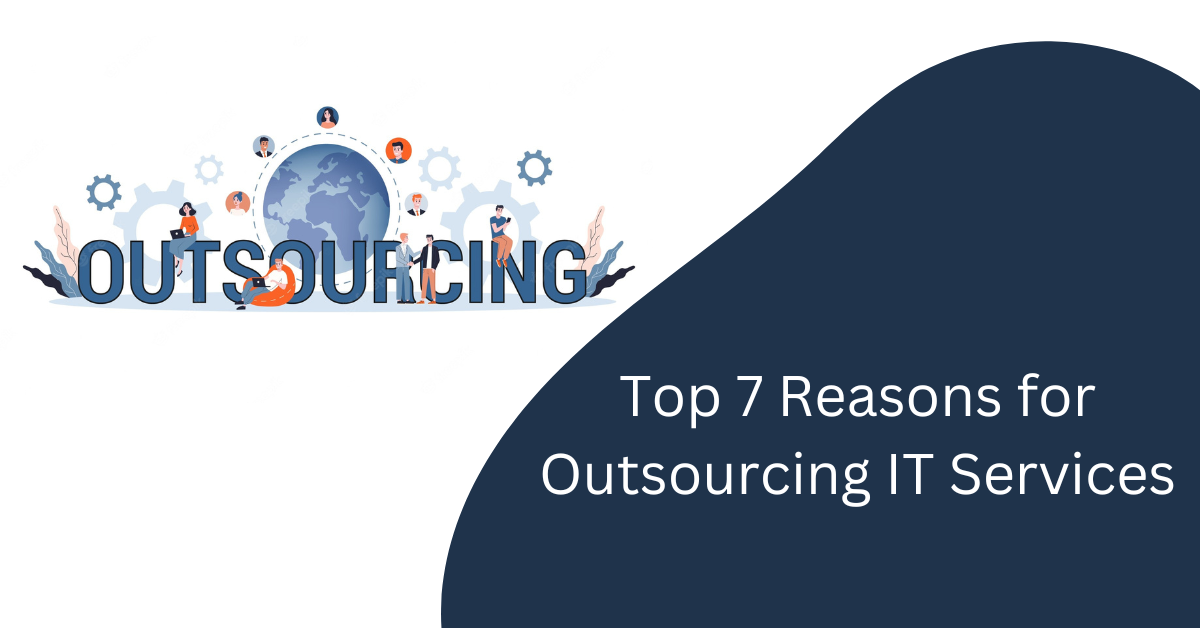 Information technology and computational systems are ever evolving and are growing increasingly complex. They have become an indispensable component for almost every business. Organizations need to take care of multiple things to run their day-to-day business, from managing a vast and complex network of devices to maintaining cybersecurity of the business data. And as a whole, multiple issues can arise in a given day, and some of them can be road blockers as well. Managing the IT infrastructure, network, devices, security along with maintaining compliances become hectic for an in-house IT team. And, you need a large team with certified and experienced members to manage everything with your internal IT team. But for small and medium-sized organizations, it is not a practical solution.
Outsourcing IT services through managed IT services provider companies can be a better option to get efficient services at an affordable price. IT outsourcing companies in India can provide you with every essential IT service you need and help in your business growth. Partnering with a managed service prodder (MSP) can benefit your organization in multiple ways. Here are the seven key benefits of outsourcing managed IT services.
Cost Savings
Cost savings is one of the key benefits of IT outsourcing. Recruiting, training, and retaining an internal IT team implies regular fixed expenditures such as salary, benefits, parks, office expenses, etc. Plus, you have to form an internal team considering the maximum workload. But, IT workloads can be variable. In this regard, partnering with an MSP is more reasonable. With your managed IT support service, you can go for a "pay as you go" model. Here your IT expense will become variable; you have to pay according to your current business need. This service model can offer you significant savings in overall IT expenses.
With an MSP, you can sign a contract for a monthly IT support services package. These type of service contracts typically costs you much less than hiring and retaining efficient internal IT staff. Ultimately, you can save your business money and use your budget more effectively.
Experts and Experience
Besides a qualification, experience is critical in solving routine and complex business IT challenges in the IT field. Therefore, recruiting an internal person with the correct breadth and depth of knowledge is difficult and expensive. Besides finding the right person according to your business need, it is also difficult to retain them. The market is competitive, and the right person is always in demand.
When you partner with an MSP, you can easily access the right person with expertise and experience to take care of your IT needs. A responsive MSP will always be ready to provide you with the required professional expertise in different fields.
Since the professionals of MSPs are usually accustomed to facing different complex situations and similar problems and challenges repeatedly, they are better equipped to handle IT crises compared to internal IT teams.
Increased Efficiency
Usually, the internal IT department needs more budget and time for research and development to develop a system or IT upgrade ideas, and they also need more implementation time. Ultimately, a large portion of the development budget is used up in the planning phase. Therefore, most organizations in this competitive market find that recruiting MSPs for IT support may give them a competitive advantage.
An MSP knows better how to help your business run more efficiently. They can help you redesign workflows, automate repetitive tasks, upgrade equipment and software, and so on. They know state-of-the-art technologies, which help you run your business more efficiently and keep up with your peers and competitors.
Adoption of the latest technology:
Managed IT support services firms have the required resources and trained personnel who can help you start new projects quickly and meet your technical needs. On the other hand, project implementation with an in-house IT team will take much longer as they remain preoccupied with their day-to-day jobs.
Besides that, outsourced IT support can help find the right technology solution to solve your business problems, which saves your internal resources. Even if you need new skill sets to start a project, your MSP can instantly provide that support. So, you don't need to hire the right people, train them, and provide the support they need. Therefore, it is wise to use an MSP's help to implement a new project or technology as they will bring years of experience from the beginning, saving time and money.
Support your Business Goals
For most small and medium-sized companies or start-ups, resources are limited. And, your business will suffer if your in-house resources are forced to spend their valuable working hours and energy making IT decisions on complex systems. But outsourcing IT management services can relieve your in-house team from maintenance jobs and allow your team to focus on what you want for your business. A competent managed IT services firm can take charge of your IT and network monitoring and maintenance, 24/7 tech support, cybersecurity, data backup & recovery, and other IT support you need.
Security Enhancements
In the present time, cybersecurity is a critical aspect of every organization. Every day a new hacking technique is coming up. Cybercriminals are sophisticated with the evolving technologies. So, your in-house teams are not always efficient enough to protect your digital assets and data.
Your network has vulnerabilities. And a professional IT service provider is the right choice to ensure your cybersecurity. Partnering with an MSP allows you to tap into the extensive knowledge of experts trained in this matter to provide you with the best security solutions as per your business needs. Your MSP will also help you to keep your software and security up to date for your protection.
Minimizes business risk
Nothing is everlasting in any industry. Markets, competition, technologies, financial conditions, government regulations – everything is changing fast. It is hard the catch the pace with a limited inter-team. Managed service providers are efficient at assuming and managing much of these risks for you, with specific industry-specific knowledge, especially security and compliance issues. They can help you to avoid those risks through their expertise.
Conclusion
An IT outsourcing company can help grow your business, save resources and money, and keep you up with the latest technology. You just need to look for a suitable managed service provider per your business needs so that you can focus on your ultimate business goals.