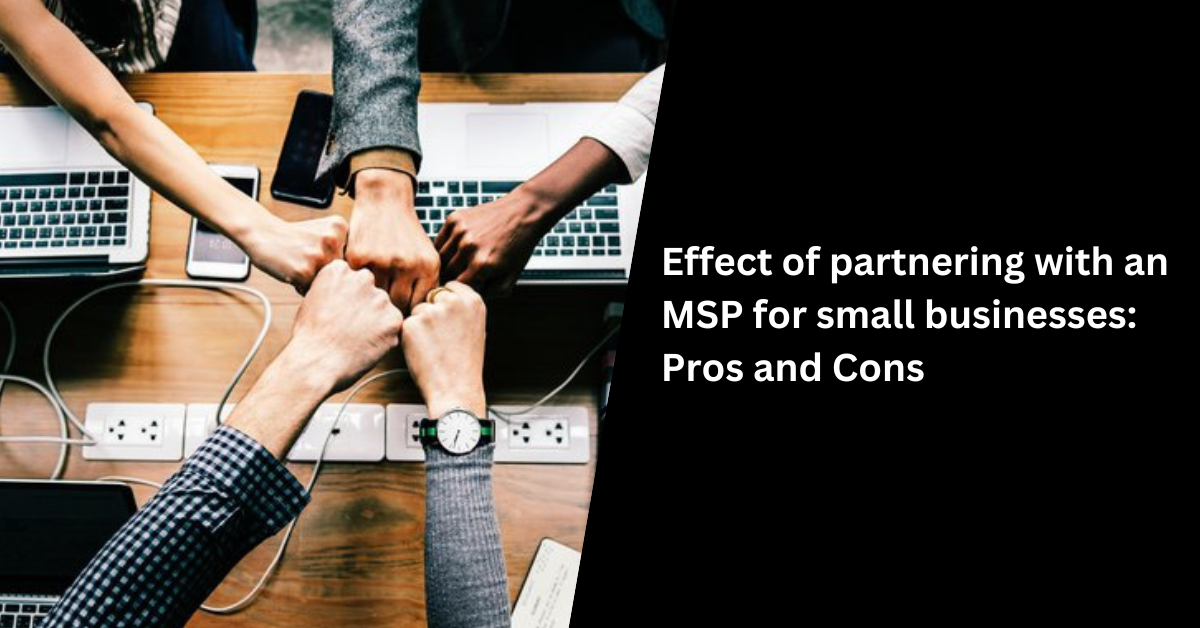 Small businesses need effective but cost-saving solutions to keep their businesses running – especially when it is related to information technology. Sometimes, it becomes hard for small businesses to have dedicated IT staff to meet all their IT needs. Their in-house staff remains overburdened with IT handling along with their core tasks. When small companies seek to free up their in-house team to concentrate on their core business, outsourcing IT services can be a suitable option.
A managed IT services provider (MSP) allows small businesses to focus on running the business instead of troubleshooting tech problems. MSPs help organizations to maintain, update, and protect their whole IT infrastructure to keep the business running smoothly. In this article, you can learn how an MSP can help your business and the pros and cons of hiring an MSP.
What are managed IT services?
Managed IT services refer to the practice of outsourcing IT to help maintain IT infrastructure, anticipate needs to improve operations, and reduce budgetary expenditures. A company that offers you these services are called a managed service provider. Most MSPs provide IT support services at a monthly flat fee. They proactively monitor your business's network, troubleshoot any issues that come up on the network, try to minimize IT problems and make the needed software and system updates. They also take care of data protection, backup, and recovery processes.
Advancements in cloud computing allow MSPs to provide most of the IT support services to their customer through remote access. They remotely access the client's network and deploy solutions for any computing issues without physical presence at the location. IT outsourcing companies in India could offer several services, including mobile/web device management, IT consultancy, database management, software as a service, platform as a service, help desk support, data backup and recovery, etc.
Why does a small business need managed IT services?
Managed IT services firms offer constant infrastructure monitoring that helps to detect issues before causing service disruption. Instead of outsourcing IT help when a crisis occurs, MSPs allow businesses to get proactive and prompt IT management services. MSPs also help their customer with network and system updates, maintenance tasks, data protection, backup, and recovery.
It allows business owners to focus more on revenue-generating tasks instead of worrying about the company's IT. MSPs can also evaluate your current and future IT needs and advise the right solutions accordingly.
Pros and cons of hiring managed IT service providers.
Hiring an MSP differs from other methods of getting tech support and upkeep of IT. This service outsourcing model offers a complete package of multiple essential services, such as
Company's networking handling
help desk queries handling
Server upkeep
System updates
Project management
Desktop support
Cybersecurity
Data backup and recovery,
Professionals' advice on tech upgrades
Training for latest technologies, etc.
Depending on their individual business needs, small businesses can get all the services against a fixed monthly fee. Most MSPs offer different types of service packages to match the specific needs of the companies. But, knowing the advantages and disadvantages of hiring MSPs is also essential. So, read on to learn about the pros and cons of outsourcing
IT support services for your business.
Pros of Hiring MSPs
Change in model
An MSP constantly monitors your whole IT infrastructure. If they encounter any abnormality in your hardware, applications, and internet or data leakage, take immediate preventive actions and inform you about the situation. MSPs believe in a proactive approach to prevent technical issues from occurring. Hiring an MSP implies paying them to keep your business from having issues rather than fixing them.
Professional Expertise
For small businesses, it is not possible to hire experts for every new technology. If a company has only one or two IT staff for every IT aspect, having expertise in all areas is impossible. They cannot update themselves with every new technology and provide you with the needed advice, tech support, and training. On the other hand, MSPs usually have experienced personnel for IT support and skilled professionals dedicated to each function of IT. Therefore, MSPs are better equipped all around.
Tech provided
MSPs can offer you different service plans. With specific plans, you can use every component of your IT, including hardware (such as workstations and servers) and software from your service provider. All you do is pay for their service package and use their component. Those all-inclusive service plans may be expensive, but you don't have any capital expenditures for the tech and don't have to bother about IT. So, as an owner, you can focus on your core business, which is always beneficial.
Business continuity
A good and experienced MSP will provide you effective data backup policy along with an efficient disaster recovery plan. Data backup and recovery are two important aspects that assure you that if any disaster does strike, your business can endure it.
Cons of hiring MSPs
Physical presence
One downside of partnering with an MSP is that mostly these companies are not collocated with your business. In case of malfunctioning hardware like a printer or scanner, where remote access is not an option, a remote service provider cannot provide you immediate support. Then companies have to look for local support for prompt services. If you choose a local MSP, it may offer onsite support. Otherwise, you will usually have to pay extra for a physical visit to restore your devices.
Lack of full control over IT systems
Another con of MSPs is that they are outsourced, so you don't have total control over your IT system. You have to depend on your service provider's infrastructure. Your data will also be at risk if your service provider's server gets hacked.
Miscommunication
Some service providers have horrible communication policies. You may not get all essential information about system updates, software updates, maintenance work, etc., on time, causing service interruption.
Conclusion
Before opting for an MSP, every small business owner must weigh all the factors and decide. If you find your in-house staff is caught up with day-to-day IT management works, the business frequently has to lean on IT support, or your team have to spend too much time trying to fix technical issues, an MSP can be a good choice for your organization.