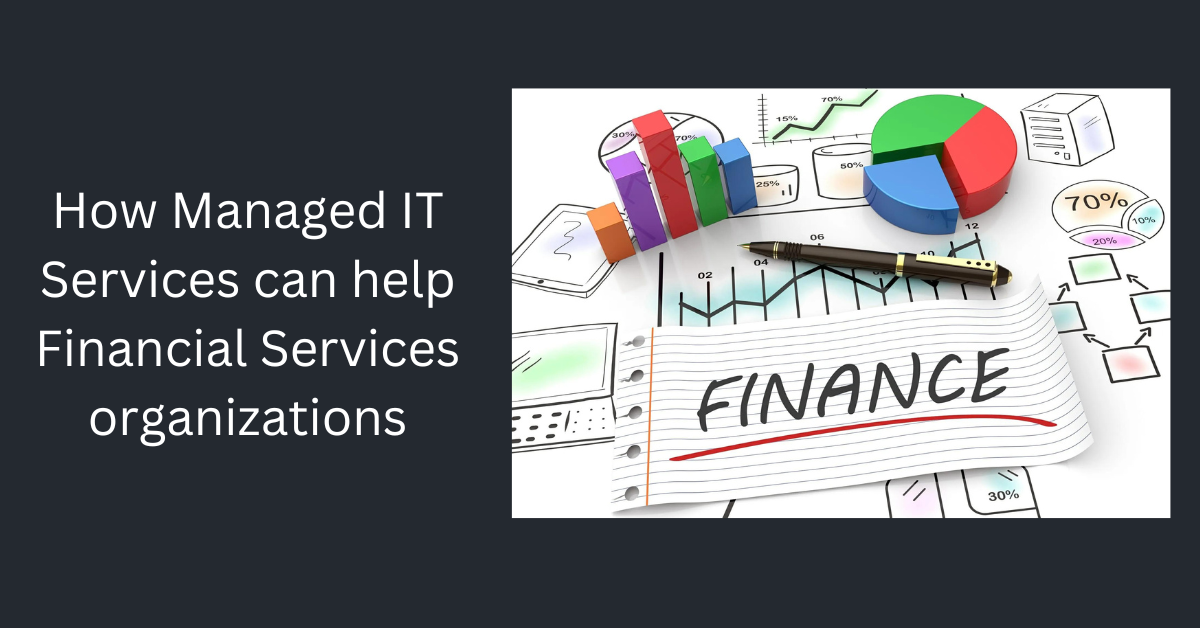 Like other industries, financial services like banking, stock market, mutual funds, insurance,
wealth management, treasury companies, etc., are bound to adopt digitalization and provide modern services to consumers. In the modern world, financial organizations have to rely intensely on technology to provide fast and efficient services. It has become essential for financial organizations to invest in improving their IT infrastructure. A reliable and proficient IT infrastructure is critical to meet customer service demands. Some financial services firms have in-house IT departments or staff to maintain their infrastructure and keep it up-to-date. But a significant percentage of financial organizations prefer to hire qualified Managed IT Services Providers (MSPs) to meet their IT needs. Managed IT services for financial organizations help to improve uptime, keep their system up-to-date, and, most importantly, free up internal professionals to focus on what they do best.
Specific technology needs of financial services
Like other industries, financial service firms also have unique technological requirements and have to deal with specific challenges not typical of most business organizations. Therefore, it is wise to go for an experienced managed IT service provider with prior experience in serving other similar organizations. A professional service provider has a better understanding of industry-specific needs. They are more efficient in coming up with unique solutions for banks and financial firms' related issues. The most common technology needs of financial service organizations are:
Maximum Uptime:
Every customer (especially in the banking sector) expects uninterrupted services during their financial transactions. They expect prompt support, minimum paperwork, and quick response from the other end. Therefore, it is crucial to have a stable and reliable IT infrastructure that causes zero interruption. In case of accidents or natural disasters, you need a managed services partner who can react promptly to restore your services and minimize downtime. With their continuous monitoring, proactive services, and efficient service protocol, they can prevent downtime incidents. As a result, you can enjoy minimized downtime and offer uninterrupted services to your customers.
Financial Data Protection:
Most financial organizations have to deal with massive amounts of sensitive client data, their identity, financial details, etc. Therefore, financial service organizations are tempting targets of hackers. To keep their clients and staff's data safe and secure, financial organizations need to have a secure network. Partnering with an MSP can provide them access to cyber security experts and their tools to monitor, detect and respond to threats and keep the business data safe.
Compliant Systems:
In this era of globalization, organizations have to deal with clients from different countries and follow several government rules. To avoid cyber threats, financial service organizations must comply with several government regulations created by organizations like Financial Industry Regulatory Authority (FINRA) and the Securities and Exchange Commission (SEC) to do business in the United States. Those legal compliances are continously updated, and organizations can keep themself updated with the help of IT outsourcing partners.
Employee Productivity:
Today, when most services are digitalized, employees have to depend on technology and network system to provide satisfactory services to their clients. Slow computers, networks, unresponsive banking apps, etc., can hinder employees' productivity. In such situations, financial organizations need IT services partners who can take care of the IT infrastructure, prevent unwanted downtimes, and allow to provide uninterrupted service. The right outsourcing partner can maintain your IT infrastructure, ensuring your network is in peak working condition. This will enable your employees to provide uninterrupted services to customers.
Managed IT Services for Financial Service Organizations
Business Continuity:
Cybercrime is a massive concern in the present day. An MSP can help financial service organization protect their data using services like backups, redundancies, and other continuity strategies. For business continuity, managed IT services can:
Protect your data with a recovery strategy specifically optimized for financial organizations
Backup data at regular intervals to a secure location
24/7 Data Backup and Recovery
Implement industry best practices along with all mandatory rules and compliances
A managed services provider also offers scalable solutions for all your network and system needs. Backup and data recovery are vital to ensure data safety and business continuity.
IT Infrastructure Design
Technologies are ever-evolving. Every organization need to re-design or upgrade its IT infrastructure to incorporate the latest technologies to provide better service to consumers. IT infrastructure update plays a vital role in a financial organization's serviceability and future readiness to compete with other organizations.
Slow networks, slow response, bulky operating systems, etc., are common issues that create a tense and inefficient workplace, loss of productivity, and dissatisfying customers. An MSP can help to remedy these issues while ensuring your network infrastructure's capability of handling ever-changing technology demands.
Infrastructure Update Without Interrupting Operations
To avoid time and financial loss, organizations continue using outdated technology. But, that hesitation to upgrade the system can be more costly in the long run. Outdated tools can lead to loss of productivity, take excess time, high maintenance costs, and unplanned downtimes.
Organizations should take the help of managed IT services to upgrade IT infrastructure, implement the latest technologies, and keep their services up-to-date. Regular IT update is essential to stay productive and competitive without affecting business operations.
Proactive Maintenance and Network Monitoring
Along with technology updates, hackers are also becoming more sophisticated and efficient in invading your system. Financial organizations need special protective measures to keep their sensitive client data safe. So, having defensible hardware and software is not enough. Organizations must regularly update systems to have a robust protection system and operate safely. Here also, you need the help of MSP to test and edit your solutions at regular intervals to ensure they are properly updated and maintained.
Data Storage
Every financial service organization have to deal with a massive amount of information and requires access to incredible amounts of data. It requires ample and safe storage space. Data centers, cloud storage, on-site and off-site servers, etc., are standard solutions. Your MSP is the right one to suggest the right option to store your data as per your business need.
Conclusion
For financial organizations, managed IT services can help uncover potential risks, prevent data loss and downtimes, cloud migration, deliver Security as a Service, provide 24/7/365 IT monitoring and management and many more. Regarding the customer experience, some MSPs also offer support services for telebanking frameworks, implement collaboration tools, Artificial Intelligence, and so on. In short, MSP can also influence financial organizations to improve productivity and ROI.