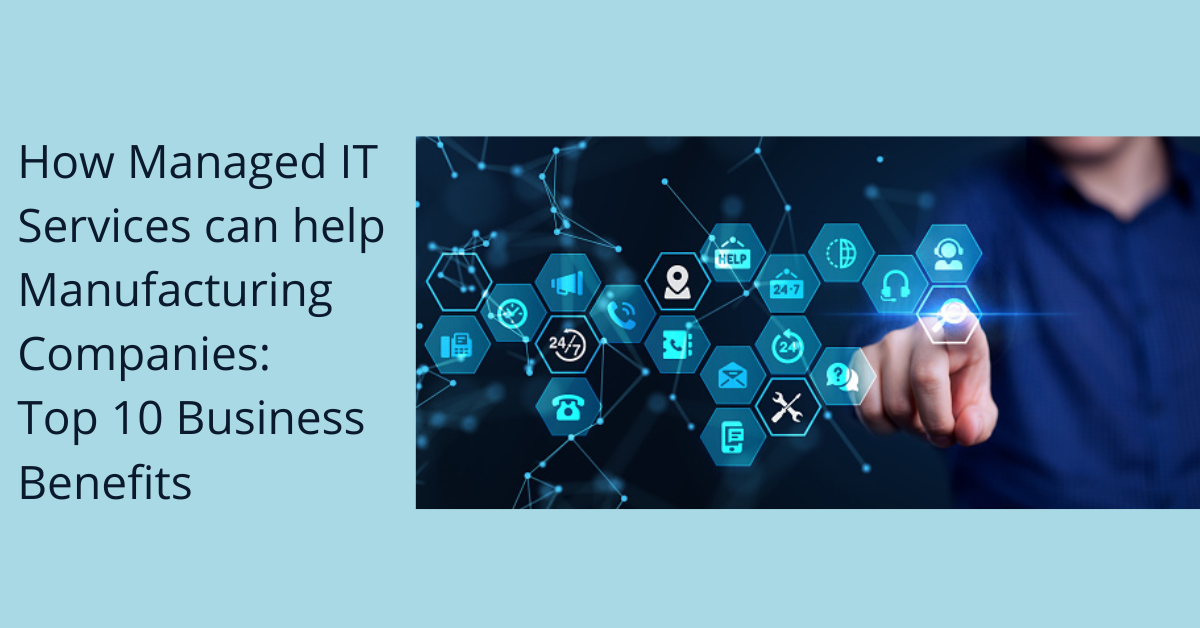 For most modern manufacturing enterprises, cutting-edge tools and instruments are in use. In most cases, digitalization is a crucial aspect of enjoying the latest technologies and related devices. Therefore, digitization has become vital for most modern manufacturing organizations. There is a chance that the manufacturing industry faces a few more challenges compared to other industries. Most staff and managers on manufacture industry are not so familiar with digitalization, industry-related latest technologies and their uses. Therefore, manufacturing companies are driving towards a partnership with managed IT services firms to access the latest technologies and enjoy their benefits, efficient cyber security, infrastructure management, employee training, etc.
What is a managed service provider(MSP)?
An MSP is a third-party service provider that remotely manages a customer's (like manufacturing companies) IT infrastructure and end-user systems. Small and medium-sized businesses (SMBs), start-ups, non-profits and government organizations etc., go for MSPs to take charge of their day-to-day IT management services. There is a long list of services that one can get from an MSP, such as network and infrastructure management, 24/7/365 monitoring, security, backup and recovery, and so on.
Usually, MSPs take charge of IT infrastructure management so customer organizations can focus on their core job and improve their services without worrying about downtimes or service interruptions. Often, managed IT service partners perform their tasks remotely over the internet.
Top 10 Benefits of hiring managed IT services
Here are the top ten business benefits of recruiting a managed services firm for manufacturing companies:
1. Planned and Predictable IT Expenditure
A successful digitalization and IT implementation project need a well-planned blueprint. An MSP can help their manufacturing customers to plan better with the knowledge of relevant matters and predictability of the IT costs involved. The success of the process is closely linked to resources and planning. The costs of IT infrastructure management depend on the organization type and size. Multiple factors regulate the overall costs, including resource availability, service requirement, training, and downtimes.
MSPs can help their clients as they have proper knowledge of all prerequisites for successful IT implementation. Thus, they can make a close prediction of total expenditure and help their clients to plan their IT budget in a more planned way. Moreover, MSPs can guide you in strategic decision-making backed by predictability.
2. Technology Implementation
Any manufacturing organization needs future-proof solutions for their business sustainability and to remain competitive. Technology plays a crucial role here. Multiple options are available in the market – but getting the most appropriate technology at the right time, incorporating that and utilizing that is vital to get the maximum benefit. An internal IT team is not always knowledgeable enough to keep you up with the pace of upgrades and technological advancements.
But an MSP can make the job easy for you. An MSP updates their experts with every upcoming technology and the latest updates. So, they can help you to get the right technology implementation and update you with the latest upgrades to meet the changing market demands.
3.Reduced Downtime
Downtime is always a critical issue for any industry. Even an hour's downtime can cause a loss of thousands of USD. Downtime stops organizations from meeting their day-to-day production target leading to several other issues.
When you hire an MSP, tech experts monitor your whole system 24×7 to identify any potential issues in advance. So, your managed IT resources can proactively fix those potential issues before they cause downtime. In case of accidents or disasters, the disaster recovery operations of MSPs will help to restore your system in little or no time.
4. Compliance
Compliance and legal aspects are a real headache for most manufacturing organizations. Many organizations fail to meet them on time and handle them appropriately. Thankfully, MSPs can resolve this issue for manufacturing organizations most efficiently. Manufacturing MSPs can offer you the expertise and automation needed to meet those regulatory requirements.
5. Increased Efficiency and Productivity
Manufacturing managed service providers often take charge of your IT infrastructure so that you can focus on your core business operations. This opportunity to focus on business goals can also increase your efficiency and productivity. When your staff have proper training on the technologies they use and dedicated work hours to concentrate on their job — they become much more productive. And, you can achieve your business goals much more quickly.
6. Increased Return on Investments
Manufacturing MSPs have a pool of qualified and experienced IT professionals to handle the IT needs of their clients. Those experts provide you with premium services, which can significantly reduce your manufacturing risks. This way, you can get the maximum return on your investments in digital transformation.
7. Effective Cybersecurity Management
Digital platforms offer multiple opportunities to the manufacturing industry, like IoT, cloud, AI, intelligent solutions, communication, and so on. But, these technologies also increase the chance of sensitive information exposure to potential thefts. Manufacturing organizations have to protect their high-value information from competitors and cybercriminals as well.
MSPs have the required resources, technologies, and expertise to protect the data of manufacturing organizations. Managed IT services can ensure the security of the IT network and vital data at all times.
8. Customized IT Strategy
Every organization has its own weak points, making them suffer sometimes. Partnering with a manufacturing managed services firm can help you to deal with your infrastructure gaps, design and implement a tailored IT strategy, and enhances your business operations.
9. Reduced Operating Costs
One of the top benefits of incorporating managed IT services in your organization can help you reduce operational costs in multiple ways, such as system automation and other cost-saving technology for manufacturers. Partnering with manufacturing-managed IT services can help you to reduce the number of in-house employees and associated costs, including salaries, perks, training, etc.
10. Competitive Advantage
Instead of recruiting internal IT staff, hiring managed IT services allows small manufacturing companies to access good quality IT professionals' expertise and technology. Internal staff recruitment is expensive, and small organizations usually cannot afford it. Hiring MSP gives them the advantage to grow their business and compete better in the manufacturing industry.
Conclusion
Modern manufacturing companies, irrespective of their size, can benefit from a reliable managed services partner. They help organizations to meet the manufacturing industry's ever-increasing demands.