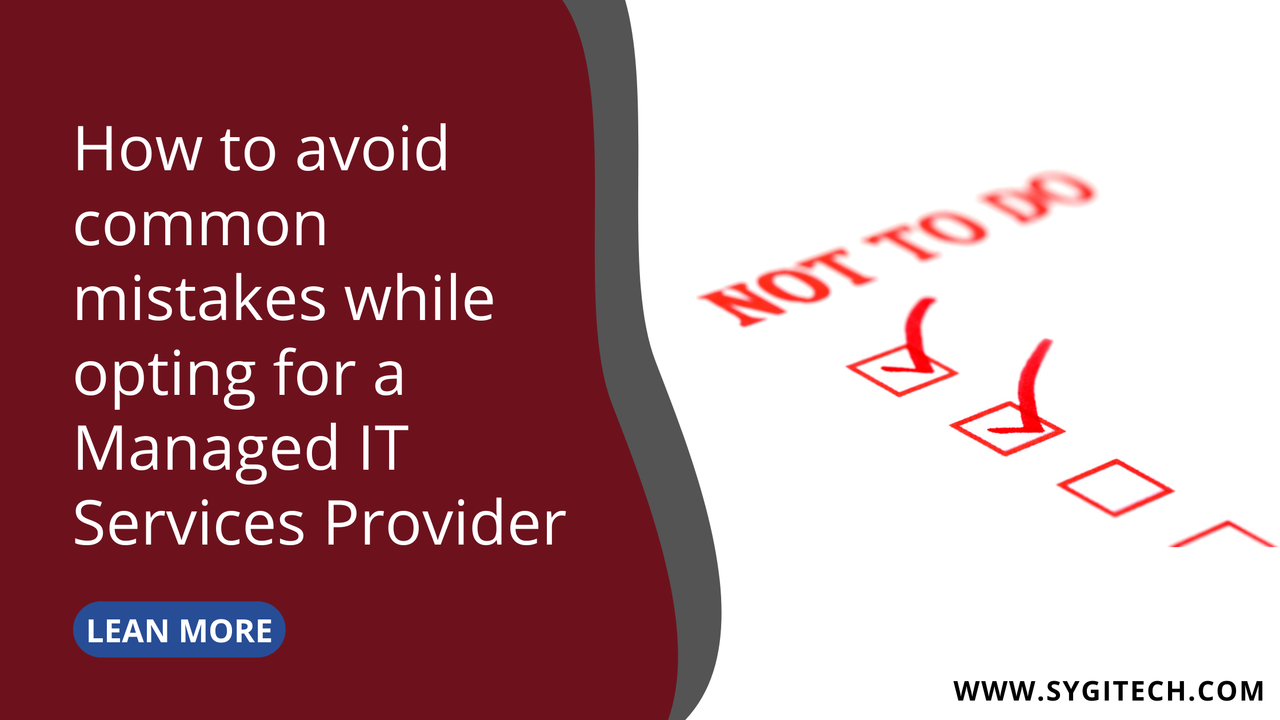 In this fast-moving world, everyone needs to be up-to-date with advanced technologies and compete in their respective fields to survive. Businesses are eager to embrace cutting-edge technologies and automate every possible daily task. This helps businesses grow fast and cope with the rapid changes in the market. To opt for the right technology at the right time, get the maximum benefits, and improve your operation, you can consider having a managed IT services partner. A managed service provider (MSP) can help with:
Managing your IT infrastructure so that you can concentrate on revenue-generating activities.
Digitalization that allows your business to move online and manage every function from remote locations and enjoy a remote working infrastructure.
Implementation and utilization of advanced technology that helps to access new markets and reach more customers.
Automation
Flexible service facility
Outsourcing hardware and computing-related services, such as managed IT security and cloud computing.
You will get numerous options of managed IT service providers to choose from, but everyone is not the same. All of them may not be able to accommodate your business's specific needs. And a wrong choice regarding your MSP partner will not only raise your spending due to irrelevant services but also can create security issues, data backup problems, and longer downtime.
It is wise to be careful when selecting your Managed IT service provider. There are some common issues that you face with your MSP, such as
1. Insisting on the newest technology
Your MSP may trick you and convince you that the latest technology can resolve all your issues. But every new technology can't be suitable and beneficial for everyone. For instance, virtualization or cloud offerings benefit many enterprises, but that doesn't make them suitable for every business. Don't let your MSP confuse with the hype surrounding new products.
2. Insufficient tech support
Good IT support and faster response time are the most vital services you deserve from your MSP. When making an agreement, make a note about the standard response time to any query and issues and how long they take to resolve. Onsite support facility and around the clock helpdesk support are also essential. Your IT outsourcing might not work well without prompt and efficient support and troubleshooting efficiency.
Without a constant monitoring facility, you would not be able to detect and resolve IT issues proactively.
3. Inefficient security system
In the current situation, security is a huge concern. If your MSP is not equipped to implement proper defence mechanisms, your system can be accessed by cyber attackers. It will increase the risk of losing data and access to resources. An MSP without different security measures like phishing attacks simulations, DNS security, web content filtering, endpoint protection, mobile device management, dark web protection, etc., will not be able to provide optimum security service.
4. Budget issues
The budget is vital. Some MSPs offer your pay-as-you-go pricing schemes. This is one of the beneficial schemes that help you minimize upfront investment and adopt different technologies without bankrupting you.
5. Not determining scalability
An IT service provider with poor scalability can be a tremendous blocker to your business growth needs. You must go for a scalable managed IT services team that can support your changing needs and allow your business to evolve and grow. An MSP who continually extends its services to accommodate its client's goals can be your best service partner.
6. A non-responsive service level agreement
Service level agreements (SLAs) are the only way to ensure a transparent collaboration with your IT partner. This agreement makes your IT service provider accountable for responsibilities, quality of services, scope, delivery time, etc. So, a non-responsive SLA can cause trouble in the long run.
Therefore, choose an MSP who agrees to a responsive SLA as it guarantees the service quality of your IT partner.
7. Lack of training and feedback
Information technology is an ever-evolving aspect. On and off of new technologies is a regular event. But that may create difficulty for your employees to accept and utilize new tools and technologies. So you need an IT partner who will not only incorporate new technologies but also help you to upskill your staff and accomplish your goal. You MSP must agree to support your employees when they need help understanding how to use your new tech solutions.
If your IT partner is not equipped to train your in-house team, your team may face difficulty grasping new tools and technologies. It is also essential to track the performance of your staff. It will help you to understand your employee's responses to new technologies.
How to select the right managed IT service partner
It is not so difficult to find the right MSP as per your business needs. You need to do your homework before making a selection. Here are some tips on how to get the right MSP for your business:
1. Do a thorough research
You may have multiple options of MSP to choose from. It is essential to go for the one that can meet your business needs. So you need to do your research to find the right one for you:
Make a list of all available and affordable MSPs and study their background.
Ask for testimonials from previous clients. Do a background checking of their previous clients to understand their area of expertise, market reputation, and commitments.
Go through the MSP's portfolio to assess its capacity and capabilities.
Ensure whether an MSP can provide dedicated IT support to all your operating units in different locations during their respective business hours. Or you can look for an MSP who has the resources to provide services in flexible shifts.
2. Accessibility
Look for an MSP that can guarantee you complete access and control over the applications and resources. Don't forget to ask about their certified professionals; so you can get the benefit of the expertise of qualified and skilled specialists.
3. Fluent–communication is vital
Transparent communication is the key when working with a third-party IT service provider. Make sure your MSP agrees with a service level agreement and non-disclosure agreement. You also need to understand their operation mood and whether that system works for you. Before deciding on an MSP partner, don't forget to connect with your dedicated resources, project, and account manager.
4. Ensure tech-support
The tech world is ever-evolving, and cutting-edge technologies help you stay ahead of the competition. Make sure your MSP has the capability to understand your actual business needs and provide smart solutions using the latest technologies.
Conclusion:
When looking for a suitable MSP for your business, first, you should document all your requirements and expectations before approaching MSPs. Be straightforward with your requirements and business needs to select the best managed service provider for you. Remind that your one mistake can put your business in the wrong hands.