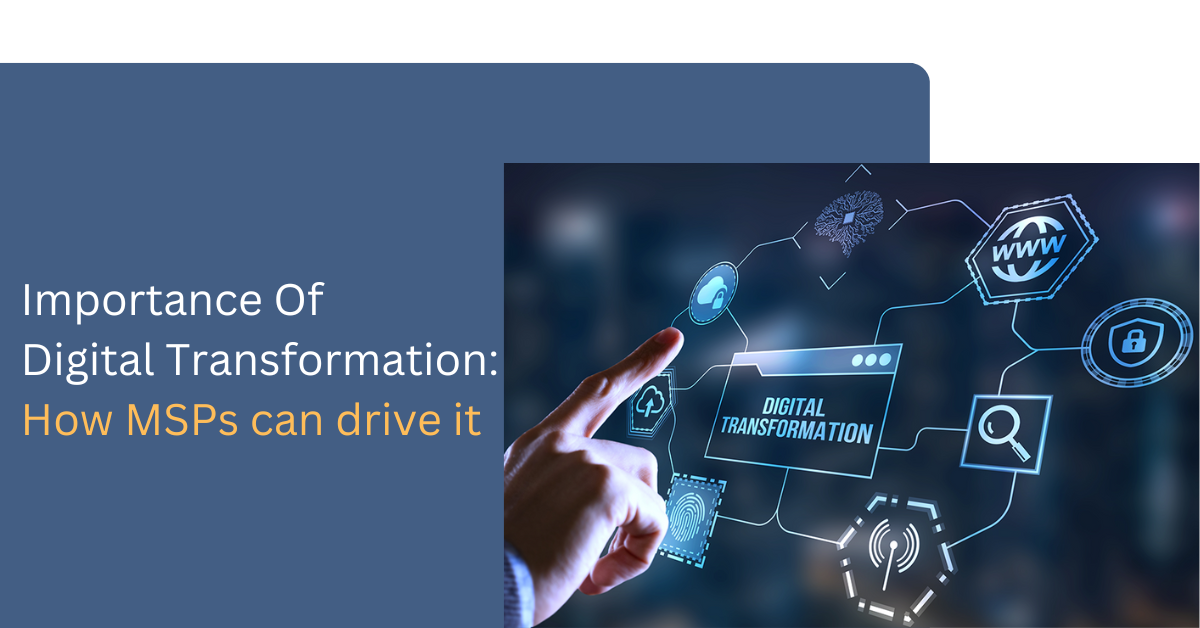 This is the era of digitalization — organizations are keen on incorporating digital transformation in their business to avail the advantages of brand-new technologies and meet the ever-growing customer demands. Digital transformation can change an organization's operations, including systems, work processes, workflow, and culture. With digital transformation, each level of an organization experiences changes — it brings together data across areas to work together effectively and improve productivity.
Irrespective of your business size, digital transformation brings the opportunity for an online presence with several benefits. With the implementation of workflow automation and the incorporation of advanced processes like artificial intelligence (AI) and machine learning (ML), organizations can offer better services to their consumers than before. Here are the key ways digital transformation can help your business grow.
Top 7 Benefits of Digital Transformation
1. Streamline Your Production
Digital transformation provides you access to multiple tools with advanced features. The right tech tools can work together to streamline the workflow and improve productivity. Organizations can improve their productivity by automating day-to-day monotonous tasks and integrating digital solutions throughout the organization. Digitalization helps to identify problems, customer demands, and new ways to streamline your service line.
2. Enhanced Data Collection and Management
Businesses have access to tons of customer data, and you can benefit from them by optimizing the data for analysis and retrieving essential information. The collection of real data and proper analysis of that can help to drive your business forward. Digital transformation helps to collect a huge amount of data, sort them, utilize the right data and incorporate it fully for business intelligence.
Digitalization provides you access to efficient solutions incorporating data from different functional units within an organization, translating the raw data into usable and effective information, and utilizing them accordingly. With suitable customer relationship management (CRM) software, you can access every bit of information, like customer journey details, operations, production, finance, and business opportunities, within a single window.
3. Improved Efficiency:
Digital transformation is an efficient way to reduce operating costs. Besides that, it also improves the efficiency rate by managing your product and sales. With digital transformation, you can take your business to the next level of success and generate more revenues.
4. Increased Profits:
Enterprises that undergo digital transformation can improve their business efficiency and profitability. According to a survey report by the SAP Center for Business Insights and Oxford Economics – 80% of companies that have completed digital transformation reports improved profits. Moreover, 85% have confirmed that they have increased their market share.
5. Improve Customer Experience:
With digital transformation, you can access improved technologies and provide improved customer service and a better experience. A satisfied customer is the best campaign for your business and is a value-adding practice.
The right way of data collection and analysis can be the key to unlocking customer insights. Efficiently processed data helps you to understand your customer and their needs in a better way. So you can plan a more customer-centric business strategy. Digital transformation allows you to use both structured data (personal customer information) and unstructured data (social media metrics) — all these insights can help drive business growth.
6. Easy and Fast of Integration Digital Tools:
Digital transformation provides opportunities like easy integration of modern tools that can streamline your workflow and operation. It helps to increase the effectiveness and efficiency of all standard processes you can use in your organization. With the incorporation of digital tools, you can make faster decisions and minimize intervention with humans, thus making the jobs fast and with fewer errors.
7. Increased Agility:
Digital transformation can also make organizations more agile. Increased agility with digital transformation can improve speed-to-market and adopt Continuous Improvement (CI) strategies. This will help to improve your business with faster innovation and adaptation of newer technologies.
How MSPs Can Help In the Digital Transformation Of Your Organization
Digital transformation is not a one-step affair. Partnering with a managed services provider can help incorporate digitalization into your organization. Let's learn how MSPs can help you with your digital transformation.
Manage the Innate Complexity of Digital Transformation
Digital transformation involves multiple steps, data conversion, storage, choosing the right platform, making changes to existing systems and work processes, and so on. Therefore, digital transformation's success depends on proper planning, appropriate selection of platform, seamless infrastructure monitoring, and management and optimization of a newly adopted multi-vendor environment.
An MSP knows how to integrate all the moving parts—the hardware, software, network components, devices, gateways, etc. They also help to get the most out of the newly introduced system. MSPs can focus on managing the complexity on behalf of the business owners, freeing the in-house staff to focus on reaping the benefits.
MSPs Can Help You To Provide A Fantastic User Experience
MSPs can guide you throughout the transition and proactively identify and troubleshoot the issues. A proactive approach towards issues can prevent them before they actually happen and serve your customer in a better way.
Managed IT services firms have the right tools to proactively monitor and test the quality and performance of digital transformation technologies. This way, they can ensure the chosen platform's performance and allow you to provide a flawless customer experience. As your customers go down the road of transformation, they can do so confidently and securely—MSPs will reliably deliver what's needed.
Cost-effective Infrastructure
The initial investment in the core infrastructure needed to power digital transformation is pretty costly for many organizations. Plus, you may need to deal with different vendors to access all the needed technologies for your organization. As a result, one has to deal with a complex system of managing the infrastructure and network, implementing the necessary middleware to bring all the pieces together, etc.
MSPs have experience in handling such complex technology platforms. So, partnering with an MSP can help you with digital transformation by managing complex infrastructure and preventing investments of money and time in researching infrastructure solutions.
Conclusion:
In today's hypercompetitive environment, partnering with an MSP is wise to make a smooth digital journey. Managed IT services firms have the needed experience, expertise, and technology in hand to provide you with the best support and solutions for your digital transformation. Organizations are looking to MSPs to help them achieve more with these technologies—to improve performance and engage their customers. MSPs can also offer different value-added services to their clients beyond the core service areas and become true business partners.