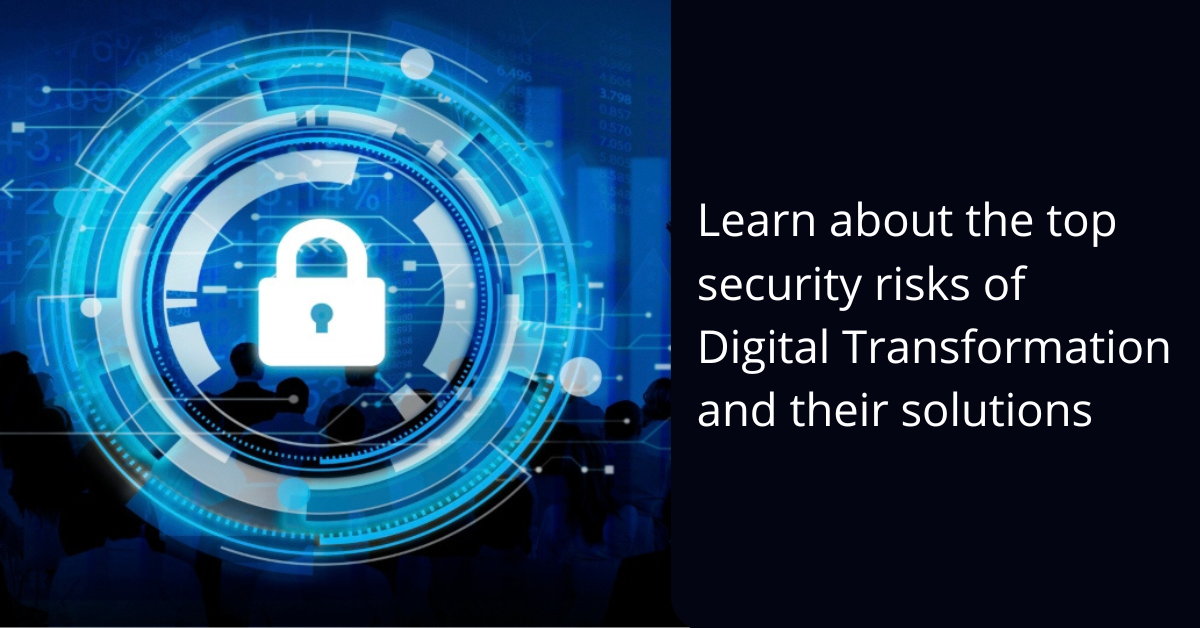 In present days, digital transformation is crucially essential for organizations. It makes businesses more flexible, enables them to meet the ever-changing customer demands, and ultimately grows business. Digital transformation has become more relevant for companies, especially after the Covid-19 pandemic. Many organizations have adopted digital transformation in the last two years to embrace the latest technologies.
Besides digitalization, security upgrade is essential to protect business assets from different security threats. But, many organizations lack to take steps to mitigate the security risks of digital transformation during their planning and implementation phase. As a result, cyberattacks resulting from security gaps are on the rise.
To avoid cyber security risks, it is essential to identify the loopholes in your security solutions after digital transformation. Based on the findings, you can establish appropriate security solutions to mitigate them.
What are the top security risks of digital transformation?
Without proper security planning, a digital transformation can create several new security gaps and enhance the chances of cybersecurity risks. Here are the key factors of digital transformation that enhanced the security risks:
Expanded the attack surface
Organizations drive towards digital transformation to access and avail technology. With digitalization, organizations have accepted cloud services, AI products, Internet of Things (IoT) devices, big data analytics, etc. As a result, the cyber attacker will get a better chance to access your business assets and data using the connectivity of those programs. Cyber attackers exploit any vulnerabilities they can find.
Dependency on third-party suppliers
Besides digital transformation, companies have also adopted the latest tools and technologies to carry out their business. So they have to collaborate with third-party vendors, like cloud vendors or other software-as-a-service providers, to make their job easy, and improve scalability and flexibility. Many third-party vendors may have vulnerabilities in their systems or products, or even they can face a breach. In such a situation, you also have to suffer the consequences as you are using their products and services. 
Unavailability of a secure cloud environment
According to a recent survey report, 63% of organizations reported that they have difficulty ensuring that their cloud environment is secure. As cloud security tools are evolving, organizations also need constant monitoring and updating of their infrastructure, which requires investment in IT.
Moreover, securing the cloud environment requires expertise and skills that may not be available to internal IT teams and other concerned employees. Organizations are suffering from a lack of expertise in securing their cloud environment.
Rushed digitalization may fail to protect what matters most
With digitalization, organizations can access several tools to improve employee collaboration and information sharing with customers. But, these online collaboration tools are pretty difficult to manage. Online collaboration tools can also increase the risk of data leakage through human error, causing a breach.
While organizations do their best to ensure cybersecurity protections to protect their data, rushed digital transformation programmes, inadequate security of service partners, and insufficient security budgets may leave organizations vulnerable to breaches.
What can you do about the security risks of digital transformation?
Businesses that have already started their digital transformation journey or have completed it have to deal with challenges related to hybrid working styles. And security concerns are prominent. Here are ways to address the security risks of digital transformation and keep your business data safe and secure.
Involve security teams at an early stage of the digital transformation process
Consulting a managed service provider is the simplest, most effective, and cost-effective way to ensure the business network's security. The involvement of the professional security teams in the planning phase can help develop a robust security infrastructure. As part of the digital transformation process, the security teams can offer you advice on building an effective transformation plan and ensuring security during transformation.
Suppose you involve security teams from the start of the digital transformation strategy. In that case, they can provide suitable solutions complementing your transformation objectives and offer you innovative solutions as needed.
Extensive use of security tools with the correct configuration
As it is known that the cloud is not such a secure platform, but cloud vendors offer a wide range of security tools to secure your assets in the cloud. Most cloud security tools are designed for the specific cloud and provide support to secure everything in the cloud. But incorporating those tools is not enough; you need to ensure that those tools are backed up with other security tools. Regular updates and monitoring are also essential to ensure the security of cloud components. Cloud vendors usually offer a wide range of tools to suit every use case, budget, and risk profile, and these tools play a different role in securing the whole network.
 
Moreover, the correct setup and configuration of all those security tools are crucial to ensure your security. In case of accidental misconfiguration of security tools, they will not be able to prevent cyber-attacks.
Mandatory employees training on the importance of security in digital transformation
In every organization, employees, from directors down, play their roles, ultimately contributing to the organization's success. Similarly, unintentional wrong activity or mistakes can affect your business. Employees also play a crucial role in keeping your business assets and data safe and secure. So, keeping every employee updated with security practices and norms is vital. You can train your staff on how to stay safe in the cloud by using internet and security controls effectively or recognizing malicious emails, links, or other signs of cyberattack. A well-trained staff can be your asset in protecting your data, which will really impact your business's success.
Secure the supply chain
It is also essential to adhere to security standards by your suppliers. Vendor security is also crucial in protecting digital transformation. Supplier risk assurance should be a part of the procurement process to keep your business safe and secure.
Invest in improving security
The cybersecurity landscape is ever-changing. Cybercriminals also develop new attack techniques as new technologies are coming in. They are becoming innovative day by day in penetrating your system. So, securing the digital transformation is an ongoing process, and you need to invest constantly to update and improve your security system.
Conclusion
One of the most underestimated security risks of digital transformation is staff skills. Digital transformation has introduced several new challenges related to the skills of IT and IT security teams. One of the easy and efficient ways to deal with a skill shortage is partnering with a reliable managed IT services company. Recruiting an MSP will help you get all the essential support in your digital transformation journey.