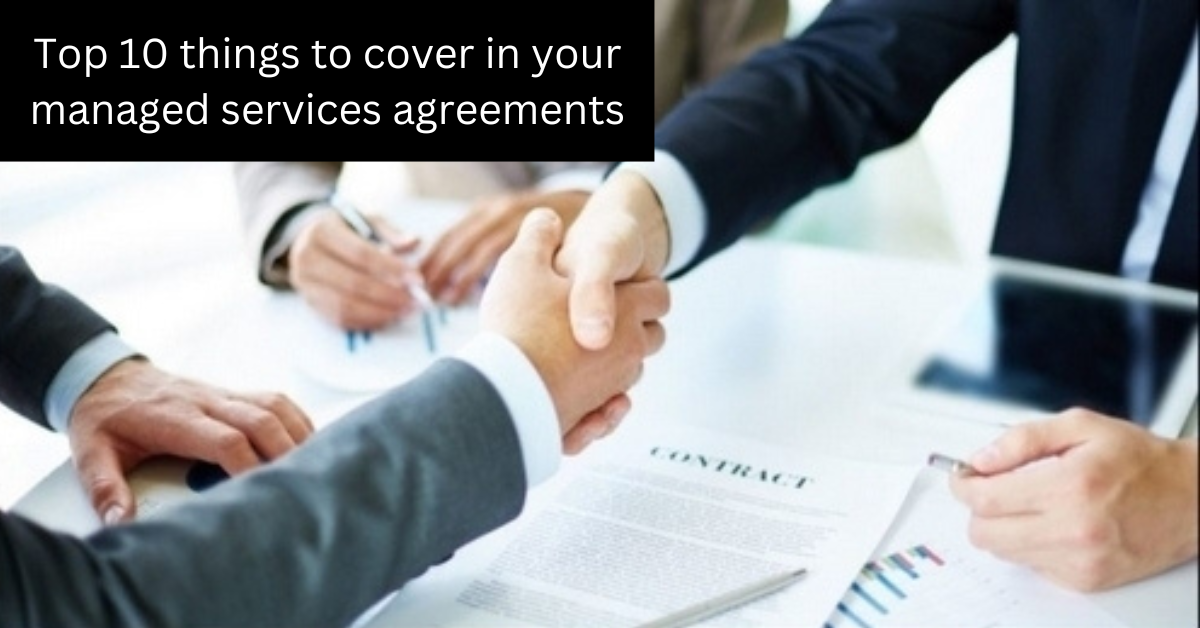 A managed services agreement(MSA) is an official contract between a managed services provider (MSP) and a client. MSA is also known as 'managed services contract' or 'management service agreement'. The purpose of this contract is to define the services an MSP will provide to its client. It also contains the minimum response time, payment structure, and liability protection.
Every managed IT services provider is not the same and not even their service packages – before signing a contract, one should know precisely what they can expect from their service provider.
Purpose of an MSA
A managed IT services provider always looks for a long-lasting relationship with clients and serves the role of a trusted advisor. An MSA can be vital in building a trusted relationship between the service provider and the client. The terms of the agreement need to be clear and concise — no confusing jargon. An MSA must contain the roles and responsibilities of the MSP. The contract should embody the service-level agreement (SLA), response time, prioritization process, contract termination clause, limitation of liability, etc. Here are the key topics to cover in an agreement.
List of expected services
Client terms and conditions
Details about the hardware
Licensing of MSP
Outline the specific rules of termination
Details about backup system
Cybersecurity insurance
Limitation of liability
Confidentiality
Clear outline of contractual obligations, rights, and duties
Ten Must-Haves In A Your Managed Service Agreement
Before signing a managed services agreement, ensure the mandatory services you need to grow your business. Those are the services every business needs irrespective of its size and industry.
24x7x365 Monitoring and Maintenance Of IT Systems
Managed IT services should continuously monitor your business network and computer systems through a remote access facility without disturbing the in-house staff. An MSP should ensure that your whole IT infrastructure and network are running at peak performance. The round-the-clock monitoring facility helps to mitigate any risks, proactively block them, and minimize downtime.
If a complicated issue cannot be addressed remotely, MSP will send tech professionals onsite to resolve that ASAP.
Data Backup
In a managed service agreement, data backup is a vital point to consider. Ensure your agreement contains all information about how your data is backed up and stored. Ensure that your service provider backs up data both on-premises and in the cloud. In case of massive destructions, like fire accidents or floods, off-site backup systems are the only option for data recovery.
3: Business Continuity & Disaster Recovery
Accidents are unpredictable. A suitable MSP will provide you with backup and data recovery services. This service will help you to retrieve your data quickly after an accident and restore your systems for business continuity. One can retrieve data from anywhere through an internet connection. An efficient Backup and Disaster Recovery Plan is crucial for business continuity in unfavourable situations.
4: Cloud Computing
To get maximum benefits of cloud computing, your MSP can play a crucial role. With properly hosted cloud solutions, you can provide scalable access to applications and computing resources to your staff from anywhere. So, cloud computing support service is one of the mandates.
Cybersecurity
Cybercrimes are becoming sophisticated day by day, and the chance of cyber-attacks has increased. To prevent those attempts, an experienced and trusted MSP will conduct vulnerability assessments to identify the gaps in your existing system. Based on the evaluation, they will provide suitable solutions and train your staff to recognize the traps and phishing attempts.
Mobile Device Management
Today, when many companies support the BYOD concept, securing every device connected to your network and the data inside has become vital. Employees are using their own devices to do business work. So, Mobile Device Management (MDM) from the right MSP ensure your workforce uses their devices in a secure and controlled manner.
MDM also helps in case of device theft, misplacement, or breakage. Your MSP can locate, wipe or lock a stolen device, enforce encryption policies and implement other security features to keep your information safe.
Remote Support
In most cases, efficient tech guys can fix your workstation issues through remote access; that eliminates the expense of a technician's onsite visit and time as well. So, remote and around-the-clock tech support is a pivotal aspect to include in MSA.
Business Intelligence
The right MSP also analyze your business data to advise on your scope of improvement, needed changes for positive outcomes, and how you can achieve your business goals. Business intelligence is collecting and analyzing data from different sources, including overall productivity, growth, sales trends, etc. Properly analyzed data can show you the right direction for business growth.
9: Modern And Faster Mode Of Communication
Communication is crucial. A standard protocol for contact to the professional, emergency contacts, details about call centre support facility, etc. Besides traditional on-call support facilities, modern service providers also offer communication facilities through intelligent IP call routing, integrating email, phone, web, IM, and fax. Every mode of communication needs to be documented in the agreement.
Networks & Infrastructure
At present, data protection is vital. People work from remote locations using a private or public network. Using that network, they retrieve data from your server and submit it. Therefore a functional and secured network is a must. A network and infrastructure management system, including IP Virtual Private Networks, can ensure the secure access and transmission of your data.
Conclusion
Finding the right managed IT services firm is not the only job. Signing an effective managed service agreement is equally important. A proper contract ensures that your MSP will deliver what you need from your IT. They will ensure that your technology works properly and you can concentrate on your core job. With a trusted managed service provider and practical MSA, your IT problems will be either prevented or solved, daily IT infrastructure management will be outsourced, and you will be able to enjoy the benefits.