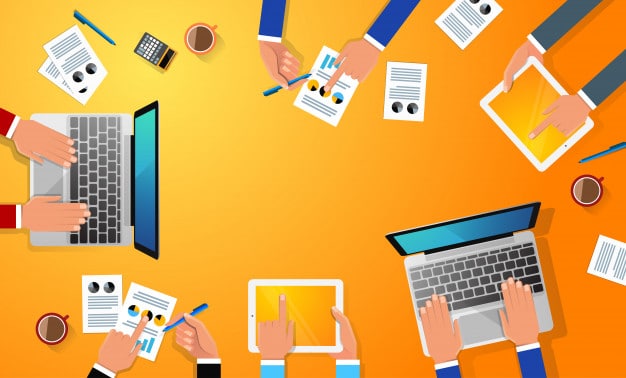 The pandemic crisis is a big hit to the traditional notion of work—companies have to make small or large changes for business continuity. In the pre-pandemic era, digital tools were considered as a measure of improving productivity. But today, companies realize that those digital tools are playing a crucial role even in maintaining productivity. Making your business a digital workplace is an important initiative, and it needs proper strategy planning for effective digitalization. Here are the top four concerns of the IT business owners when creating a digital workplace for business continuity as well as future-proofing.
Effective cost optimization
Optimizing cost is one of the key concerns for every business owner, and digital transformations can be an efficient way of reducing business costs. Though the initial stages of creating a digital workplace may cause some additional expenditure to set up the infrastructure, in the long run, digitized workplace is much cost-efficient. Efficient infrastructures of a digital workplace with cutting-edge tools and technologies have enormous benefit for long-term growth.
After the initial hit of the pandemic, businesses have concentrated on upgrading their IT infrastructure to facilitate work in the 'new normal', help in business continuity, and improve revenue generation. It is the situation when cost optimization is vital, and at the same time, it is important to free up capital efficiently in order to make investments in critical IT capabilities to improve work efficiency. Here are the measures to curtail business cost without any negative impact on productivity.
Remote work:
In last one year, multiple organizations reported that they had observed similar or increased productivity levels with remote working practice. Remote working culture has reduced the need and expenditure for office space. At the same time, the remote-working tools have improved productivity when implemented with the right approach.
Online collaboration:
IT jobs are not an individual's effort; it is collaborative work where multiple workers need to work in synchronization to complete a task. Therefore, clear communication and collaboration are vital—the usage of online collaboration tools is one of the most required ways to fulfil this requirement. Online collaboration tools are pretty popular and serve as an efficient way to reduce costs, positively impacting the existing workflow.
Automation:
Automation is one of the efficient ways of cost reduction—to utilize the advantage of automation, senior leaders across the globe have stepped up to invest in Artificial Intelligence (AI) and automation tools. Automation can reduce the burden of repetitive tasks with maximum accuracy along with time-saving and cost reduction, enabling the employees to focus on more meaningful and productive tasks.
Investment for Business Value
Until now, many companies consider IT investments as a way to boost short-term gains and achieve incremental advantages. But in the current situation, digitalization is not a choice anymore; organizations need to invest in technologies and tools that can translate into a competitive advantage in the long term. IT businesses must invest in tech solutions that will facilitate remote work, business process automation, and so on.
Experienced IT leaders have a good understanding of the digital maturity of their organizations and the actual need of the organization. All this helps them set the baseline for what is achievable and allow the organization to be aspirational along with being realistic about its limitations.
Even after incorporating cloud computing, many companies are still not utilizing their cloud computing resources the most. Now, it is the responsibility of IT leaders to make their people exploit the most cloud-based digital solutions to reduce overall complexity and abolish the need for specialist resources.
Boosting sales with the help of digital tools is another underutilized approach that can lead to noticeable improvements in revenue generation. Now, it is the right time for IT leaders to turn their companies into 'digital attackers', who are uninterrupted in capitalizing on demand, driving sales expansion, and making a robust customer success function.
Exploring new operating models
In the current situation, when the lines between the virtual and the real world are being faint day-by-day, organizations, as well as managed IT services providers, are pushed to rethink about their core business models. To serve the consumers with prompt, flexible, and on-demand services and apt products, omni-channel strategies are most suitable to rule the roost. Organizations, who are still thinking about opting for a digital strategy that fits within the existing paradigm, may miss out the opportunity of a fresh start in the post-pandemic era.
Any organization that wants to be prominent in this 'new normal' era, needs to concentrate on capturing more market share and creating new markets altogether. Following either of these approaches requires companies to think out-of-the-box to innovate new business strategies and service lines. Companies have to think about building products and services for the future, considering the current requirement of the mass. Identification of underserved markets is also essential to come up with a better market strategy.
In such a situation, IT companies need to embrace the technology almost every step of the way: right from designing new operation models to offer improved customer services. It's to concentrate on subscription-based benefits over one-time sales models to have a better service strategy as well as a business approach.
Compassionate change management
Most companies have realized the need to overhaul the existing ways of work to ensure business continuity. Responsible IT leaders are in a hurry to revamp existing work practices to make the workforce more efficient and work uninterruptedly, even in adverse situations. Though fundamental changes in working practices, remote working culture can have some consequences. Any such changes will have to be communicated in advance to minimize the interruption and need proper workforce training with sufficient care to lighten the cognitive load. In such a vulnerable situation, company-wide changes in work styles can only be well-accepted with a smooth and confident shift in the mindsets, both at the personal and the institutional level.
Conclusion:
Digital transformation is no just a competitive edge or matter of choice anymore. It has become critical for business resilience and continuity irrespective of industries. Several organizations have already realized the imperative call and consider digital workplace creation a mandatory step for persistence and progress. To make the journey of digital workplace creation fast and smooth, you can consider the managed IT services providers. The immense knowledge and expertise of the IT service provider company in India will help you accept digital strategy meticulously and execute it with precision to emerge as frontrunners in your respective domains.