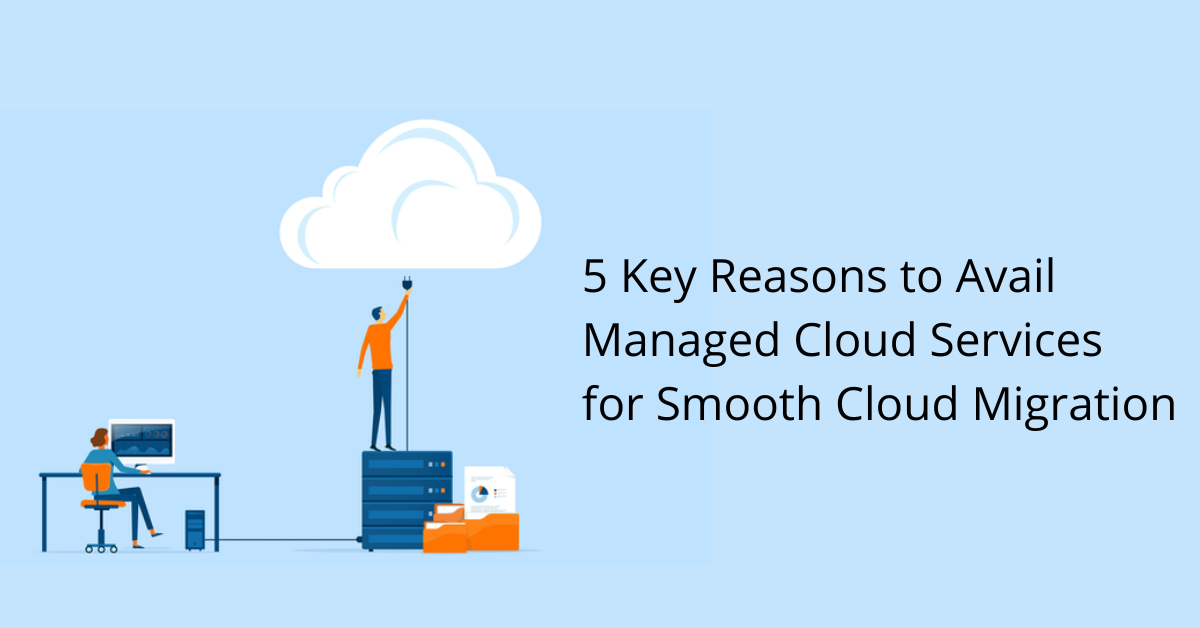 Successful cloud migration can be beneficial in multiple ways. It can reduce expenses, improve scalability, and significantly reduce cybersecurity risks. But cloud migration is not just a single step process. You cannot expect an overnight change. The cloud migration involves moving critical services from on-premise and collocated hardware to a trusted cloud service provider, like Amazon Web Services(AWS), Google Cloud Platform, Microsoft Azure, and cloud server providers in India. With this migration, you can access and manage your IT infrastructure remotely without the inconvenience and security risk.
To ensure a smooth cloud migration, efficiently support your application and maximum security during the transition, and minimal downtime, it is wise to partner with a managed service provider (MSP). Recruiting an MSP will help your in-house workforce concentrate on managing your products/services instead of securing and managing the platform they run on.
Why Managed Cloud Services?
Recruiting a managed cloud services provider enables you to outsource IT support services for cloud-based infrastructure and applications, provides technical support to automate different processes, improves security and enhances business efficiency. Organizations, especially SMBs, do not have the necessary human resources and skillsets to properly monitor and maintain the cloud environment. In such a case, hiring certified MSPs is the right solution to get the required assistance to manage your cloud storage, network operations, cybersecurity, backup & disaster recovery and so on. Let's see how a managed cloud service provider can facilitate your cloud transition.
How managed cloud services help to make your cloud migration smooth
Associating with a trusted managed IT services provider can ensure a seamless cloud transition and migration. Here are the five key benefits of recruiting an MSP that makes your migration fast and accurate.
1. Provides support to bridge the knowledge and technology gap:
Adopting a cloud-based infrastructure over your on-premises IT infrastructure enhances the efficiency of your existing processes, technologies, infrastructure management and security controls. But you also need adequate knowledge and appropriate skillsets to understand this newly adopted infrastructure and manage it properly. Without proper knowledge and skills, your shift to the cloud can burden your in-house workforce, who may already be overloaded with managing and maintaining the current on-premises.
An MSP can play a vital role here. They are equipped with the scalable infrastructure, required knowledge, skills, and experience to facilitate your cloud migrations. With their professional expertise, MSP helps to minimize the migration time and subsequent downtime and also ensures a flawless transition.
2. Ensure security:
A recent industry research has revealed that a significant percentage of IT professionals (82%) confirmed that either they already have hired, or plan to hire, a managed security service provider(MSSP). The main reason behind this is the security issues that most organizations face during their transition phase. Any data leakage can lead to massive loss.
A certified MSP can provide you with a dedicated support service to monitor and manage your cybersecurity and also helps you to take a proactive approach toward cloud security during and after the transition. Your managed IT services partner also thoroughly assesses your existing security system and suggests needed upgradation for the future. An MSP provides a 24/7 remote monitoring facility to detect any kind of intervention and security breaches or an anomaly and takes immediate steps to resolve the issue promptly before causing any serious problem to your company. Besides ensuring your cyber security MSP also helps with:
Vulnerability analysis
Regular penetration testing
Regular software and hardware technology upgrades
Security assessments and audits
Prompt response to emergencies
Backup and disaster recovery
All these services ensure the overall security of your organization.
3. Moving from CapEx to OpEx:
One of the major benefits of cloud migration is a shift from a capital expense (CapEx) driven cost model to an operating expense (OpEx) driven cost model that helps to reduce your overall business expenditure. But it is also important to have considerable knowledge and experience to implement this new business expense model in your business that can positively impact the bottom line. Along with selecting the best-fit solutions for your business goals, you need to ensure optimum consumption of the SaaS/IaaS.
In such a case, an MSP can help you with proper budgeting, tracking of on-demand or in-use cloud solutions, and managing your capacity plans as per your business need. An MSP can provide you with a complete OpEx setup. So, you would have to pay just one bill without worrying about any other underlying costs. In this way, you can avoid overestimating and additional expenses that often happen with the CapEx setup. Your managed IT services partner will help you reduce your capital expenditure and adjust your budget as per the needs of your growing business.
4. Better service and support:
Minimal downtime is not the only criteria to consider when moving to the cloud. You also need to focus on managing the new infrastructure for maximum benefit after migrating all the workloads to the cloud. This requires an efficient team with essential skillsets to support the infrastructure and offer every needed service.
Your in-house IT team may need some time to learn these skills. So, it is good to avail the services of a trusted MSP and get an experienced and dedicated IT team with the right skillsets to help you throughout the cloud journey.
5. Improving the in-house IT team's focus:
Partnering with a trusted MSP allows your internal IT team free from regular infrastructural management tasks. So, they can get more time to focus on essential business processes that directly impact the bottom line. Your internal team can well-utilize their free hours on upskilling themselves by attending need workshops and training from your Cloud management partner. Those programs will help your team learn more about the operating processes of the new infrastructure.
After proper training and implementation of the cloud strategy, your internal team can concentrate on working towards achieving the company's ultimate goals.
Conclusion
It is good to outsource managed cloud services that can significantly improve your cybersecurity during cloud migration, reduce downtime and overall expenditure, and enhance your business' efficiency, productivity, and scalability. You can take the help of a trusted cloud IT consulting company to make your cloud migration smooth and safe.