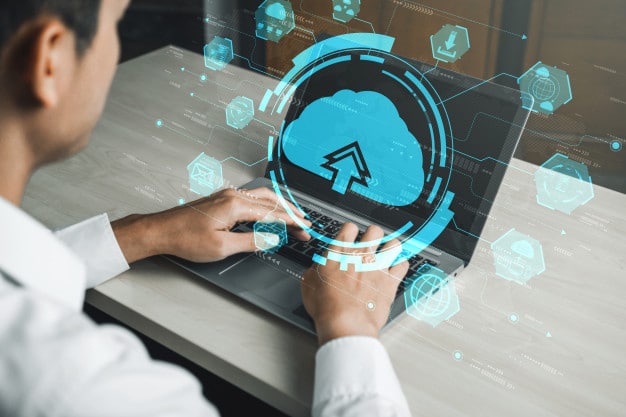 To match with swiftly changing business models, technical demands, and workforce strategy, organizations are aggressively driven towards cloud computing that can help them to have a better and secure future. The pandemic has pushed multiple organizations to adopt cloud computing, cloud-based Infrastructure-as-a-Service (IaaS), and Platform-as-a-Service (PaaS) cloud models for business continuity during lockdowns and subsequent 'new normal' environment.
In this 'new normal' situation, none of the trends is more relevant than cloud computing for a better tomorrow. With changes in business strategies and work culture, the cloud has become the backbone of the data-driven, app-based tech ecosystem. Everything that needs to service the situation, such as contact tracing to home delivery services, working with a remote workforce, remote healthcare, and customer care services and entertainment has been revolutionized by cloud services.
The benefits of cloud computing are pushing more organizations across industries to invest in cloud-based applications and services that are quite popular and required in the current situation. Let explore the top trends in cloud computing that can be beneficial over the course of 2021.
1. Multi-cloud approaches to enjoy the best services from providers
The multi-cloud approach allows users to use multiple cloud computing and storage services in single network architecture. Here you can access two or more cloud computing services from any number of different cloud service providers. Companies are being attracted to multi-cloud environments to use distribute computing resources and reduce the risk of data loss and downtime. Multi- or joint-cloud approach can also increase the computing power and storage availability to the businesses.
A multi-cloud platform not only offers you a collaborative approach for the greater advantage of the fast-growing multi-cloud trend, but it also helps organizations in safe data sharing and access with partners in their supply chain. Considering the market demand, a bunch of innovative multi-cloud service providers is creating services that simplify the process of operating between different public cloud platforms.
With a multi-cloud platform, companies can customize their infrastructure that is specific to their business goals. A multi-cloud architecture also can lower the risk of work delay when one web service host fails, the business can continue to operate with other platforms.
2. Artificial Intelligence Engineering to improve the efficiency and speed of cloud computing
With technological advancement, one of the most common cloud computing trends is artificial intelligence to process big data and improve business functionality. Different computing platforms can increase their efficiency using AI. This technology also allows organizations to automate their business process and manage them intelligently. As far as cloud computing goes, AI is a significant technology to help you in your business strategy throughout 2021.
For successful implementation of AI projects in your business process, you need a strong artificial intelligence (AI) engineering strategy. A strong AI engineering strategy is a vital factor that helps in the performance, scalability, interpretability, and reliability of AI models. It helps to resolve all maintainability, scalability, and governance issues of AI projects while delivering the full value of AI investments. Therefore, AI is definitely a cloud computing trend to make organizations' workflows smoother and increase efficiency.
3. Fast grow popularity of Hybrid Cloud Computing
A hybrid cloud computing environment combines the efficiency of both the public cloud and a private cloud. It allows the organizations to gain flexibility and computing power of the public cloud with the lowest possible risk of data exposure. A hybrid cloud computing allows businesses to scale computing resources along with eliminating massive capital expenditures.
With a hybrid cloud computing environment, applications have become more portable and enterprises can deploy their workloads across multiple IaaS platforms. Therefore, hybrid Cloud Computing has become the latest trend for flexibility, scalability, and cost efficiencies along with the minimal risk of data exposure. There are multiple cloud IT consulting companies to provide you hybrid cloud services for your organization.
The efficiency of the cloud computing system is already in demand for the last few years. Apart from that, the pandemic and subsequent situation have increased the demand for cloud space – the raw storage and compute power where an organization can easily shift their existing systems without any pre-installed software and services. As a hybrid cloud environment has consolidated all these user requirements, it is expected that more organizations will be driven towards cloud services in the coming year.
4. Going Serverless:
Serverless computing is the latest software architecture pattern that enables you to build more agile applications so you can innovate and respond much faster to any change. In case of serverless computing execution model, the cloud provider handles everything on behalf of you — starting from server operation to infrastructure management tasks like capacity provisioning and patching. As this computing facility provides a true platform-as-a-service environment, your development team can focus only on writing codes that help to improve profitability. Serverless computing comes with automatic scaling, built-in high availability, and a pay-for-value billing model. To available this smart computing practice, you can be connected with cloud server providers in India.
5. The Growth of SASE Adoption
Secure Access Service Edge (SASE) streamlines network infrastructure by merging networking and security services into one architecture for protecting digital business transformation with cloud-based and software-defined secure access. With SASE adaptation, organizations can move away from a patchwork of physical and virtual appliances; instead, they can leverage one cloud-native solution. Therefore, SASE adoption not only eliminates the cost of the appliances, but also minimizes network complexity related to updates, network maintenance, and so on. For consistent data protection everywhere, businesses are driving towards SASE adoption; consistency across locations and environments will be much easier.
In 2021, security, privacy, and governance will be the most important criteria for business owners and they will definitely incorporate these requirements when building new systems. IT industry will invest in tools and technologies to provide secure access to data while balancing ease of use and performance. So, incoming year, the organization will be driven towards cloud computing technologies for sustainability and future-proofing. You can take the help of IT consulting companies in India to incorporate technologies to achieve the desired success.