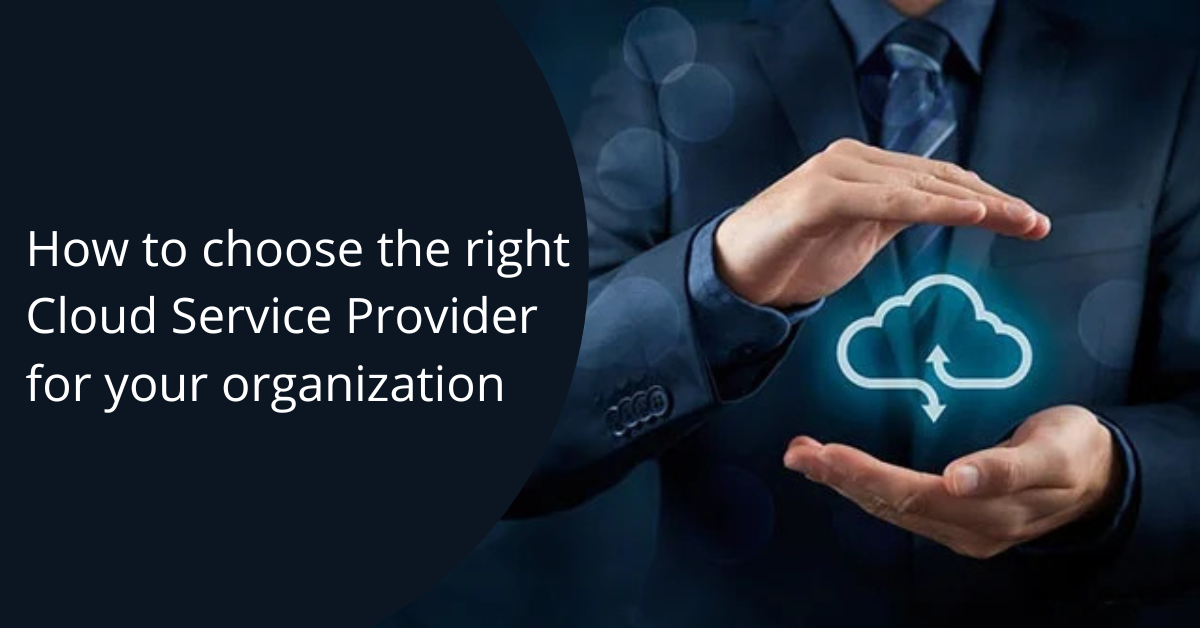 Now businesses have to rely on cloud services for multiple reasons. Cloud services can provide needed support through servers, storage, databases, networking, software, etc. Cloud services also contribute to improving performance, flexibility, scalability, innovation, and cost efficiencies.
The global pandemic has accelerated the digital transformation and cloud usage rate to support remote work culture, meet the changing demands of customers, and improve customer experiences.
In simple words, cloud computing offers your services over the internet by a network of computers. A cloud service provider (CSP) is a third-party service provider who provides services to establish public clouds, manage private clouds, or provide on-demand cloud services. There are multiple options of CSP available in the market, and all offer attractive support and service offers.
But it is not so simple to choose the right cloud service provider for your organization. If you make a wrong choice, that can lead to multiple challenges like,
Inconsistent performance
Technical issues
Security threats in the cloud
Lack of support
Therefore, it is essential to do thorough research before recruiting CSP for your organization. When you plan to recruit cloud service provider(s), you must evaluate the all-available options that different CSPs offer. You should consider the proposals and match them with your actual needs to check how they would support your unique business requirements and objectives. Here are the seven key elements to consider before choosing a CSP.
1. Cloud Security
Security is one of the top concerns for every organization. First, you need to understand the security goals of your business. All most every CSP offers security measures to their clients, using different mechanisms to protect your application and data. So, it is essential to understand the exact security process and the specific service areas that each party is ready to provide you. Moreover, you must consider the free out-of-the-box security features from each vendor on your radar and the additional paid services available from them. It will help you to understand where you may need extra support from third-party partners' technology.
Security is an essential concern in the cloud. So, don't hesitate to do a thorough query related to your unique business needs, use cases, regulatory requirements, and if any other concerns are there. All these are essential features for choosing a suitable CSP and operating safely in the cloud.
2. Cloud Compliance
The next step is to ensure the regulatory compliance standards. Look for a cloud service provider to help you meet the compliance standards required for your organization and industry. You must understand what criteria need to be fulfilled to achieve compliance once your applications and data live in a public cloud infrastructure. It is essential to thoroughly understand your responsibilities and where you can get help from your CSP to meet the compliance.
Architecture
When planning to recruit a CSP, you must have a clear understanding of the needed architecture to incorporate your workflows now and in the future. Plus, you should also consider cloud storage architectures before finalizing your plans. Regarding storage capacity and facility, most major vendors have similar architectures. They offer different types of storage facilities to suit various business needs, while they all have multiple types of archival storage. Each service provider provides facilities like data storing features and efficient data retrieving facilities (hot vs cool storage).
Manageability
Before deciding, you must spend some time determining what exactly a CSP wants from you to manage. Each CSP supports different orchestration tools and integrates them with various other services. So, you must look for the CSP providing services that are essential to your organization. Ensure that the cloud service provider you choose offers services that you can easily integrate with your system. You also need to do your homework on determining how much time and effort your team needs to pay to manage various aspects of the cloud infrastructure before you decide to finalize a CSP.
Service Level Agreements (SLAs)
When you have strict requirements regarding availability, capacity, response time, and support, SLA is one of the most vital things to consider. SLAs are crucial to establishing a clear contractual relationship between a customer company and its cloud service provider(s).
Don't forget to pay special attention to legal requirements to ensure data security hosted in the cloud service, particularly in light of the General Data Protection Regulation (GDPR). For a stable business relationship with any third-party service provider, trust is crucial. You need to be able to trust your CSP as a reliable partner doing the right things for your business, and an SLA is a legal agreement that will back you up if anything goes wrong.
Support
Support is another key aspect to consider when choosing a CSP. You need to consider that carefully. Before making a decision, you need to ensure which type of support you expect from your CSP; support through chat service, call center, or direct call. You must ensure when you need help, how fast and how you can get that.
It is your decision to ask for a dedicated resource, call center, or chat support. So, have a clear discussion with your CSP about what level and form of support you will have access to before deciding on CSP.
Costs
Cost may not be the only constraint, but it is vital in choosing a CSP. Different service providers offer cost structures for their clients like pay-as-you-go, reserved, etc., and there is no denying that cost plays a significant role in deciding on a CSP. So, follow the cost structure of each short-listed cloud service provider on your list, compare their service vs cost, and make your decision accordingly.
Conclusion
Having the right cloud infrastructure company by your side during your migration can do magic and help you to make your journey smooth. Many companies face issues during and after cloud migration, and most of these common cloud failure problems can be solved with the help of a reliable partner. Recruit a trusted CSP to make you to have a successful cloud migration.