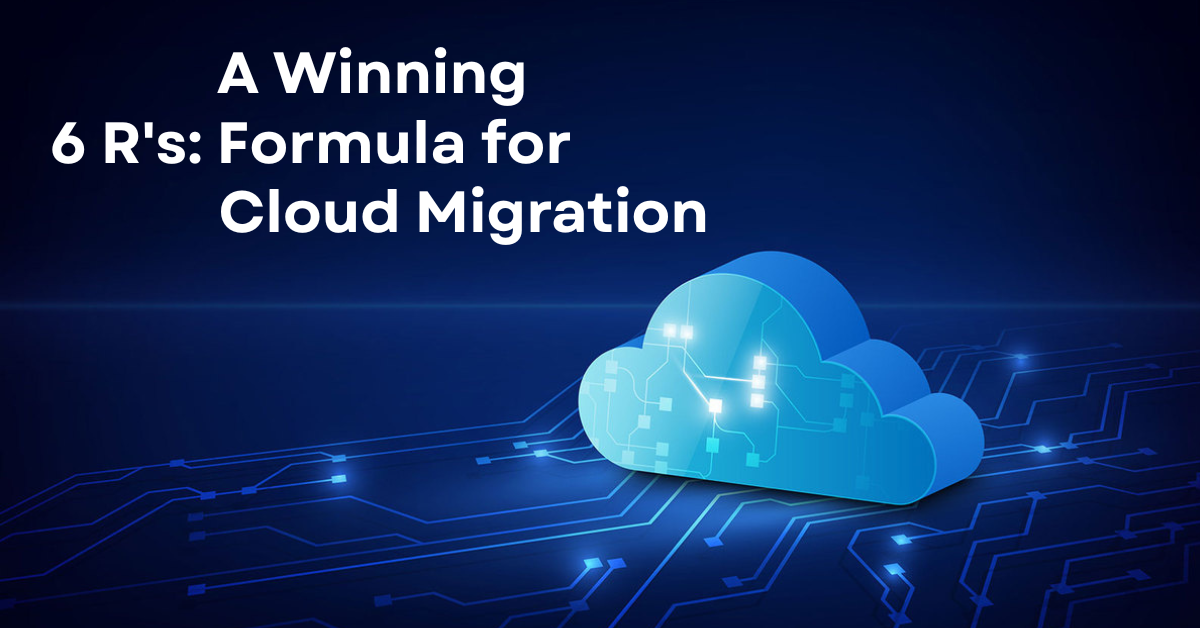 Before moving your business to the cloud, first, you need to form proper strategic planning. It will help convince the stakeholders, get their support and have a successful migration. You can start by reviewing the basics of the cloud migration process. It is always helpful to ensure that you have a good plan ahead.
Here are six R's (rehost, replatform, repurchase, refactor, retain, and retire) of cloud migration that can help you form your roadmap for the cloud journey. You can use these 6 R's to develop the framework and represent your strategic planning to your stakeholders for a discussion. A framework will help you to create a solid foundation for your changes. The six R's can be used as a fundamental guideline for almost every cloud transformation. But every organization is unique, and so are its needs. So, you need to look for the correct transformation model for the migration process of every application. Let's start with the details about each 'R' of these six R's.
First R: Rehost
Rehosting, commonly known as 'lift and shift', is the most widely used migration strategy due to the relatively low migration effort and cost. As the name suggests, in this model, your servers, applications, virtual machines, and operating systems are copied as-is from your current hosting environment and shifted to a cloud service provider (public cloud infrastructure) without any changes.
When talking about benefits, minimum downtime is the top one. As no architectural change is needed here, the migration can be done in almost no time. In most cases, the migration can be done automatically using different lift-and-shift or workload mobility tools. This migration model is most appropriate for those large or mid-scale projects that are undergoing and have a hard deadline. It is suitable for organizations looking for ways to quickly migrate from on-premise to cloud in a short span of time. The process is relatively simple and doesn't involve a lot of technology.
However, this lift and shift strategy has a major drawback. Using the rehosting approach, you would not be able to utilize the cloud's full potential as your applications are not built in a cloud-native fashion. Compared to cloud-native applications, rehosted applications will be inefficient in providing you with features like CI/CD automation, self-healing, automated recovery, monitoring systems, etc.
Second R: Replatform
This second option is also known as the lift-and-optimize model, a modified version of "lift and shift." Replatforming involves making changes to the application during the migration phase for optimization, like configuration of applications, APIs, and upgradation of middleware.
It will help you to leverage specific cloud benefits, such as modifying your applications' functionality, etc. Replatforming will provide better cloud compatibility. By reshaping the sourcing environment, you can avoid massive post-migration work.
When you want to enjoy the benefits of the cloud with improved scalability, elasticity, cost, and performance without investing much in resources and effort to re-architect the application — a replatforming strategy can be the best option for you.
Third R: Repurchase
Often referred to as the drop-and-shop model. Repurchasing refers to the concept of discarding a legacy application and moving to a cloud-native product that can provide the same or similar capabilities. This means an end of the existing licensing and repurposing services on new platforms.
Suppose you have a CRM system or an industry-specific application which cannot run on cloud infrastructures. Or, your application may have outdated code that cannot run on the cloud platform. Or, when it is impossible to transport the code from one provider to another. In such situations, the repurchase strategy can be the solution. Here, your new application will make the migration possible while using the previous proprietary database platform or a proprietary product.
Fourth R: Refactor
Also known as the re-architect or rebuild model. Refactoring is applied for those vital applications that need thorough modernization to add scale, new features, or optimize performance due to outdatedness or performance issues. In such cases, one should consider a higher migration effort for future prospects and profitability.
Refactoring allows optimized use of the cloud, heading to cloud-native benefits and future-proofing of the application. The discarded application is re-architected using an alternative application architecture for this transition. It involves breaking down the components of an application into smaller blocks and microservices and wrapping them into dockers. Now, these containerized applications can be migrated and utilized. Refactoring needs a bit of extra time and expertise compared to the above three models.
Fifth R: Retain
This fifth strategy is also known as the hybrid model. When you don't want to migrate portions of your IT portfolio to the cloud and keep them as-is for future use, the hybrid model is the way to do so. If you are not confident about some applications and want to keep them on-premises, or you may need to do so for compliance issues, then retaining them is the best option.
When you think the benefits of cloud migration of an application won't outweigh the cost and effort to be invested, it is better to retain them as-is. You can also decide to retain applications due to latency requirements.
Sixth R: Retire
When you find some of your existing applications are no longer useful and can be simply discarded, you can go for retiring those services. This strategy will help to reduce computing complexity, storage and backup, licensing issues, and architecture. With this strategy, you need to evaluate your applications, comparing their utilization vs overall expenses. You can start with retiring and consider refactoring some of them as needed. Here you need the support of experienced technical teams to make the right decisions regarding changes and ensure the proper execution of the transformation.
Conclusion:
These six Rs can be crucial tools for categorizing your existing IT portfolio, developing your cloud migration strategy, and bringing migration framework into your decision processes.
You can make your own migration roadmap considering the above-mentioned six R's strategy. Or you can also consider recruiting a cloud IT consulting services provider to help implement these cloud migration formulas and develop your migration plan. Cloud IT services providers can help you to accelerate your cloud adoption initiatives by identifying the cloud readiness of your applications, data and infrastructure and suggesting the needed changes. An efficient service provider will help you by providing the required information and estimating the costs to configure your optimum cloud setup.