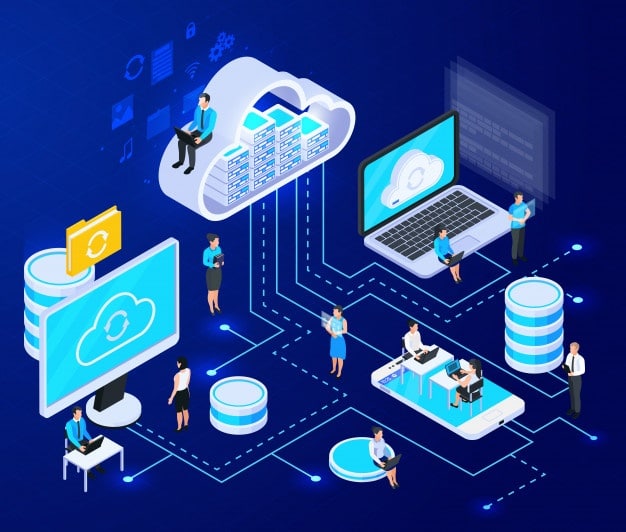 Cloud computing is one of the integral approaches in the current situation. But, multiple companies still wary of moving their applications to the cloud even with such obvious cloud deployment benefits as flexibility, app scalability, reduced maintenance costs, improved efficiency and security. And the key player in such a dilemma is the fear of cloud migration risks. A smooth and faultless migration is quite a challenging task. Your organization may face some challenges along the way. So, it would be best if you will be prepared to deal with the consequences.
This blog covers the top 10 tips to help you minimize your cloud migration risk and maximize the success of your cloud journey.
Best Practices for Successful Cloud Migration
1. Understand Your Application's Architecture
It is crucial to acquire a comprehensive understanding of your applications' architecture, including detailed information of every component, dependency, and integration—before considering a cloud migration. You need to understand your applications' architecture to know their performance characteristics and resource requirements, including CPU, network, memory, disk utilization, everything. Even latency, response times, and end-user experience, and how they contribute to your business and revenue goals—everything is essential. Cloud migration without a detailed understanding of your application's architecture is risky and can lead to costly overprovisioning.
2. Make an Effective Migration Strategy
The next step is mapping out the migration strategy considering your business motives. It is most advisable to make the migration in phases. You can even conduct a pilot light migration in which you start with the least business-critical workloads. This will help you to get the experience and confidence to move forward with a larger migration.
3. Create A Cloud Governance Framework
Security and compliance two are the top concerns for organizations moving to the cloud. Therefore, it is crucial to prepare a cloud governance framework with clear, policy-based rules that help organizations to experience secure cloud adoption.
Good quality cloud governance incorporates multiple things, including structures, roles, responsibilities, objectives, principles, policies, plans, measures, and a decision framework.
4. Minimize Network Disruptions
During cloud migration, you need to transfer a huge amount of data, causing a tremendous load on your network—it can lead to slowdowns and disruptions. To avoid such network downtimes, it is good to look for cloud providers who can offer alternative ways to connect the cloud infrastructure without overloading the network.
For instance, AWS offers a dedicated network connection to its infrastructure, whereas Azure provides ExpressRoute service— it establishes a direct connection between your network and Azure, bypassing the Internet.
5. Train Your Staff Early
It is always good to keep your staff ready with all the essential training to handle cloud computing. Otherwise, you may find that a lack of cloud expertise or a cloud skills gap can be barriers to a successful migration. It makes sense to provide training to your staff about the chosen cloud platforms before the migration.
You can take the help of the IT infrastructure consulting services to train your staff. Early training can give them a better chance of adapting to the new ways of doing things promptly.
6. Manage Software Licensing
It is vital to go through the licencing rules of your applications before migration. To properly manage the software licencing in the cloud, you should check whether the existing licenses for on-premise software can be extended to the cloud or not. Vendors operating with a 'Bring Your Own Software and License (BYOSL) program' allow enterprises to migrate their applications to the cloud with the existing licenses. On the other hand, some vendors specify usage rights per number of concurrent users.
So, it is vital to document all application along with their licensing rules and make strategies accordingly. Software Asset Management (SAM) tools are beneficial in reducing risks, costs, and complexities associated with license management to the cloud.
7. Implement Automation
To minimize the disruption, reducing migration time, and improving the overall efficiency of the migration, it is good to automate repeated tasks where possible. Automation not only accelerates the process of migration it also reduces the cost and risk of migration. Multiple tools are also available in the market to help you automate the migration of virtual machines and data.
8. Monitor Your Cloud Usage
Monitoring cloud usage from the beginning is one of the best practices to avoid misuse of your company's funds. You can go for a centralized dashboard for constant monitoring — a centralized dashboard identifies running instances across different cloud services and helps you monitor the cloud usage.
Monitoring is also crucial for compliance and security—this will help you collect logs from apps, databases, systems, and network touchpoints to ensure information security requirements.
9. Proactively Check User Experience during the pilot
When planning a cloud migration, you need to be sure that your migration activities should not impact your customers with performance or availability issues in the early migration phases. Your customers are the most important, and a poor customer experience can dramatically affect your business and revenue generation.
So, closely monitor the developments of the migration process and act accordingly. One of the cutting-edge techniques to keep tabs on your user experience is synthetic monitoring. Here you can continuously test your app's critical transactions from multiple locations across the globe to ensure your software and services are truly performant in every corner of the world.
10. Service Provider Support
It would be best to do a thorough before opting for the cloud service providers and definitely consider the level of support you can have from the vendor. Having a good support team is beneficial for any cloud migration project. Cloud support service provider teams comprise experts in the particular service they work for—they are prompt in answering if any technical questions are there. They even can help you with any other migration-related issues.
Conclusion:
Conducting a cloud migration in a smooth and efficient way is no small feat. Multiple factors can influence the migration process. Whether your cloud migration will be successful or not strongly depends on your strategy planning, the efficiency of the technical team, and the expertise of migration performers. If you are not so confident in your in-house IT team, it is better to approach a Managed IT services provider company. The relevant knowledge and skills of cloud IT consulting companies can ensure quick, smooth and reliable migration.