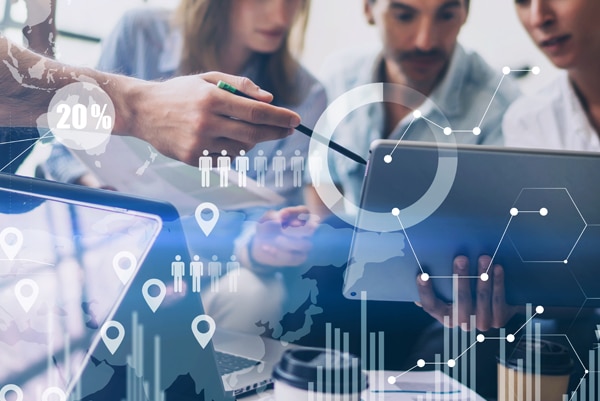 The COVID-19 crisis has impacted each and every industry – all most every industry has faced business disruption, financial loss, cyber-attack, and so on. It's been a hard road, but also a lesson for everyone that no one can stand still; changes are happening around you, and you have to accept and change your business strategy accordingly to sustain. You have to understand your scope of improvement and accept technologies or solutions to become more resilient.
This pandemic has globally caused a dramatic shift in customer demand, behavior, and expectations — businesses are looking for new and innovative ways to satisfy the customers' needs. In such a vulnerable situation, IT consulting services can help businesses to overcome the crisis. IT consulting services are enabling organizations to restore their businesses with cutting-edge technology incorporation and implementation.
Reshaping business strategy with IT consulting services
As businesses are trying to cope with the new post-COVID-19 reality using different technologies, IT consulting companies are ready to help with better crisis management and realign their business strategies:
1. The shift from offline to online
Every industry has been impacted by COVID-19—especially those businesses that were predominantly offline. To survive this pandemic crisis, companies have to adopt the online mode of work culture and customer services. This 'paradigm shift' is not so easy — a plethora of changes in the working system and business policies have to be incorporated.
To make this fundamental change in your organization, Managed IT service providers are one of the best solutions. They can mentor you to make your offline to online transition smooth and safe. There are multiple steps to move on the track of online business activities. Partnering with a reliable IT consulting service provider can suggest you the right technologies for your organization. Along with providing advice on tech implementation, they provide training on new technologies to your staff, and manage your networking and IT needs.
With IT consulting services, many organizations realize that they could accomplish their previously in-person activities, even online, with more efficiency and greater convenience.
2. Better planning for business continuity
Many companies have to adopt remote working culture during this COVID crisis. But, companies without any prior remote working experience have to accommodate multiple changes to continue working with a distributed team. In such a situation, IT consulting services are helping organizations to incorporate technologies like cloud computing to facilitate remote working culture through secure server access facility, better data protection, better virtual collaboration, and so on. These initiatives play a vital role in crisis management response to the pandemic.
3. Accelerate the pace of digitalization
Digitalization of business processes is a fundamental step to boost engagement and establish a digital-first culture with the customers. This shift in technology, services, and solution delivery allows both customers and organizations to get and provide service from anywhere and anytime. In the pre-pandemic era, digitalization was a choice for businesses, but the pandemic has made this a mandate for existence.
IT consultancy services can help you to adopt digitization and incorporation of different technologies to work and serve batter to your clients. The industry-specific tech-knowledge of managed IT services can help you to make a fast and smooth transition.
4. Embrace agility in inspection and adaptation
The most on-trend business methodology is agile practices—a new reality calls for companies. Several companies are adopting agile methodology in their business to meet the changing market and customer needs.
To make business applications perform faster, scale higher, and operate with greater flexibility than before, you should consider modernizing them with cutting-edge technologies. With the agile approach to project management and software development, you can make the whole process faster as those applications can be quickly assembled, delivered as-a-service. To squeeze the benefits of agility and thrive in this new normal situation, IT consulting partner can help their clients.
5. Introduce automation
The pandemic has made businesses consider the efficiency and effectiveness of artificial intelligence, automation, and machine learning to help industries to keep up with their services. Incorporation of automation can reduce the number of manual touch points as possible, reduce the chances of manual error, minimize unnecessary downtime, and continue to utilize the workforce to improve productivity. In this 'new normal' situation, several companies are considering the implementation of automation into their IT infrastructure.
IT consulting services plays a crucial role in developing an entirely new business model with automated business processes that can improve production.
6. Leverage innovation
Every industry is looking for new and innovative approaches to get better business opportunities. Every industry is different, and all have to satisfy different customer requirements. As the pandemic has changed the existing business models, companies are looking for better technologies and innovative solutions to survive the situation and thrive.
IT consultancy services have experts with industry-specific knowledge—they understand the client's requirement and are knowledgeable about the technologies that can work for specific businesses. So, it is good to take the experts' advice and innovative ideas to restore the businesses and flourish in the post-crisis environment.
7. Digital Cybersecurity
In this 'new normal' situation, cybersecurity has become extremely important for businesses irrespective of their size. Cybercriminals are always active to find the loss ends of the security systems to penetrate and cause harm to businesses.
In the current situation, a huge number of companies are operating with a distributed workforce and are facing more and more cyber-attacks. So, it has become vital for companies to hold up their cybersecurity strategies, incorporate the latest technologies to improve network security for mobile work-from-home devices. Here you can hire an IT consultancy service to help you implement strong network security and cybersecurity systems that can protect your valuable business data from cybercriminals.
Conclusion:
Although the pandemic has negatively impacted many industries, IT consulting companies in India are helping organizations to re-establish their businesses with all new technologies and innovative solutions. Several companies are seeking the guidance and expertise of managed IT services to map out future strategies and business developments.
Clients are also reaching out to IT consultancy partners to restructure their operations to become digital-first that can ensure their business continuity and build resiliency for any future disruptions. IT consultancy services are working hard to serve their clients with technologies, which have brought them closer to their clients.