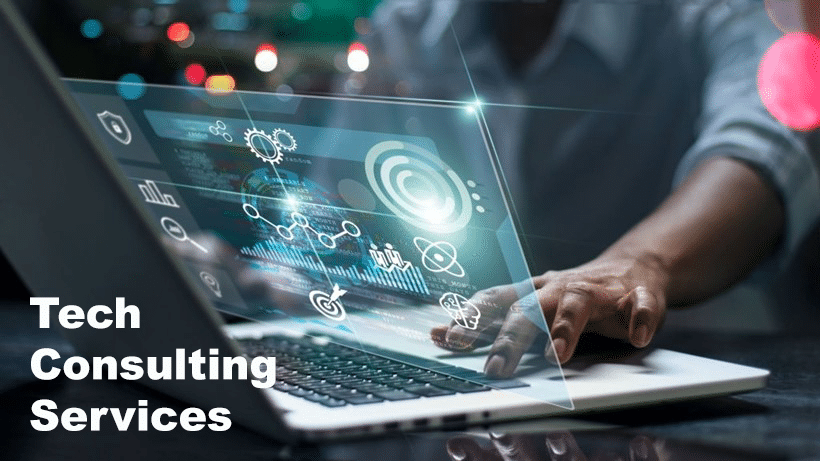 Being competitive is not just a passion, but sometimes it is essential to persist in the industry. Most companies recognize the requirement of staying competitive with the latest technology to sustain in the market. Otherwise, the newest tech up-gradation or innovative services of your competitors can make you outdated.
Understanding the latest technologies' requirements is not sufficient; opting for the right technology and incorporating that to have a competitive advantage is another challenging task. Business owners do not always have the knowledge or expertise to adopt current technology and how to leverage technologies to be one step ahead of their competitors. This is where you need the expertise of technology consulting service providers.
How Tech Consulting Services help
Apparently, people confuse tech consulting services with outsourcing development work to another company. But the spectrum of tech consulting services is much broader than development work. Whether it is application development, digital transformation, software product development, DevOps implementation, channel extension, cost optimization, or IT infrastructure upgrade, consultancy services cover everything. In fact, businesses hire tech consultants for their expertise in multiple cutting-edge technologies and specific aspects of business development.
In the current situation, when technology update is one of the critical factors to meet the business and customers' requirements, tech consulting services are of immense importance. Your tech consulting partners escort you throughout the latest tech implementation, system update, and resource management. The precious knowledge of the consultant company about specific technologies and effective development approaches will help you leverage that technology to improve productivity and grow your business. By hiring a reputed and experienced tech consultant, you will be in safe hands of professional who know what it necessitates to take your business into a top competitive position.
The main function of the tech consultancy services is to understand the actual business requirement and help businesses identify technological solutions that can improve their productivity, eliminate inefficiencies, and reduce business expenditures.
Technology is an ever-changing aspect—everyday some new inclusions are making it more enriched. Now, it is not possible for every business, especially for non-IT ones, to be up-to-date with the latest tech updates. Tech consultancy services keep themselves updated with the newest tech updates that allow them to provide the most updated tech support to their client companies. So, it is always good to go for the right tech consultant to use their expertise in your business growth.
How can businesses benefit from tech consulting sservices
Here are the five key ways to get help from tech consultancy services that can make your company stand out amongst the considerable competition.
1. Go vertical
Though most companies prefer to grab all the business they can, some companies also believe in serving a vertical client-base. In such condition, companies need to be more concerned about their products or services to achieve some sort of monopoly. A tech consultant with industry-specific expertise can create an opportunity for you to specialize in providing services to a particular market sector. As all industries have different priorities, working patterns, and regulatory compliances, constancy services are equipped to provide specialized services for particular industries. With industry-specific IT support and services, your tech consultant keeps you a step ahead of your competitors.
2. Specialize services
Specialization in specific technologies or a particular type of technologies is similar to the vertical-market approach. Suppose, an organization uses Apple devices (iOS) for its day-to-day business work. So when the organization opts for tech consultancy services, it definitely goes for the company that have specialization in Apple products. This will help your business obtain the right technical support services from people who know exactly what they are doing. Similarly, tech consultancy services with specialization IT security, Linux or mobile IT, etc., are valid options for businesses looking for specialized services.
3. Cloud migration
Cloud computing is not just an option anymore— for multiple organization, cloud adaptation has become a mandate. Therefore, plenty of modern companies are planning to incorporate cloud computing in their business. But cloud adaptation is not just a single step process, and without proper professional guidance, there is a chance of failure of the migration attempt. So, moving towards cloud computing is not only significant but also challenging. A trustworthy IT partner for a cloud solution is essential to have a smooth transition. Whether you are planning to move everything to the cloud at a time or planning a step-by-step migration, in both the scenario, your IT consultancy partners will your guide. Your IT partner will help you to achieve a successful cloud migration in the first attempt.
4. Security
In the current situation, data security is definitely a vital concern for every business. Data theft or data breach can cause massive damage to business growth. Any kind of cyberattack, including malware, phishing, ransomware, SQL injection, man-in-the-middle attack, etc., can expose, alter, destroy, and steal business data. To keep your business data safe and secure from cyber criminals and your competitors, tech consulting services can play a vital role. They can help you to establish a suitable defence mechanism for the security of your business data.
5. Innovate with pricing
Technical support services provide you with the facility to get services in different ways, such as per device, per user, per month, per year, and so on. Considering the package system services and reasonable pricing allows the businesses to design their own services package as a compelling financial deal that can pay great dividends. There are multiple ways to design your service packages — you can hire your vendor as "desktop as a service," so you have to pay a fixed monthly fee for everything or even you can go for an annual fee for supporting an entire network. Depending on your requirement, IT consulting companies in India can offer you varieties of service packages.
Conclusion:
IT service provider company in India helps organizations to achieve their business goals through cutting-edge tech solutions. Their talented team of developers provide a smooth transition from technology consulting to development. They also help in achieving your business vision through the adoption and integration of current technology. This effective and innovative approach will help position your business at the forefront of your industry.