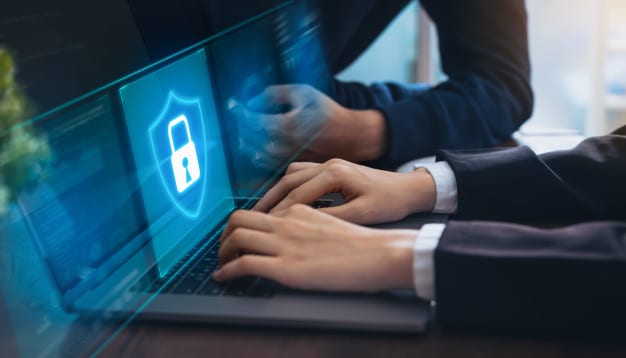 Data security is always a massive concern of employers. The growing trend of remote working has also enhanced the anxiety of employers. Due to the pandemic crisis, when multiple companies are pushed to adopt the remote working culture, the chances of cybercrimes, data theft, data branching, or virus attack has tremendously increased.
When working remotely, multiple things can initiate cybercrime as well as data theft. From employees using unsecured Wi-Fi networks to carrying confidential documents to public places, everything can initiate data misplacement or hacking. Therefore, remote working culture has increased the requirement of additional security considerations for companies and their data.
To keep your business data secure, first, you need to prepare a strategy planning on 'what steps are required to keep the data safe' and 'how to implement them'. Here are the seven vital tips to boost cybersecurity immunity to secure your data.
1. Start With You Workforce:
To keep your business data secure—first, you need to educate every individual of the remote workforce about the basics of data security and how everyone is responsible for protecting that. The employees need accurate information about security measures. They also need to initiate and maintain certain practices and procedures to strengthen data security within a business. Every piece of important information, confidential employee files, customer information, protected intellectual property, on-progress project work, etc., need to be handled with proper safety.
You can also take the help of the IT infrastructure consulting services to establish a data security system in your organization and provide appropriate training to your employees on data security education and safe practices. IT infrastructure consulting services offer a wide range of cybersecurity services to keep corporate data, applications, and user devices secure irrespective of the networks.
2. Establish a Cybersecurity Policy
Implementing cybersecurity measures and making workers aware of their role to maintain the security system are essential to establish a cybersecurity policy. And, next step is to make it mandatory for all new and existing employees to review the cybersecurity policy and sign it—irrespective of whether they work remotely or not.
An effective cybersecurity policy document should be an understandable document covering every essential information, including:
The reason behind having a policy in the first place
Detailed outlines of all the security protocols and what will be employees' role to comply with
How the organization will support them in complying
Everyone in the organization must take ownership in protecting the employer's data. With the establishment of a cybersecurity policy, all employees ( both in-offer and remote-working) will be on the same page on what are the changes and what the expectations are.
3. Go for VPN Service to Ensure All Internet Connections
When running your business with a remote workforce, using an unsecured Wi-Fi network is the most common way to expose your system to a data security breach. Therefore, it is vital to educate the remote workers about keeping the company's data secure.
Mandatory implantation of a virtual private network (VPN) is the easiest solution to prevent data theft or breaching. Employees need to sign up for a VPN service before signing on to public Wi-Fi networks, and it will encrypt the internet traffic of the remote worker and monitor for any signs of infection. A VPN service allows remote workers to work from anywhere and use any network —it will ensure data security. Though all VPNs are not created equal, you have to opt for the exemplary VPN service according to your business requirement.
4. Use a Password Manager Plus Strong and Varied Passwords
Password safety is a relatively easy but effective way to protect your company's data. Commonly observed that a considerable percentage of people use the same password from device to device and program to program, which can be a threat to data protection. So, educating remote workers about password protection is vital to secure your company's data. You should provide password security training as part of the cybersecurity training to both regular and remote working employees.
Using a password manager is also an effective way to mitigate data security risks. A password manager randomly generates passwords for you and also stores all of your passwords safely. So, employees won't have to struggle for remembering all of their different passwords for different programs, and the data will remain secure at the same time.
5. Implement Two-Factor and/or Multi-Factor Authentication
For better data security management, organizations also incorporate two-factor authentication (2FA) or multi-factor authentication (MFA) system. 2FA confirms a user's identity by first requiring a username and password, and the user needs to answer a "secret question" or perhaps a PIN that has sent to their cell phone to get secured access. This added layer in the security process provides better protection in this digital age when passwords aren't enough anymore.
To enhance the security, companies could even move to MFA, which requires additional verification methods like biometrics (retina, voice, or fingerprint recognition). The authentication is more complex and even expensive — but it could be worthy depending on the level of security an organization requires.
6. Usage of Encryption Software
Encryption software is also an effective way of data protection. In case of the device missing, encryption software can protect company data by restricting access from any unauthorized users.
Additionally, businesses should use end-to-end encryption for chatting, email, or applications to keep data safe during the transition. With end-to-end data encryption, remote works can easily use and share files and documents.
7. Last but not least—Firewalls, Antivirus Software, and Anti-Malware
All remote workers need to have up-to-date firewalls, antivirus software, and anti-malware on all their devices for optimum data security. Along with the laptop, all other devices like cell phones and tablets, whatever is used to work or access data, need to be updated. Many companies also want to have the ability to remotely wipe devices in case they are lost or stolen. For all these services, mobile device management platforms are the right choice. So the remote workers can continue to use their own devices while ensuring the safety of company data.
Conclusion:
Data security is always essential, and the remote working practice has just enhanced the requirement of data security measure and practices. When most of the employees work remotely, they might need assistance from their employer to ensure their devices have these protections installed. In such a situation, you can consider the IT infrastructure management service to establish a data security plan for your organization, implement the technologies, and provide tech support to the team.