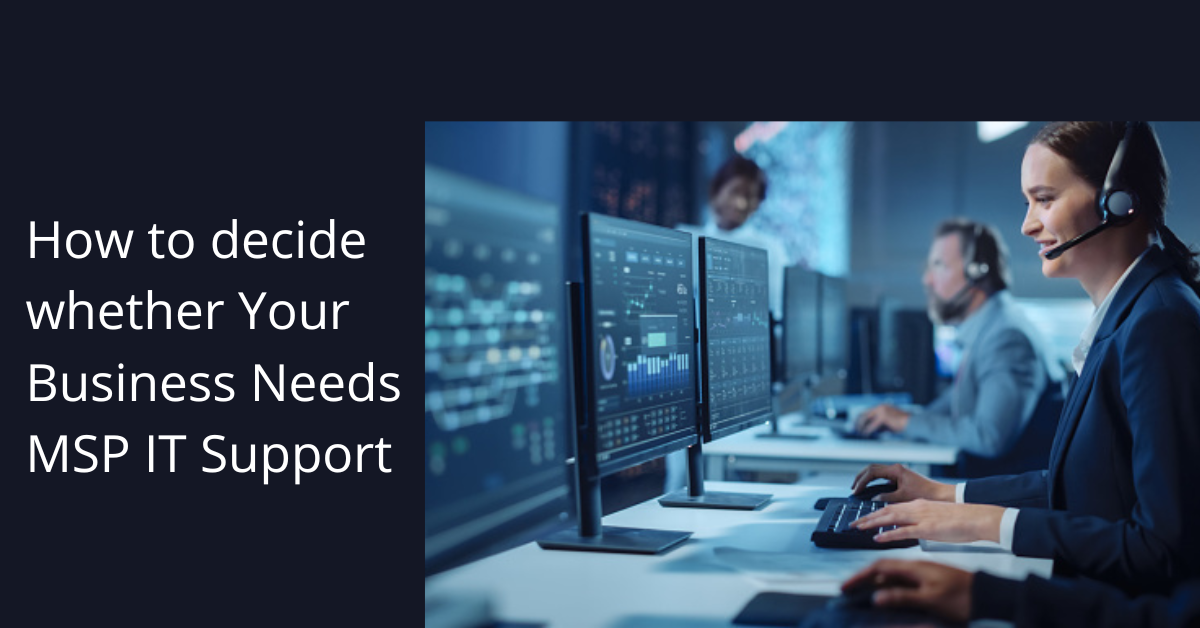 Managed IT services are in trend to support organizations with their day-to-day IT needs, security, and so on. But do you really need a managed service provider (MSP) to help you with your IT needs? Different organizations have different business needs. Some of them suffer from the insufficient support system, lack of cyber security, budget crunch, lack of regulation and compliance support, and so on. Especially, small and medium-sized enterprises (SMEs) may not have unlimited resources. They usually look for cost-efficient measures to meet their business needs without compromising security and service quality. But lack of funds can make it challenging for some companies to get the efficient and proactive IT support they need to keep their devices running optimally and prevent unauthorized access to their system. In such cases, an MSP can be an excellent choice to get IT support and overcome these challenges.
Who are Managed IT Services Providers?
Managed service providers are third-party companies providing IT management and support services, remote support, cybersecurity, troubleshooting, etc., as needed by organizations against pre-determined remuneration. Depending on the service level agreement (SLA) terms, an MSP can also provide support during the implementation of new technologies (cloud migration), help with infrastructure management and system update, office moves, advise clients on professional services automation, etc. Here are the services one can expect from partnering with managed service providers.
> Network monitoring
> Security and system update
> Mobile device management
> Remote firewall administration
> Backup and Disaster recovery plans
> Help to implement cloud computing or cloud services
> Patch management
With a remote monitoring facility, MSPs help to identify security gaps in your network and potential security threats. They also proactively identify and resolve threats before they can cause expensive data breaches. Therefore, organizations, especially SMEs, can be benefited from working with MSPs to meet their business needs, data backup and recovery, prevention of data loss etc.
Key Benefits of Hiring Managed Service Providers
Partnering with a managed IT services provider has several benefits for SMEs. Cost-saving is one of the critical benefits of recruiting an MSP instead of hiring in-house, full-time IT staff for basic IT needs. With an MSP, an organization usually pays a per-user charge for system monitoring and troubleshooting.
Managed IT services providers also help organizations access the latest tools and technologies, choose the right one for their businesses, and assist in incorporating them. They also give business owners access to a wide range of IT expertise. Working with an MSP gives you access to IT experts with experience in different areas of IT, including infrastructure maintenance and management, security as a service, data backup and recovery, cloud services, etc.
Signs When Your Organization Needs To Work With a Managed IT Services
Here are some common signs that indicate the requirement of hiring a managed IT services provider is right for your business.
Difficulties in conducting routine maintenance of IT infrastructure:
For your in-house IT department, there are too many things on their plate to handle. They have to manage different tasks in a day. When you need extensive troubleshooting, system update, fault analysis needs, etc., your in-house IT staff may not have enough time to take care of them and perform regular maintenance. Routine maintenance is crucial to keep your devices running optimally, prevent premature device failure, and reduce downtime.
If you find that your internal team doesn't have enough time to perform routine maintenance of your IT infrastructure, It is time to look for a managed services company for IT support.
Trouble with annual IT cost estimation:
Sometimes you may find it difficult to estimate your annual budget for IT with your in-house team. Your internal team may not be efficient enough to assess your upcoming IT needs, including the requirement of new employees to your internal IT department, purchase of new hardware and software, replacement of broken or obsolete items, etc.
With the managed service model, you just need to choose the right service package covering your IT needs, making it much easier to anticipate your IT costs.
Internal IT staff are struggling to manage their current workload:
In almost every organization, especially SMEs, IT employees are pulled in many directions. Even other departments need IT staff to update or install new software, set up new devices, create new accounts, provide access to new employees, address IT security issues, and restore malfunctioning devices. So, if they have to spend most of their day handling support tickets, they will not be able to focus on their core jobs.
Entering a service agreement with a managed service provider will help alleviate most of the support services. So, your in-house team will get more time to focus on their primary tasks.
Misuse or insufficient use of tools and software:
Organizations are not always aware of the latest tools and technologies – either they don't have enough information or enough money to implement them. Sometimes companies also hesitate to purchase new software or tools because they don't understand how to use them effectively. Moreover, companies also invest in IT tools but fail to implement them properly, making it difficult to get the optimum outcome and return on investment.
On the other hand, MSPs offer subscription-based service models, often including the best-in-class infrastructure tools, which is a huge benefit for organizations. Some MSPs also provide employee training to help their clients to use newly incorporated IT tools successfully.
Uncertainty regarding employee retention:
It is dangerous to depend on a single employee for everything from system backups to IT troubleshooting. Because if that employee leaves your company, you'll be left with a massive crisis. You may have to suffer several IT challenges without proper hand-over or communication.
In contrast, working with an MSP is safe. You don't have to struggle to continue normal operations even after leaving a high-value employee.
Insufficient IT expertise:
Business growth is vital. And that needs versatile IT employees with immense knowledge in different IT domains. And, it is impossible with single or a few IT staff. They may not have the expertise required to take your business to the next level.
Here also, a trusted MSP can be the solution. They can provide expertise in different areas of IT so that you can get the needed support and advice on time.
Conclusion
Hopefully, the signs mentioned above will help you decide on recruiting an MSP. With an MSP, you can get a cost-effective solution to most of your IT problems.