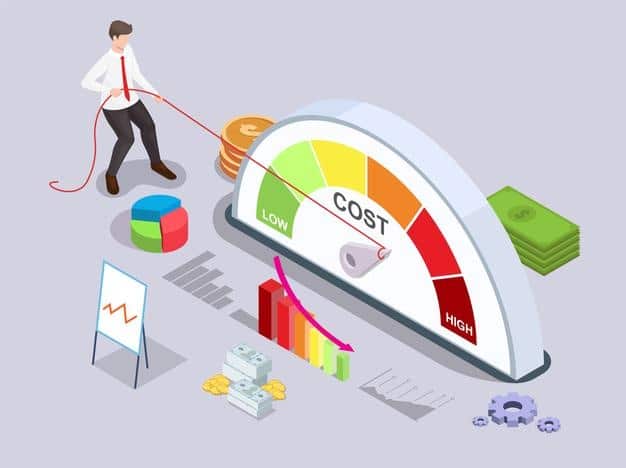 IT costs are a significant line item for any budget; it needs a huge budget allocation for regular maintenance, update, and efficient management. So, it is crucial to do a thorough analysis to make effective cost-cutting strategies for IT. Though in most cases, IT worth investing in and offers a better turnaround, but there are some methods of cost controlling without hampering the business growth.
For sure, IT maintenance and management need a huge sum. And, if you can reduce maintenance and management costs, the money you will have available for new project development or other initiatives. Here are six common strategies organizations can implement to reduce their ongoing IT costs and increase their competitiveness.
Strategy 1: Consider cloud-based services
Cloud migration can help to reduce IT maintenance and management in several ways, such as:
Changes Capital Expenditures (CapEx) to Operating Expenditures (OpEx): Cloud migrationreduces CapEX for server and other network equipment to monthly operating expenses. You can use the server of reliable cloud server providers in India against monthly rent.
Reduces setup and human resource costs: Moving to the cloud helps to reduce setup costs as there will be no more requirement to set a server and hardware infrastructure for service delivery. Cloud providers also take care of the maintenance and management of IT infrastructure when needed; you don't have to employ dedicated staff for that.
Expansion costs: – Cloud service providers also provide additional supports, including storage and backup facilities, faster communication lines, etc. And all these services come at a much lower cost than having in-house servers and infrastructure.
Fast on-demand services: Cloud service providers can quickly provide additional technical support, storage, or server facilities temporarily as the service demand peaks. In case of in-house servers, you need to arrange excess server capacity to support you in the peak times of the year. In slow time, you have to bear the cost for nothing.
So, moving to the cloud is a cost-efficient way of reducing capital, setup, labor, and expansion costs and change them to a monthly expense.
Strategy 2: Incorporate a higher level of automation
Organizations spend a considerable amount of time managing IT-related tasks. In the current situation, some of the repetitive tasks could be automated with machine learning tools, data center automation, and so on. Automation can reduce the requirement of manual labor for repetitive tasks and service-desk time. Here are some of the tasks that can be automated with data center automation tools, such as:
System and job monitoring
Job and process scheduling
Infrastructure maintenance, together with updating and patching
Service provisioning and configuration
Application service delivery
Similarly, machine learning tool induced automation can help you with password resets and refreshing software, and so on.
Automation not only reduces labor costs but also completes jobs faster and accurately.
Strategy 3: Use microservices, containers, or virtualization
Some other concepts can help you to reduce IT cost, such as:
1. Virtualization: It hosts multiple virtual machines (VMs) of an operating environment on the same machine. This eventually reduces the number of physical servers needed.
2. Microservices: Microservice architecture allows quick, frequent, and reliable delivery of large, complex applications. It deploys applications as a series of small and independent modular services. This process makes applications easier to understand, develop, and test.
Like Agile and DevOps, microservice architectures also support continuous deployment and deployment outside of the traditional IT infrastructure. It allows applications to be quickly deployed in several different environments, ultimately leading to IT cost reduction.
Strategy 4: Consider outsourcing Day-to-day IT management
IT service outsourcing could be an efficient way of cost reduction. Especially for small and medium-sized businesses, start-ups, etc., outsourcing can help you with multiple IT infrastructure and network-related tasks, their management and maintenance, and so on. Hiring managed IT services can offer you professional expertise in decision-making on tech-update or system update or incorporation of new tools and technologies. You can also get help with data security, backup, and data recovery measures, and all you can purchase as services. These keep them affordable.
Strategy 5: Examine your software
Many times, software licenses are initially activated and then forgotten. But it is essential to stay current with what software your business is using to perform various functions over time. Instead of costly licencing every time, you can look for alternative software that is less expensive to license but useful to serve your purpose. Another efficient way of cost reduction is exploring open-source software. Nowadays, various open-source software offers multiple functions and can help you with your basic functionality. It can lead to substantial savings. Some open-source software also allows you to modify source code to modify programs in a tailored way that proprietary software does not.
Strategy 6: Hire wisely
Recruiting and training new IT staff can cost a huge sum plus time and manual labor of recruiters and trainers. Not only recruiting and training, employee retention is also expensive; you need to take care salary, other facilities, and perks. To retain good and efficient staff, you have to provide gradual increment as well. But this whole process involves lots of investment, and it is pretty tricky when you have to keep the business expenditure reasonable.
Therefore, instead of having an in-house IT department, you can think about outsourcing IT services. Outsourcing external help also involves cost, but that is relatively less than having an in-house team. When outsourcing, there are several options to go with, such as managed IT services or pay-as-you-go services. Both of them can help you with your IT budget if you are trying to reduce costs in a company.
You can even outsource a Virtual Chief Information Officer (vCIO) to consult your technology strategies instead of hiring an in-house CIO, which is obviously expensive.
Key Takeaways
Following the above-mentioned strategies, you can streamline your IT expenditure and utilize the remaining budget in a better way. If you need help to restructure your IT budget in an effective way, you can consult reputed IT infrastructure consulting services. They can help you to put together the actual business needs; this assessment result scopes out all your IT requirements for the year. Your IT partner will help you to outline all the IT requirements of your business and also help you to make a cost-effective IT strategy planning.