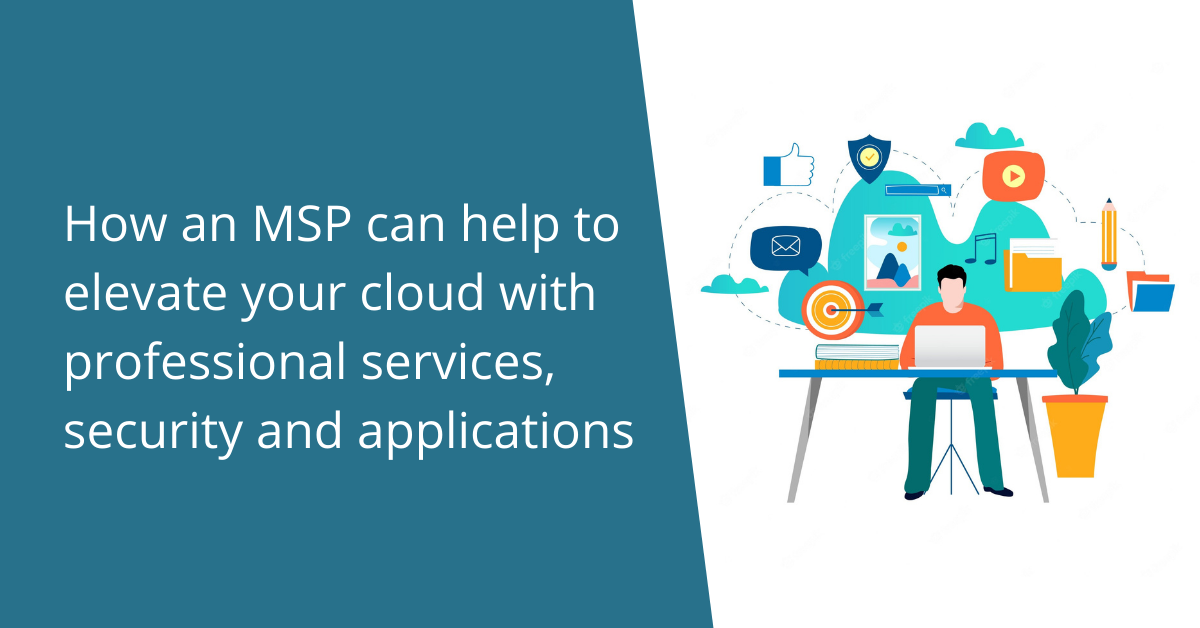 Today, several organizations have realized the benefits of cloud services and are eager to adopt cloud services. Organizations that are new to the cloud might need the help of managed IT services providers(MSPs) to eliminate their technical debt, ensure data security, bring data from different sources together and enjoy a flawless migration. When you have a reliable MSP by your side, you and your staff can focus on getting ahead rather than worrying about technical difficulties, security risks, etc., that hold you back. Your trusted managed IT services partner will work on designing and building cloud solutions so that you can move your business forward.
An MSP with cloud-native approaches can help you modernize your applications and data, analyze and improve existing security solutions, and make necessary changes to have the right cloud infrastructure for maximum benefits. Professional experts of MSPs can assist you in choosing the right applications, data architectures, technologies, and security best practices across different major cloud platforms which suit you the most. Let's see how MSPs can help you with your cloud journey.
Cloud migration and adaptation
Your MSP will help you to move the right applications to the right cloud platform as per your business needs. They will do a thorough analysis of the unique characteristics of each application and your business goals to identify the best platform for your applications to run uninterruptedly.
Your managed service partner also helps you to make a smooth and cost-efficient cloud migration. You can start your migration following a single, meaningful workload and move applications and services one by one for minimal disturbance. Along with smooth application migration, MSPs also help to resolve any issues that arise during migration.
After migration, they also help you validate your application and data on the cloud, check your network accessibility, and perform cut-over. As migration is over, they will also accompany you with the go-live procedures and can make necessary fixes as needed.
Basically, a cloud MSP plays a vital role in bridging the gap between your organization and the cloud platforms. You also can say that an MSP is a missing link between your on-premises IT resources and in the cloud.
Application modernization
When it comes to applications, your MSP can help you to identify the most valuable and impactful applications, processes, and objectives that your need to move on first. You also need to identify the supporting technologies for your priority process and objects, their vendors and architecture to move them to the cloud at the same time for the smooth running of your applications. A managed service partner is the one who can be your trusted partner during migration, installation, configuration, customization, and integration of your applications and data on the cloud. They also provide support to train your workforce to adjust to this new work environment.
Cost Optimization
Your cloud MSP also helps you improve your IT performance and ensures the highest rate of return on the cloud investment. They follow some steps to help you get maximum return, such as
Do a thorough inspection of the current environment and architecture
Then they look for the cloud alternatives as per your business goals and try to map them
Make a detailed document containing their decision criteria
Submit their comparative study regarding the cost, technical and operational aspects
Provide their recommended solution
Help you to implement the solution of your choice
Innovation and growth
Along with technical support, your MSP partner also helps you to grow further through innovative solutions to any crisis that stops your growth. They do a thorough analysis to find the gaps in your current and future environment. It helps them to outline related risks and opportunities. Based on their finding, they can design the solutions for your problems and provide solutions to deal with them.
Cloud Security
Cloud migration can increase challenges related to security as everything now resides online. So, you need to enhance the security of your online assets to protect them from cyber threats. A better cybersecurity approach can safeguard your information during and after migration. Cloud migration allows your remote users to access data, SaaS applications from anywhere, and the movement of data from the data centre to cloud services. All of these services need better security measures in place to protect data.
To improve your security, your MSP can help you to incorporate emerging cybersecurity concepts like Secure Access Service Edge (SASE), Zero Trust Architectures, etc. Data encryption, data masking, tokenization, data erasure, authentication, access control
, backups and recovery are some of the effective ways to protect your data in the cloud or on-premises. Your MSP can help you choose the right security measures for you and help to establish a resilient security framework to protect you from different security threats.
How to select the right Cloud Managed Service Provider for you?
When looking for the best cloud managed service provider for your organization, do some homework and choose the one with the following eight qualities:
It is essential to have deep expertise across all cloud platforms and delivery models.
Make sure that the MSP have the experience to deal with multivendor and multi-cloud environments
It is essential to have good knowledge and strong bonding with leading cloud providers like Amazon Web Services (AWS), Azure, Google Cloud Platform (GCP), etc.
Look for an MSP who can accommodate your future growth.
Look for a service provider who keeps upgrading their services and technologies to deliver innovative cloud solutions to their clients.
Make sure your MSP agrees to performance-based service-level agreements (SLAs)
Your MSP needs to be well-aligned with industry best practices
Ensure that they Take care of your compliance, privacy, and legal needs
Conclusion
A reliable cloud managed service provider can guide you throughout your journey and help to make your journey smooth. An MSP can help to increase efficiency and helps to find robust cloud solutions. They also helps you to improve operations and drive better outcomes.