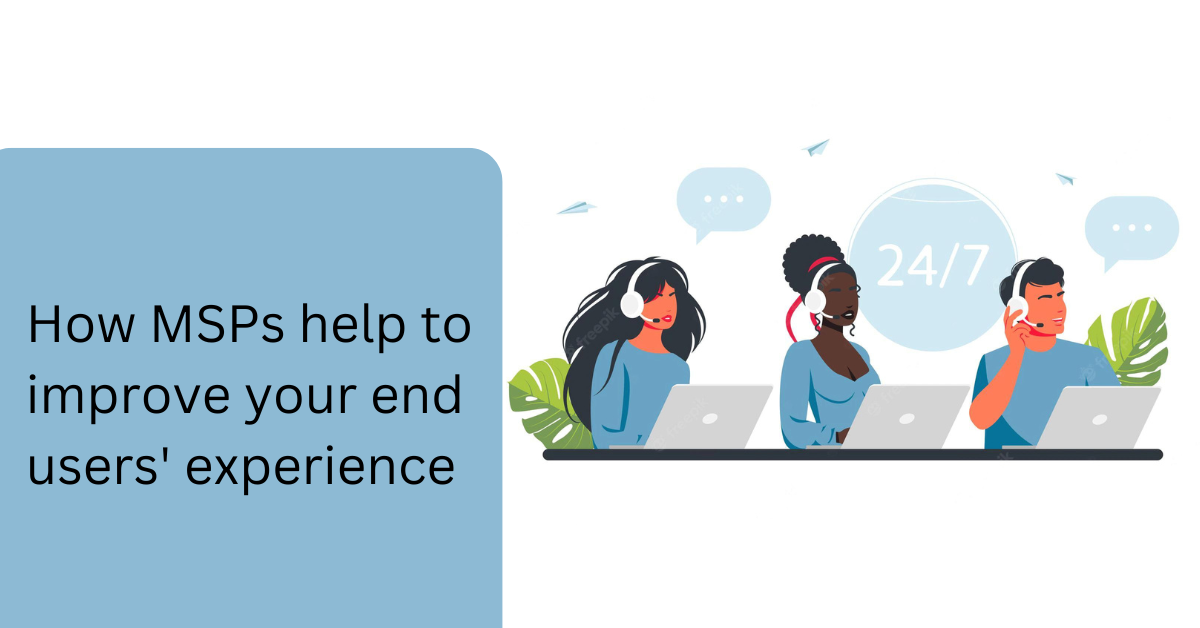 Along with hard work and good-quality products or service quality, another thing that matters most for your business success is good "customer experience". Over time, there has been a massive change in the demands and expectations of end users. Most people prefer to have an online and anytime support service for their service provider. An efficient customer support service that satisfies customers' queries and provides needed assistance can help an organization keep its end users contented. But, for small and medium-sized organizations, start-ups, etc., it is not always possible to hire and retain a dedicated customer service provider team.
Currently, managed services providers (MSPs) have extended their services beyond IT infrastructure management and offer services to improve your end users' experiences. Let's learn how an MSP can help you with client retention and referral generation.
What is customer experience?
Customer experience refers to 'How do customers feel about your brand?'. It comprises every client interaction with your company, from purchasing a product or service to talking to customer service agents.
A satisfying customer experience is one of the essential things for an organization, and a customer's impression and opinion of a brand can impact its overall sales, loyalty, and reviews.
What can MSPs do to deliver the best customer experience?
Prioritize the satisfaction of your customers
A customer-centric approach is crucial for any business. MSPs can suggest the needed organizational changes to make your consumers feel important. Service satisfaction is something that can make increase the comfort level and trust in your organization. MSPs focus on specific service areas to provide needed and effective support to your existing and new clients to turn them into raving fans.
Personalizing customer support
Voice-recorded instructions, only standard instructions, are not always enough to satisfy customer queries. Modern customers prefer personalized assistance and effective support service like artificial intelligence (AI)-powdered answering systems, live chat support, etc.
MSPs can implement a call routing system and backup LIVE call centers that ensure all queries of your customers are answered live by their customer support executives.
Follow up with customers to know about their experience
An MSP can also help you conduct regular surveys to track the quality of customer experience. They can make a call to every client after a specific period of making a service call. It will help you determine how your customers feel about your services. Besides creating a friendly touch with your clients, these follow-up call helps to catch the real concerns (if any) that you may need to pay attention to for future perspectives. Otherwise, there is a chance that some vital concerns remain unmentioned. You can also ask for referrals and reviews from your potential clients through a follow-up call.
Show your care for your customers
MSPs can help you contact your customers quarterly and ask for their suggestions to improve your services and how they feel about the services. Surveying potential customers is an excellent way to know about the needed changes in your customer services. Asking for feedback makes customers feel important, and you can get valuable and actionable feedback from them.
Hire a good customer service team
Hiring a reliable managed IT services firm can make a huge difference as they can provide professionals with excellent nerd skills plus communication skills. An efficient support service provider can actually relate themselves to end-users and offer the exact solution.
Onboard people who have a qualification, experience and a well-balanced personality
Every customer is not the same; they have different queries, different moods, different personalities, and different temperaments. So, a service provider with a balanced personality is the right person to handle the queries and moods of the customers. Customers may ask silly questions or overreact to some simple issues – it's the job of a service provider to deal with all of them with proper attention. Sometimes, a professional dose of humor does a fantastic job of reinforcing that great customer experience in a moment of high tension. Service providers' personality is critical in ensuring an excellent customer experience.
Types of support MSPs provide
Currently, the customer support team can be considered the backbone of any organization. The main expectation of your customers is instant support (like 24-hour support), quick solutions to their issues, remote access and control, polite behavior, self-service portals, etc. All these services can make a difference and help build a better relationship with your customer. Your customer support service team from MSP should solve clients' issues quickly and adapt to your clients' needs.
Hiring an MSP for client support can make your support service easy and efficient. Here are three fundamental modes of client support that MSPs can provide to your customers.
Self-service portal
A self-service portal is the most effective and fast way to provide your clients access to Frequently Asked Questions (FAQ), their solutions, and tutorials that help them solve common and recurring issues. A self-service portal is also helpful in keeping track of and providing access to existing tickets so the client can be updated with the present status of the service requests.
Helpdesk software
A helpdesk software allows customer service representatives to communicate with clients through different channels and keep track of their service requests and current status. Helpdesk software is a user-friendly interface that helps keep track of open tickets, client requests and their response, respective issues, etc.
Live web chat
When your IT support service providers have to deal with complicated IT issues, system updates, etc. – a phone call may not be enough for some clients to understand the sets of instructions to solve an issue. Web Chat or live chat with remote access facility can be a better option for the IT support team to provide adequate support. Through live webchat, IT agents can take remote access to clients' screens or ask them to share screenshots to understand the exact issue and resolve it efficiently.
Conclusion:
Considering the importance of customer satisfaction, hiring an MSP to provide needed IT support service to your consumers has become vital for organizations. Managed IT services providers are the right option to serve your end users efficiently, keep track of their opinions, analyze the feedback and find the area that needs improvement. Partnering with an experienced and skilled MSP is beneficial to improve your end users' experiences.