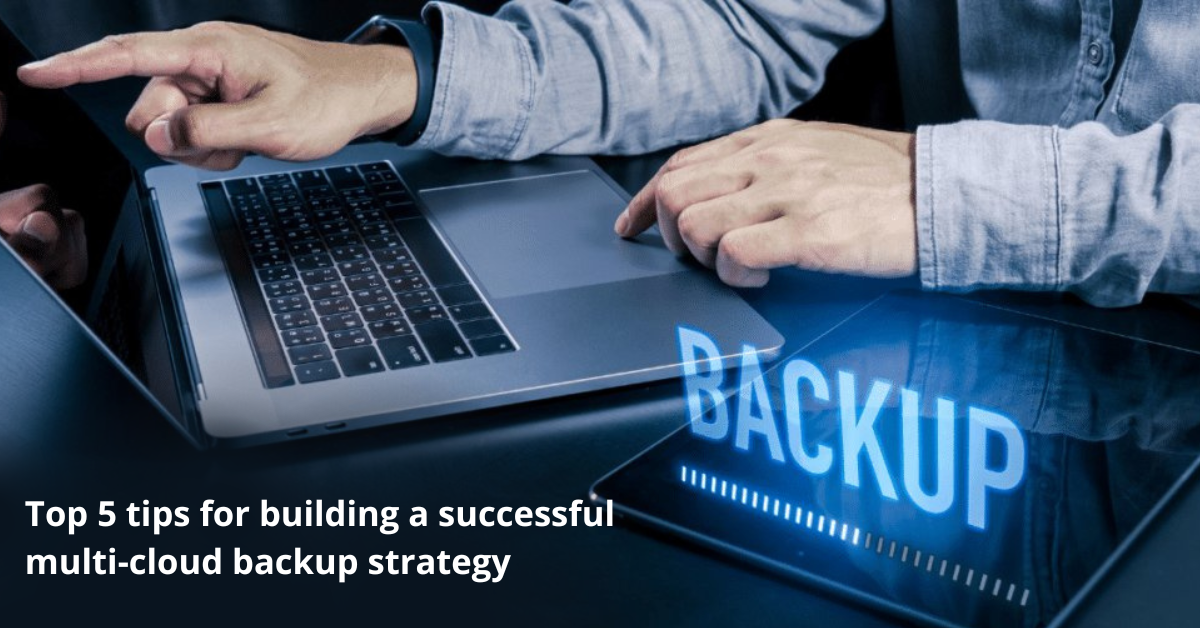 In today's world, cloud migration has become one of the vital needs of most organizations to improve their business efficiencies and scale with the help of digitalization. Plus, the situation of the pandemic has flued this transformation. It has made several organizations to consider a multi-cloud strategy and adopt more cloud-based applications to meet remote or hybrid work cultures. Along with multiple other benefits, cloud adoption also helps organizations to protect and recover data in virtual servers, different applications, and databases across multiple cloud environments.
But there is always some risk associated with every new step towards advancement. So with this massive shift towards the public cloud. It has made your traditional security measure a little vulnerable and increased the security risks like data phishing, ransomware and other complexities in data management and backup.
So, it is time to reassess your traditional backup infrastructure. Your IT department needs to look for modern solutions that suit your current business needs and can provide infinitely scalable protection for their multi-cloud environments.
Difficulties in managing cloud data and their solutions
When newly introduced to the cloud, organizations usually face multiple challenges related to data sorting and management. They need to deal with massive amounts of data and different types of data across multiple clouds. Simultaneously, workloads also become very complex and assorted (lift-and-shift, cloud-native), which makes it harder to optimize data protection costs across multi-cloud deployments. So, organizations face additional management, infrastructure, and resourcing costs. On the other hand, a lack of cloud skills makes the situation more complicated.
In many cases, there is also a lack of awareness around the shared responsibility models of the various cloud platforms and their potential impact. So, many organizations are may not prepared to face possible data loss situations such as accidental deletion, data corruption, ransomware attack, data theft, and malicious external/insider attacks. To deal with any kind of data loss, businesses need to be prepared with an efficient data backup strategy. Here are the five tips that can be beneficial for organizations to build a successful multi-cloud backup strategy:
1. Combined the cloud backup vendors
You may have different backup vendors for various cloud platforms. But this can lead to incomplete centralized visibility across the cloud platforms. Plus, fragmented point solutions can rapidly lead to data silos and failed Service Level Agreements (SLAs). This fragmented solution also increases the chance of data loss by deletion of backups by insider or ransomware, due to failed backups, and/or security breaches.
So, when you need to use multiple data products across the cloud environment, it becomes challenging to get centralized reporting and compliance. You need to consolidate the number of vendors, which will help to protect globally distributed data across multiple cloud platforms efficiently, consistently, and affordably.
2. Centralize the data operations in the cloud
Centralizing the data operations in the cloud can improve business resiliency with more significant data security, accessibility, and reliability. It will also enable you to utilize multiple value-add services such as:
Cloud disaster recovery
Sensitive data governance
eDiscovery
Defensible deletion
Centralizing the data operations also contributes to doing more with your backup data and helps to turn it into a business intelligence asset.
3. Cloud tasks automation
Cloud automation can benefit your organization in multiple ways, such as:
Streamline business processes or any other task
Save manual labor by automating repeated tasks
Improves efficiency
Saves time
Reduce the chances of manual errors
Automation can also organize and minimize overall IT needs significantly. Suppose you lack IT resources or cloud skills within your organization. In that case, you can reserve your resource for critical tasks and automate those simple works like data backup in regular intervals, etc. Task automation is an efficient option for completing many of your cloud-based data resilience requirements. This will also allow your IT team to focus on more value-added activities to support your business growth.
4. Cloud-native helps to make infrastructure management effortless
Whether your cloud vendor offers software as-a-service or through subscription – any of the modes will impact your management costs. Sometimes, it seems to be less expensive to buy a particular brand's product and lift-and-shift it into your cloud account. However, all-inclusive services in the vendors' cloud accounts are usually not very cost-effective, especially when both services and storage are included.
So, it is vital to assess all costs you need to pay to get the ultimate expense. In addition to the cost of virtual machines (VMs) and block storage, you also need to take care of the maintenances and upgradation of those systems. You also have to monitor and protect them from cyber-attacks and ransomware. And also need to quick-fix when vulnerabilities are addressed. If you have to use a patch and that patch impacts the performance of your VMs, you will also have to look for a solution to address that performance issue. So, the all total expense can be mammoth. It is better to opt for cloud-native services that are not only cost-efficient but also remove the burden of infrastructure management.
5. Align with the organization's cloud-first strategy
Extending the data protection policies to the existing cloud IT solution stack is essential. It will help to simplify operations.
Data is one of the most vital assets in a multi-cloud environment for every organization. In the current situation, when a massive portion of the workforce is working remotely, the data is created or accessed by employees from anywhere, needing a secure path to deliver and retrieve data. By encouraging API-based ecosystem integrations, IT teams can better track new sources of data and improve business processes.
Conclusion:
It is crucial to have application and data resilience for a successful multi-cloud journey. Whether protecting cloud-native, lift-and-shift, or SaaS applications, enterprises always look for an easier and affordable way to manage, protect, and secure data wherever it lives. So, as a business owner, you must look for a managed IT services provider that can bring the public cloud's simplicity, scalability, and security to enterprise data protection and data management. They can help you ensure your backup and recovery to help you secure your data through a multi-cloud environment.