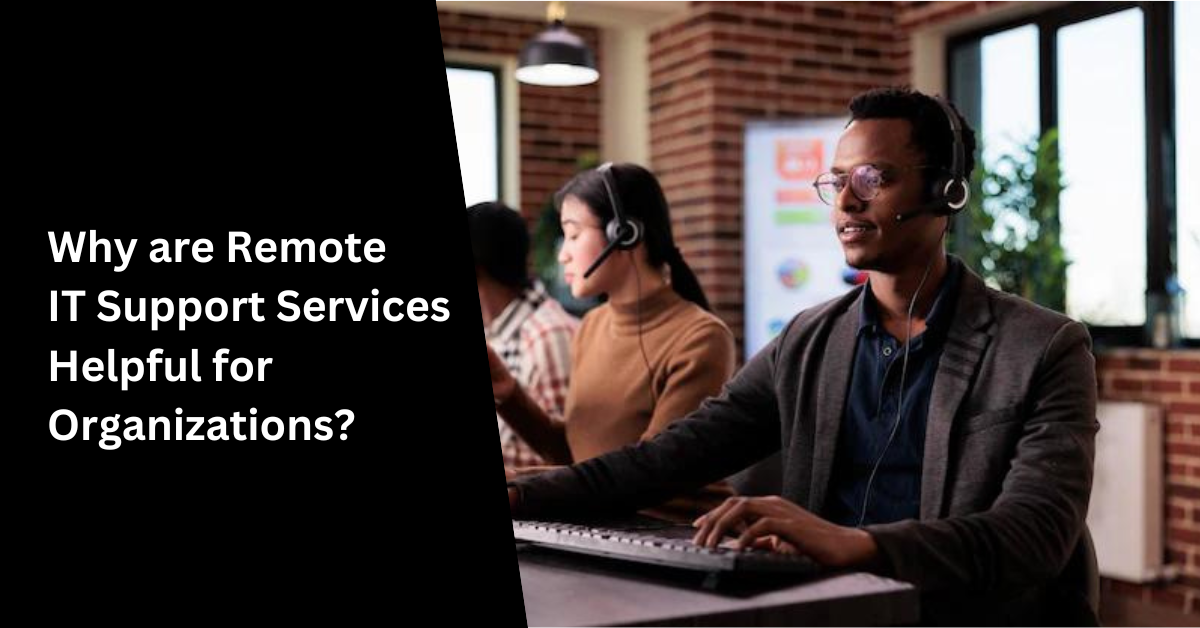 With the information technology boom, organizations look for convenient and timely support services to back their IT infrastructure. But on-site IT support services are not always enough. Here comes the role of remote IT support services — it offers prompt and effective IT support wherever and whenever needed.
In earlier days, IT help desks used to provide primary support over the phone or through an email or chat service. And in multiple cases, the end users have to follow several complicated instructions that end with a frustrating experience. Often both parties become frustrated due to miscommunication or misunderstanding. But now, the situation has changed – thanks to remote support software. Now, remote IT support technicians can solve most IT issues by accessing your system using remote support software. Therefore, remote IT support services spare your employees from following critical instructions of IT technicians and also save the cost of staffing an in-house IT support team. This article contains more important information about remote IT support services and why organizations need them.
What Is Remote IT Support?
Remote IT support services are a modernized form of IT help desk. IT technicians take remote access to users' computers or other devices through remote access software to diagnose and fix issues without being physically co-located.
With remote access software, IT technicians can view the screen of users' devices on their screen and take control of the device to provide the needed support. The technicians can help troubleshoot issues, install new or updated existing software, change settings, perform maintenance, and manage networks. With remote access to end users' devices, IT technicians can fix problems faster without long phone calls and complicated "do-as-instructed" walkthroughs.
Benefits of Remote IT Support Services
Remote IT support service is appropriate for on-site, off-site, and remote work cultures. End users can get IT help from anywhere (office premises or remote working locations) and anytime (24/7/365). Remote support services are the best IT support option for the current work-from-home culture, and this is comparatively inexpensive than having in-house IT support staff. Here are the key advantages of hiring remote IT support services:
Reduce Operational Costs: Remote IT technicians usually assist with remote access to end users' devices. Users can get needed support without adding additional costs for an in-person visit.
Rapid Response Time: Here, the service providers offer IT support on-demand and real-time. This approach helps in quick troubleshooting, minimizes downtime, and ensures uninterrupted workflows.
Improved Productivity: When enterprise environments are always up and running, people can work uninterruptedly. It enhances productivity across departments. Therefore, employees can focus on their core jobs to achieve business goals without disruptions.
Reduce Employee Turnover: When employees can access prompt and efficient IT support, they enjoy an uninterrupted work experience. This approach helps to keep employees happy and improves employee productivity.
Access to Cutting-Edge Technologies: Besides IT support, remote services provide expert advice and recommendations on new applications. They provide their clients necessary knowledge or resources to use advanced technologies.
Patches, Updates, and Maintenance: Remote services help their clients with all most every IT needs, including system update, troubleshooting, server software update, running maintenance programs and diagnostic tools, file management on a server or computer, setting up email accounts, providing training on software and systems to employees, etc. The remote support team also ensures their client companies' security and stability. They provide regular IT infrastructure maintenance service without potential downtime during business hours.
24/7 IT support: Remote support teams provide round-the-clock IT support to their client so they can do all their necessary system update after their office hours without disrupting their regular jobs.
Types of Remote IT Support
Attended support: IT technicians provide services when an end user is present. The end user needs to help the technician access their devices through specific access tools. Usually, the end users have to run remote access software that generates a unique session code and share the code with the technician so they can access the device. Then the technician can access the end user's device to fix the issue.
Unattended remote support: Here, technicians can connect to a remote device even in the absence of the end user. They can access clients' devices using an agent app, which the service provides installs on the devices they need to manage. These agent apps allow the IT team to access devices whenever they need to, regardless of whether the client is present or not, or actively using the device.
Disadvantages of Not Having a Remote IT Support
Security flaws: System security can be a concern in remote access to end users' devices as people may use insecure networks. Despite having record encryption, a secure access system, and activity monitoring features, there is a chance of introducing new vulnerabilities that are probably used as assault factors.
Privacy Concern: In the case of remote support, especially for unattended remote support, IT technicians have easy access to end users' devices. Some users may feel uncomfortable giving complete access to technicians because many use their personal devices for office work.
Network Dependency: A stable and dependable internet connection is a crucial requirement to avail remote IT support services. Without it, end-users cannot connect with the support team and get help. In such cases, you may have to experience downtime affecting your productivity.
How to get Remote IT support?
Managed IT service providers offer remote IT services for their clients. Several organizations, especially small to mid-sized enterprises, prefer to outsource remote IT support to get on-time IT help to their employees against a predictable monthly fee. A trusted managed IT services provider (MSP) offers clients multiple services, including support, maintenance, monitoring, backup and recovery.
When considering an MSP for remote IT support services, look for one who can provide guarantees of fast response times, round-the-clock support service, references, and has experience working in a similar industry.
Conclusion:
Remote IT support is an effective and quick way to get IT support for both on-premises and remote employees. For 24/7/365 remote IT support services, you can look for a reliable managed service provider that offers remote IT support, infrastructure monitoring, maintenance, and backup service.